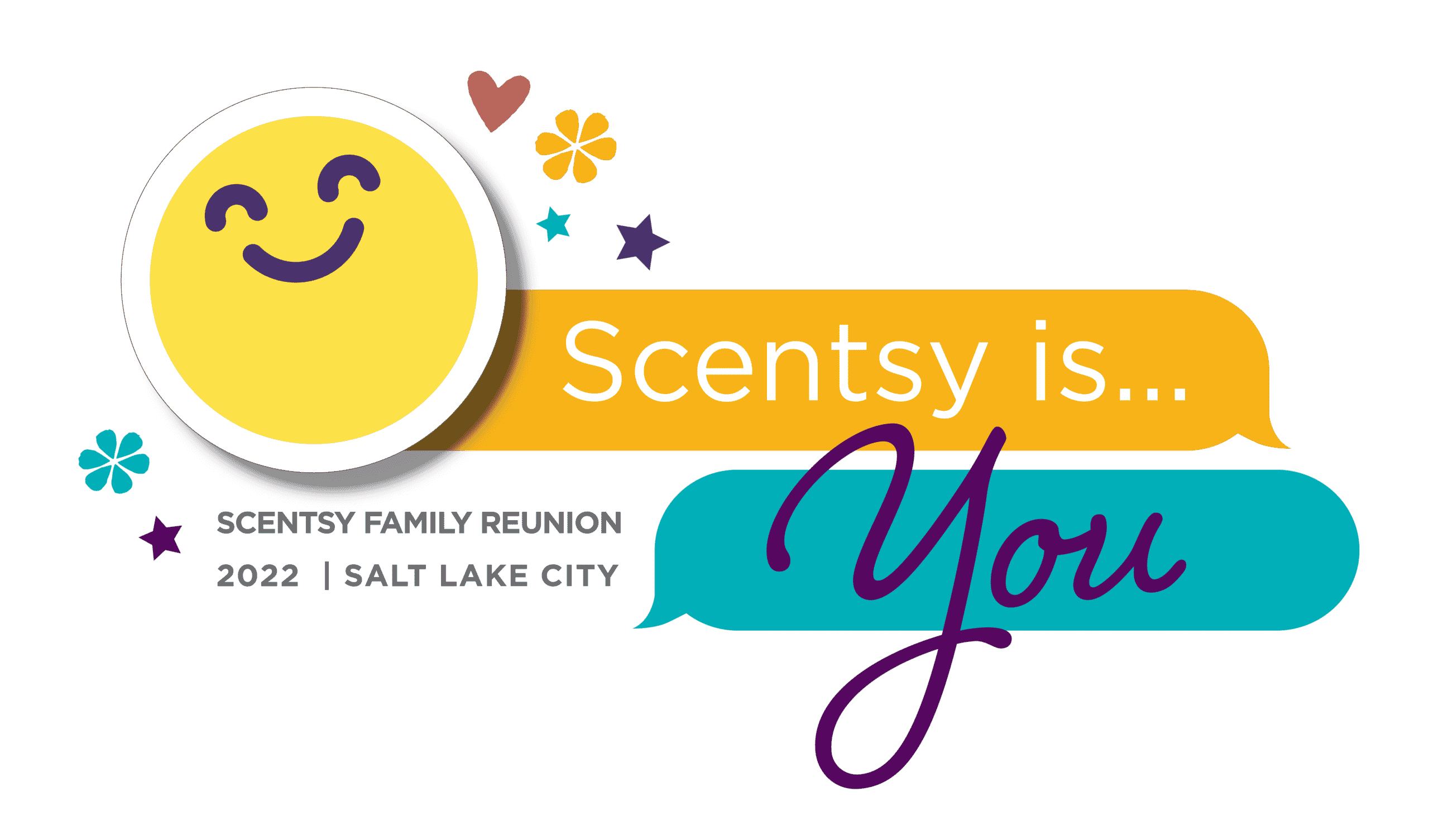 What is Scentsy Family Reunion? The largest annual event is a celebration of Scentsy Spirit! Scentsy Consultants meet up for a high-energy, in-person event filled with entertainment and training, recognition and reveals — and so much fun! Hear inspiring messages and new business training from Consultant leaders and the Scentsy home office team, and get an exclusive sneak peek of upcoming products and programs. It's the perfect way to fill your cup for a new Scentsy season, and it's our favorite way to recognize your achievements from the past year.
Stay tuned as we give you a recap of each day and a sneak peek of things to come this Fall!
Scentsy Family Reunion Agenda – June 23 – 25th 2022
Thursday, June 23, 2022

7 a.m.: The Fitness Marshall
8 a.m. to 6 p.m.: General check-in
9 a.m. to noon: Leadership Workshop
Noon. to 4 p.m.: Meet the home office team!
1-4 p.m.: SSD meetings
5-7 p.m.: General Session 1
7-10 p.m.: Opening Party / Success Store open
Scentsy Family Reunion Day 1 Recap
More than 3,500 Scentsy Consultants and guests joined us in Salt Lake City, Utah — with even more tuning in virtually for the live broadcast — for the first general session of Scentsy Family Reunion 2022!
It was packed with celebration: music and cheers, group hugs and laughter, about 100 beach balls, giveaways and so much Scentsy Spirit.
Scentsy revealed the Fall/Winter 2022 Catalog, including beautiful new warmer designs, 10 new fragrances and a brand-new product: the Scentsy Travel Twist, designed for travel or smaller spaces like closets, drawers, gym bags, diaper bags and anywhere else you need fragrance on the go. Simply twist open the lid to experience a little fragrance, or a lot.
There was so much inspiration for a new Scentsy season, beginning with a message from Scentsy President and Interim CEO Dan Orchard, and a beautiful story shared by SuperStar Director Casie Stevenson.
Scentsy also invited everyone to participate in a unique giving opportunity at the event. Every Consultant and guest in Salt Lake was asked to write an encouraging note to a child supported by one of two local organizations: Ronald McDonald House Charities of the Intermountain Area or the Salt Lake City branch of Shriners Hospitals for Children. For every card written, Scentsy will donate a Scentsy Buddy to a child in the hospital or a sibling staying at Ronald McDonald House.
We wrapped up the session with the announcement of a few new limited-time offers coming this summer, featuring exclusive products inspired by Disney's Alice in Wonderland, Disney and Pixar's WALL-E and Disney's Moana!
---
Friday, June 24, 2022

6-8 a.m.: Success Store open
9-11:30 a.m.: General Session 2
Noon to 4 p.m.: Meet the home office team!
Noon to 4 p.m.: Success Store open / Celebration and engagement opportunities
1-4 p.m.: Breakouts
7-9 p.m.: Awards Night
Scentsy Family Reunion Day 2 Recap
It was another amazing day at Scentsy Family Reunion 2022! Here's a look at what was revealed, celebrated and announced in each session:
General Session 2
Chief Strategy Officer Kevin Kirkpatrick and Chief Marketing Officer Mark Stastny kicked off General Session 2 with the reveal of a new limited-time offer for the U.S. and Canada: the Soccer Collection, featuring warmers and fragrances that celebrate your favorite European teams: Barca FC, FC Bayern München, Chelsea FC, Arsenal FC and Liverpool FC! The collection is set to launch on Nov. 14, just before the FIFA World Cup.
We recognized three years of Consultant achievers for the Shooting Star Award and Scentsational Start Award Levels 1 and 2, before welcoming guest speaker Amy Purdy, bestselling author and 3-time Paralympic medalist, who shared her incredible story of resilience and "bouncing forward."
To help commemorate the Walt Disney World 50th Anniversary Celebration, we revealed the new 50th Anniversary Mickey Mouse – Scentsy Buddy, complete with a Disney Oh Boy! Scentsy Pak, and the 50th Anniversary Minnie Mouse – Scentsy Buddy, complete with a Disney Totally Minnie Scent Pak. We also announced the Your Magic Moment Sweepstakes sponsored by Scentsy! Learn more about your chance to earn a dream family vacation to Walt Disney World® Resort.
Things got pretty enchanting with the reveal of our Harvest Collection, featuring new Harry Potter™ products — including an adorable new Hedwig™ – Scentsy Buddy! The collection launches Sept. 1. And thanks to a little Scentsy magic, everyone in the audience received their own cuddly Hedwig™ to take home.
Next came the Holiday Collection, featuring new Disney Tim Burton's The Nightmare Before Christmas products! Plus, many new and returning seasonal warmers and fragrances to share, coming Oct. 1.
And to top it all off, we announced four new Holiday LTOs: The Holiday Favorites Collection, which brings back beloved Holiday warmers for a limited time; Holiday Bricks in five festive fragrances; the new Scentspirations wax collection, which blends yummy ingredients with Vanilla Bean Buttercream to create all-new Scentsy Bar recipes; and the 2022 Limited Edition Holiday Warmer: All Through the Night!
After so much holiday cheer, it was only natural to give attendees one more gift: all four Scentspirations Scentsy Bars, including Vanilla Bean Buttercream, Candy Cane Buttercream, Gingerbread Buttercream and Caramel Buttercream in cute holiday labels.
Breakouts
To share their knowledge, tips and training, 36 Consultants led on-site breakouts on everything from sales and marketing to sponsoring and teambuilding. The presenters also recorded video breakouts to post on the event site, plus an additional 27 Consultants submitted their own video breakouts! They will be available to view for 30 days following the event for all in-person and virtual attendees.
Awards Night
Awards Night was an evening to remember! Because this is our first in-person Reunion since 2019, we invited all Consultant achievers from 2020, 2021 and 2022 to be recognized onstage during Awards Night for the following awards and promotions:
Scentsational Start Level 3
Directors, Star Directors and SuperStar Directors
Circle of Excellence
Annual Sales Excellence Award
Annual Mentor Award
We were also honored to reveal the 2022 Alice Kalilimoku Shining Star for Region 1 (North America): SuperStar Director Sara Speechly from Farmington, UT!
To top it all off, we had a surprise appearance of the Sanderson Sisters themselves! The infamous witches from Disney's Hocus Pocus brewed a special potion to reveal the new Scentsy Warmer and fragrance they inspired. The LTO will launch in September, just in time to decorate for Halloween.
---
Saturday, June 25, 2022: Team Day

Use free time throughout the day to connect with your team!
6-8 a.m.: Success Store open
9-10:30 a.m.: General Session 3
11 a.m. to 2:30 p.m.: Success Store open
11 a.m. to 2:30 p.m.: Meet the home office team!
11 a.m. to 12:15 p.m. and 1:15-2:30 p.m.: Optional Workshops
3:30-5:30 p.m.: Closing Session
Scentsy Family Reunion Day 3 Recap
It was Team Day at Scentsy Family Reunion 2022, where Scentsy celebrated the friendship, encouragement, achievement and support that comes with being part of a Scentsy team! Here's a look at the two final SFR sessions:
General Session 4
Chief Consultant Development Officer Deb Bowden welcomed everyone to Team Day and introduced Star Director Danielle Hawk to share her Scentsy story, before leading a lively panel of Annual Mentor Award achievers to discuss everything from team building to Scentsy culture and what Scentsy means to them.
Next, Deb welcomed guest speaker and singer-songwriter John Ondrasik, also known as Five for Fighting, the name under which he records and performs. The grammy-nominated artist shared a poignant musical keynote that left attendees inspired and humming his greatest hits.
We ended the session with a surprise giveaway: the new Disney Winnie the Pooh Wall Fan Diffuser with Light and a Hundred Acre Wood Scentsy Pod Twin Pack!
General Session 5
The final SFR session was brimming with excitement from beginning to end! Chuck Thompson, Scentsy's Chief Consultant Engagement Officer, welcomed attendees and introduced HR Program Manager Kellie Floto to share exciting updates to our cause program, which allow Scentsy more flexibility to donate more immediately to organizations requested by Consultants.
Kellie also shared that thanks to the generosity of the Scentsy community, we received 1,252 heartfelt notes for children in Salt Lake City, so Scentsy will donate 1,252 Scentsy Buddies to split between Ronald McDonald House Charities of the Intermountain Area and the Salt Lake City Shriner's Hospitals for Children!
We recognized hundreds of Consultant achievers, with 5-Year, 10-Year and 15-Year Consultants marching across the stage, and 2022 incentive achievers standing to be celebrated. Then, Director Cassie Roach took to the stage to share her Scentsy story.
There were many Scentsy event announcements for 2023, including World Tour and incentive trip destinations! The qualification period for the next incentive begins Aug. 1, and more details will be shared soon. Scentsy also revealed that Scentsy Family Reunion 2023 will be held in Charlotte, North Carolina, next summer.
Dan Orchard, Scentsy President and Interim CEO, shared details about the Warm the Heart campaign, just before announcing the final giveaway of the event: an exclusive Scentsy Brick of the Scentsy Is You fragrance, developed just for SFR attendees.
It was an all-around wonderful Scentsy Family Reunion, and we're already counting down the days to SFR 2023 in Charlotte!