JACK SKELLINGTON SCENTSY WARMER & JACK'S OBSESSION SCENTSY BAR | DISNEY: NIGHTMARE BEFORE CHRISTMAS SCENTSY COLLECTION
Pumpkin King: Jack Skellington Scentsy Warmer 
NOW SOLD OUT
Backorder info
Warmers ordered after it was marked as backordered will ship between Oct. 2019 and early 2020, depending on when you placed your order and our factory's capacity to produce more warmers. We will have more information soon. Please note that any in-stock items in your order will ship separately according to our normal timelines.
How long will I be able to place orders for this warmer? 
Although we have more inventory on the way, the Jack Skellington Warmer will only be available to purchase while these additional supplies last.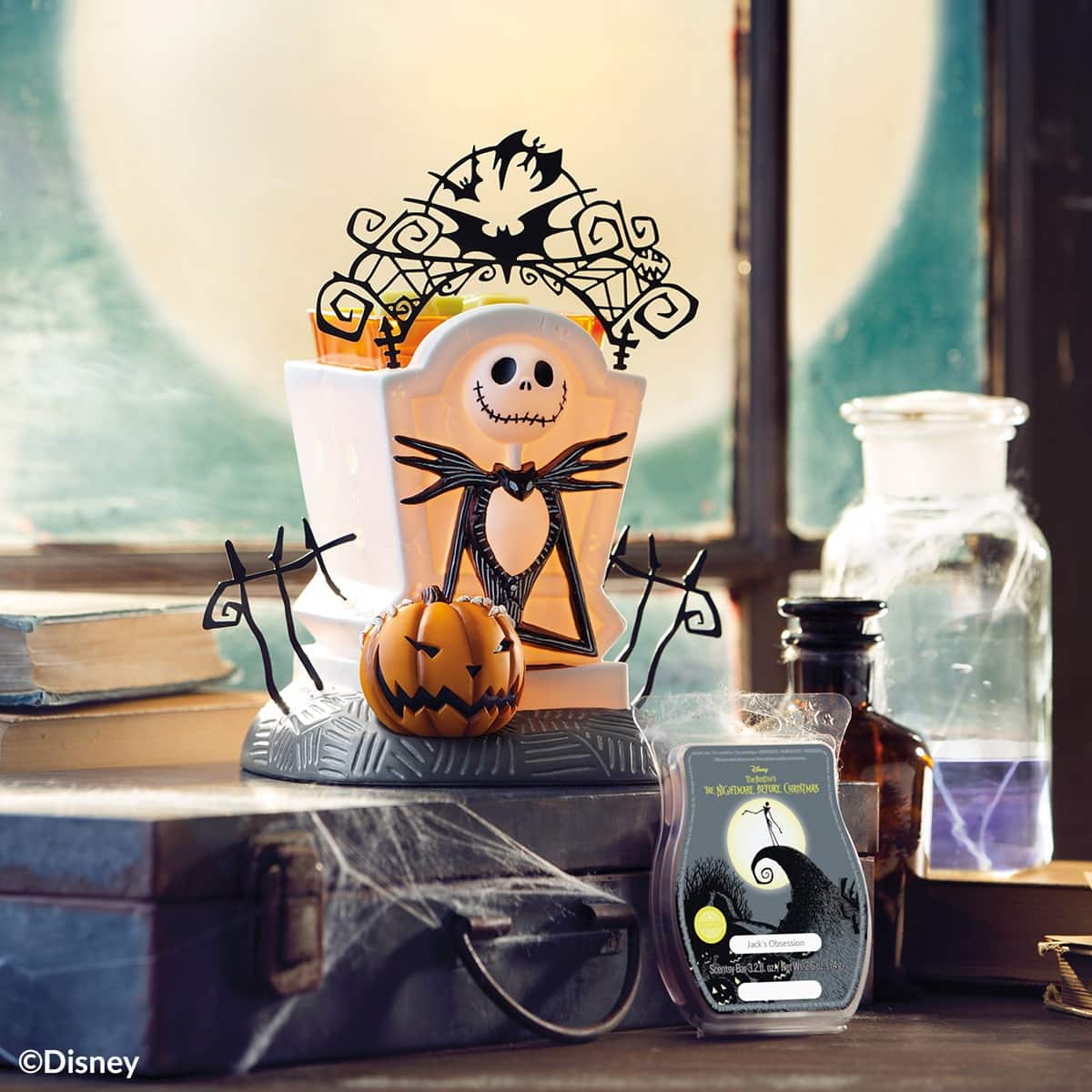 Part of the Scentsy 2019 Harvest Collection
Jack Skellington: Pumpkin King Scentsy Warmer $65
9″ tall, 25W
All hail the Pumpkin King! Transform your home into a place of reverence by letting Jack Skellington from Disney Tim Burton's The Nightmare Before Christmas rule your spooky setup this Halloween.
The Nightmare Before Christmas: Jack's Obsession Scentsy Bar $6.50
Eureka! This cauldron-full of APPLE spiced with CLOVE and CINNAMON makes for a ghoulishly grand brew.
If you want to add Jack's Obsession Scentsy Bar to a Scentsy Club Subscription – you can do so here
Even when Jack's Obsession sells out, you can keep getting it through the Scentsy Club 
Because of the incredible response to our Jack Skellington Warmer, we've ordered more units from our factories in an attempt to meet the anticipated demand.
Here are some important details to keep in mind:
Because not all the additional warmers we've ordered will arrive the week of Sept. 1, we'll allow the product to go on backorder so you can purchase through the full inventory.

When the full inventory has sold out, the Jack Skellington Warmer will go into the vault, and like all vault products, may be reintroduced at a future date.

Please note that we cannot know for sure how long this additional inventory will last.
Thank you!