SHOP THE LATEST SCENTSY COLLECTIONS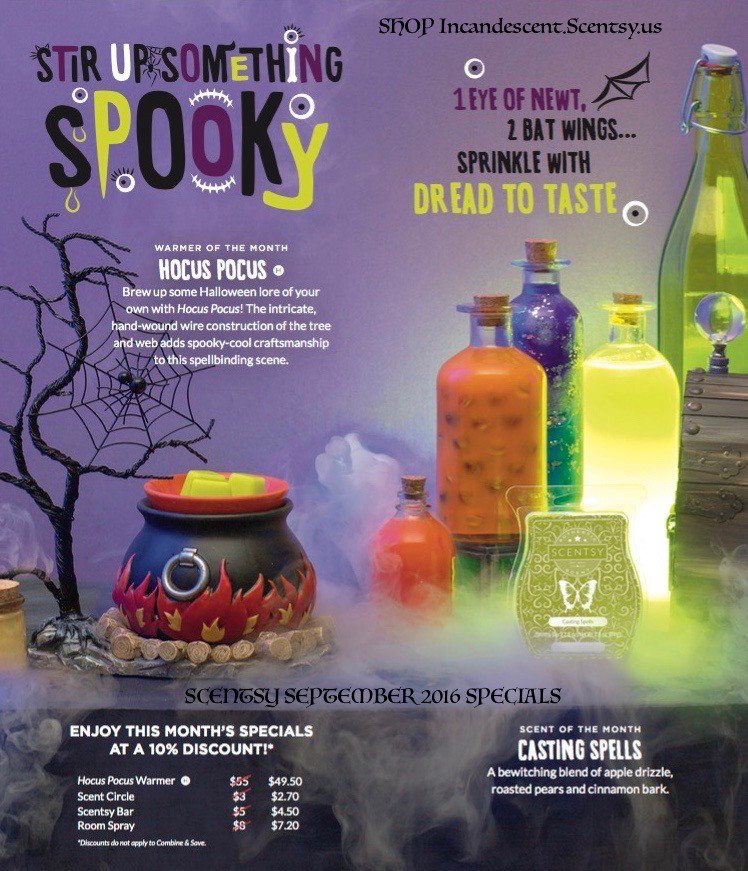 ---
The Scentsy 2016 September Warmer of the month ~ HOCUS POCUS 
Brew up some Halloween lore of your own with Hocus Pocus! The intricate, hand-wound wire construction of the tree and web adds spooky-cool craftsmanship to this spellbinding scene.
3 piece ELEMENT warmer that is 7 inches wide, 5 1/2 inches deep and 11 1/4 inches tall.
AVAILABLE September 1st, 2016 online, or please feel free to contact me to pre-order yours!

Sooo Excited about this Special ~ It's amazing 🎃
I know, I don't take the best pictures :).  This warmer is so awesome, it doesn't do it justice. The tree screws into the base of the warmer and you could rotate it, if you'd like.  From Botton to top of tree brach is approx. 11.25″.  I love the bowl size for wax and the detail on the cauldron.  I don't want to put it away and would love to have it up NOW!  And, the Scentsy Castings Spells is really good, too.  It's not a spicy fragrance, lots of ooey gooey caramel and pear to me – with a touch of apple.  Fabulous for fall! LOVE!