Scentsy Flash SALE! July 11-13th 2017!
Thank you, the Scentsy Flash Sale is now over – Please feel free to shop our Site for other Closeout products and Scentsy items. 🙂

Let's Sale Away, our 48-hour flash sale, will take place from 10 a.m. PST Tuesday, July 11, to 9:59 a.m. PST Thursday, July 13, with savings of up to 80 percent! 
You won't want to miss this flash sale, which will include select discontinued Warmers, Scentsy Bars, Scent Circles and more.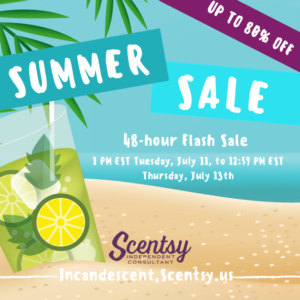 And don't miss the Daily Deals! 
LINKS:
NEW Daily Deals including Mossy Oak, Buddies and MORE!
SCENTSY SCENT CIRCLES AND MORE
Bookmark our Shop Link: https://Incandescent.Scentsy.us