Shop Scentsy Laundry Products

NEW! SCENTSY SCENT SOFT!
Keep your clothes luxuriously soft, help prevent static and enjoy blissful fragrance. Each bottle contains enough fabric softener for 25 medium loads. 32 fl. oz. $16.00
Scentsy Clothing Conditioner Ingredients: Water, Hydrophilic Softener, Fragrance
Imagine pulling your laundry out of the dryer, warm and scented. Add a Dryer Disk to your dryer and infuse your clothes with scent for up to 15 loads. Pack of 2. $7.00
SCENTSY LAUNDRY LIQUID
High-efficiency and ultra-concentrated, our laundry detergent leaves your clothes, towels and linens remarkably clean and infused with the perfect amount of Scentsy fragrance. 20 fl. oz. (50 medium loads). $16.00
Scentsy Laundry Liquid Ingredients: Sodium C14-16 olefin sulfonate, Water, Propylene glycol, Alkylglucoside, Glycerin, Protease, Lipase, Amylase, Phenoxyethanol, Cellulase, Disteryl Biphenyl Derivitive
It's pure indulgence: fragrance for your clothes! Add a scoop of Washer Whiffs to your washer drum and enhance your clothing with Scentsy fragrance. For best results, use with Laundry Liquid. Available in two sizes: 16 oz.($12.00) & 48 oz($30.00). 
Scentsy Washer Whiffs Ingredients: Fragrance carrier, Fragrance
SCENTSY LAUNDRY IS AVAILABLE IN THE FOLLOWING FRAGRANCES*
SCENTSY BLACK RASPBERRY VANILLA
Delicious, sun-sweetened dark berries warmed with vanilla.
 White florals — jasmine, sweet pea, and freesia — juicy berries, and sandalwood shimmer like moonlight.
 Cool and refreshing aquatic notes deepened with water lilies and ocean breezes.
White florals with a touch of spring; this is the scent of fresh, clean laundry.
Creamy, tropical coconut and sunny, bright lemongrass.
Pure, herbal fragrance of wild lavender from the hills of France.
Escape to a secluded retreat of dew-kissed lily and tart-sweet kiwi, shaded by lush coconut palm.
 Jet off to a balmy tropical paradise of Brazilian orange, jungle papaya, and island vanilla.
 Innocent vanilla flower, warm sandalwood, and sultry tuberose in a seductive scent, meant to cause a shiver of delight.
Lively blend of oranges, lemons, limes, and grapefruit.
A clean, crisp, and refreshing floral mix with green notes.
A dewy-sweet bloom of ripe honeydew, soft freesia and water lotus.
*Not all Fragrances are available in each Laundry form
Purchasing multiple items? For the best possible price ~ Consider a Combine and Save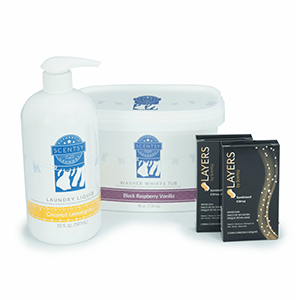 SCENTSY LAUNDRY LOVE includes One Washer Whiff Tub, One Laundry Liquid, 2 Packs of Dryer Disks in your choice of fragrance: $50.00