SHOP COLLECTIONS + HOLIDAY 🎄
Order soon to receive products in time for Christmas. Restrictions apply. Learn more.


ROUND 1 OF THE WINNERS (2004-2010) FOR THE 2017 BRING BACK MY BAR….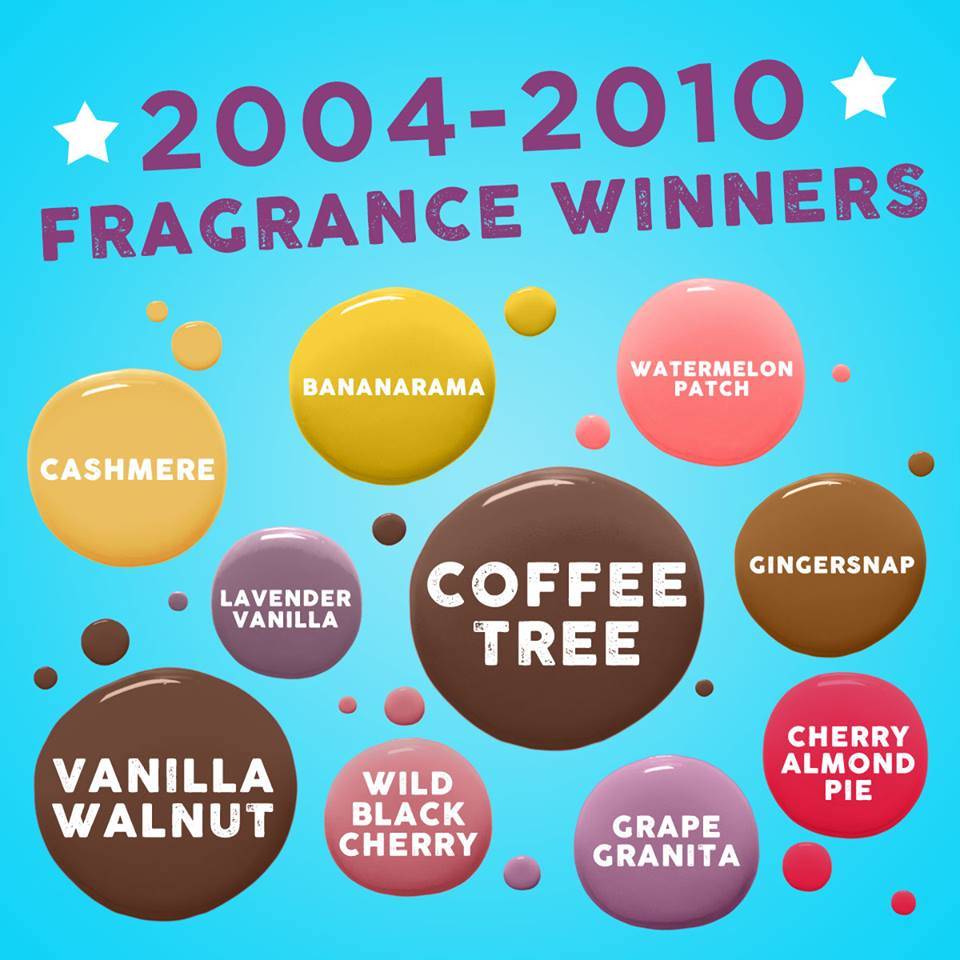 Coffee Tree Scentsy Bar
Bold and sophisticated. Wake up to the rich aroma of freshly roasted coffee beans.
Vanilla Walnut Scentsy Bar
A warm fragrance with roasted walnut and sweet vanilla bean.
Bananarama Scentsy Bar
Sweet, golden, ripe bananas.
Cashmere Scentsy Bar
Sheer floral bouquet combines Moroccan jasmine, lily of the valley, and bergamot.
Gingersnap Scentsy Bar
Ginger and spice with butter and vanilla, just like the classic cookie.
Watermelon Patch Scentsy Bar
Sweet, vine-ripened watermelon.
Grape Granita Scentsy Bar
Sun-warmed grape and pineapple with undertones of honeysuckle.
Lavender Vanilla Scentsy Bar
Relaxing mix of hillside lavender, vanilla beans, orange zest, and patchouli.
Cherry Almond Pie Scentsy Bar
Orville's favorite dessert. Graham crackers, sweet almond, cream, and cherries.
Wild Black Cherry Scentsy Bar
A sweet and juicy black cherry, like an old-fashioned black cherry soda.
ROUND 2 OF THE WINNERS (2011-2014) FOR THE 2017 BRING BACK MY BAR….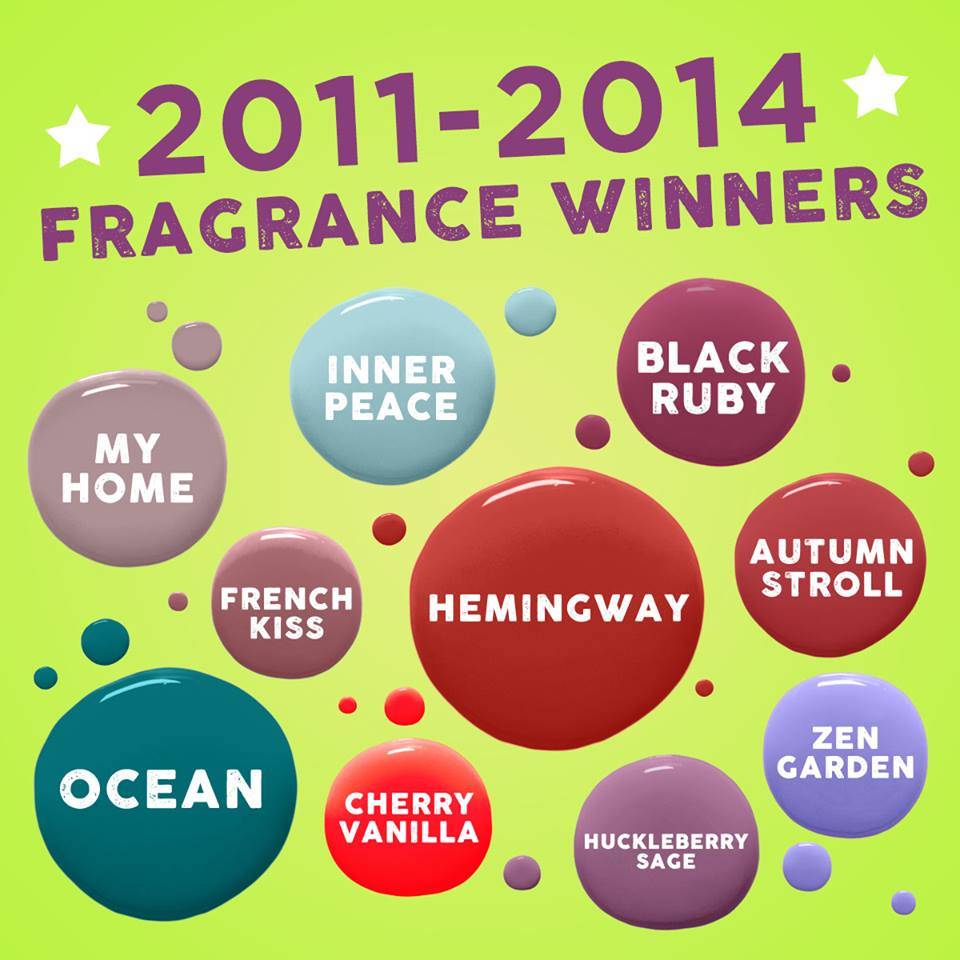 Ocean Scentsy Bar
Cool and refreshing aquatic notes deepened with water lilies and ocean breezes.
Cherry Vanilla Scentsy Bar
Sweet as the finishing touch atop your favorite sundae. Cherry Vanilla is a delightful swirl of candied cherry and sugared almonds folded into velvety white chocolate ice cream.
Huckleberry Sage Scentsy Bar
Tart ruby cranberries and sweet purple huckleberries dusted with silver sage.
Zen Garden Scentsy Bar
A dewy-sweet blossom of ripe honeydew, soft freesia, and water lotus.
Hemingway Scentsy Bar
Rich, ripe apples and warm, woody accents of sandalwood and cedar with hints of spice.
Autumn Stroll Scentsy Bar
Amble under a bright harvest moon, leaves crunching underfoot, as peppery cinnamon mingles with dusky plum and warm incense to create a spicy and comforting fragrance.
Inner Peace Scentsy Bar
Earthy wood notes with the unmistakable scent of lemon groves and rejuvenating cypress.
My Home Scentsy Bar
A new name for our favorite spicy cinnamon and floral scent — a must try!
French Kiss Scentsy Bar
Sweet fig tenderly caressed by coconut pulp, exotic cedar, and caramel.
Black Ruby Scentsy Bar
Juicy plum, black cherry, and sparkling persimmon, with untamed vanilla — a luminous, deep fragrance.
BONUS 5 ADDITIONAL BBMB BARS!
Cranberry Bread Scentsy Bar
Warm bread, with just the right amount of spices, cranberries, and orange zest.
Flutter Scentsy Bar
Delicate orange blossoms and whipped almond cream float above a bed of bright lemon verbena.
Luxe Vanilla Scentsy Bar
Soft tones of musk, cyclamen, and jasmine blends with the delicate scent of vanilla.
Sangria Scentsy Bar
Perfectly blended Brazilian oranges, currants, and Merlot.
Tingelo Scentsy Bar
Tangelo, lemon, and apricot, enhanced by fragrant lychee berry.
1 Scentsy Bar: $5
3 Scentsy Bars: $14 ($1 savings)  
6 Scentsy Bars: $25 (Buy 5, get 1 free)  
All 25 fragrances: $105 ($20 savings)
Available to Shop @ Incandescent.Scentsy.us on January 1, 2017