Shop the Scentsy Christmas Sale – It's the Most Wonderful Time of the Year starting December 2nd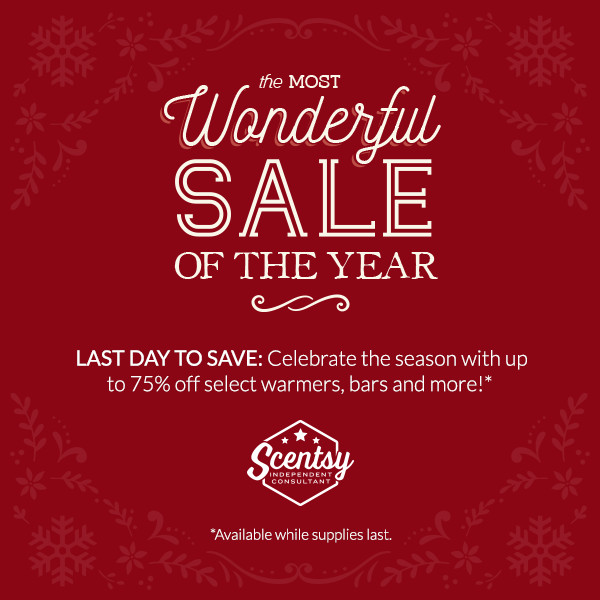 The sale is now over ~ Thank you!  You may want to check out the Closeout Section for further sales! 

Today is Day 3 of the sale online (last day through 11:59pm PST). December 4th ~ Day 3 – Warmers, Scentsy Bars and On the Go(Scent Circles, Travel Tins, and Scent Paks). 
***If you have any issues with the website and ordering ~Please feel free to contact me and I will manually place an order for you on my work station***
I apologize for this major inconvenience and thank you for your patience. I will keep this page updated. Thank you!
New sale items and a door buster will be added at 8 am PST. See Below.
Day 3 Doorbuster:  Cream Diamond Shade Warmer, 20% off
Scent Circles, 40% off
Oats & Honey
Echo
White Sands
Hazelnut Latte
Duke
Amalfi Coast
Tiare Maohi
Nashi Nectar
Surfer Chick
My Home
My Only Sunshine
Mums & Marigolds
Cherry Limeade
B-A-N-A-N-A-S
Huckleberry Sage
Serene Green
Wishing Well
Ambrosia
Sunlit Morning
Sunburst Blooms
Frosted Ginger Cookie
Fuzzy Blanket
Fields of Gold
Imperial City
Simply Basil
Poppy & Blush Suede
Pear Blossom
Vanilla Suede
Spiced Berries
Clementine Clove
Tomato Vine
Sugar & Spice
Sno-Leil
Ice Hotel
Spring Symphony
Poppies & Clover
Sugared Blooms
Blessings
Scent Paks, 40% off
Simply Cinnamon
Love Story
Perk Me Up
Jet, Set, Go!
Posy Peach
Cherry Limeade
Huckleberry Sage
Happy Birthday
Spiced Berries
Travel Tins, 40% off
Caramel Pear Crisp
Sharp-Dressed Man
Flirtatious
Here are the products still available at this time from day one and two:
Day 2 Doorbuster:
Lyric Art Glass Warmer, 40% off
Scentsy Bars, 40% off:
Simply Basil
Scentsy Warmers:
Free Spirit, 50% off
Venetian Green, 50% off
Gallery Classic Brick, 50% off
Gallery Cube Moss, 50% off
Stripe Nightlight, 50% off
Kaleidoscope, 50% off
Birdhouse, 50% off
Owlet, 50% off
Easter Egg, 75% off
Valentine, 50% off
Maize, 60% off
In Bloom, 50% off
Easter Bunny, 50% off
Colorgraphy, 50% off
Grateful Harvest, 75% off
Gallery Frames:
Bass, 50% off
Brilliance, 50% off
Pewter Pinwheel, 50% off
Tendrils, 50% off
Brass Blossom, 50% off
Silhouette Wraps:
Tulips, 50% off
Weave, 50% off
Spokes, 50% off
Curls, 50% off
Tribal Trees, 50% off
Flowers, 50% off
Castille, 60% off
Starting December 2nd through December 4th.
Celebrate the season with our Most Wonderful Sale of the Year from Scentsy: three full days of amazing online steals and deals from Dec. 2-4! Each day at 8 a.m. (PST), we'll add new products to the sale and announce an incredible daily doorbuster — up to 75 percent off. While Supplies Last and Online Only!
Sneak Peek at the Daily Deals:
December 2nd ~ Day 1 – Scentsy Warmers (Including limited-edition Warmers of the Month)
December 3rd ~ Day 2 – Warmers & Scentsy Bars
December 4th ~ Day 3 – Warmers, Scentsy Bars and On the Go(Scent Circles, Travel Tins, and Scent Paks)
Once sale items are announced, they're available while supplies last or until the sale ends at 11:59p.m. (PST) December 4th, 2015. Stock up and save before time runs out!
Order Here