Shop Scentsy Bring Back my Bars 2016 Now!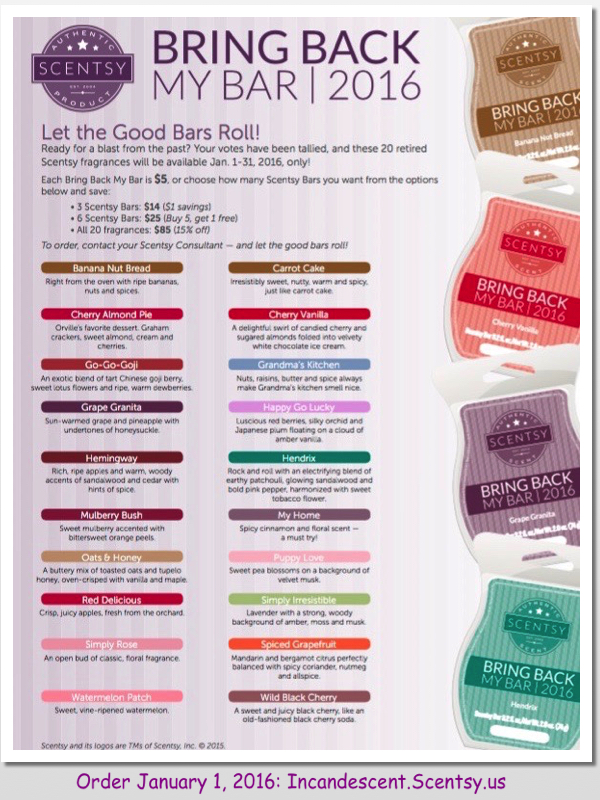 Ready for a blast from the past? Your votes have been tallied and these 20 retired Scentsy fragrances are the fan favorites! 
Drum Roll….Your Scentsy returning favorites are:
BANANA NUT BREAD SCENTSY BAR
Right from the oven with ripe bananas, nuts and spices
CARROT CAKE SCENTSY BAR
Irresistibly sweet, nutty, warm and spicy, just like carrot cake.
CHERRY ALMOND PIE SCENTSY BAR
Orville's favorite dessert. Graham crackers, sweet almond, cream and cherries.
CHERRY VANILLA SCENTSY BAR
A delightful swirl of candied cherry and sugared almonds folded into velvety white chocolate ice cream.
GO-GO-GOJI SCENTSY BAR
An exotic blend of tart Chinese goji berry, sweet lotus flowers and ripe, warm dewberries.
GRANDMA'S KITCHEN SCENTSY BAR
Nuts, raisins, butter and spice always make Grandma's kitchen smell nice.
GRAPE GRANITA SCENTSY BAR
Sun-warmed grape and pineapple with undertones of honeysuckle.
HAPPY GO LUCKY SCENTSY BAR
Luscious red berries, silky orchid and Japanese plum floating on a cloud of amber vanilla.
HEMINGWAY SCENTSY BAR
Rich, ripe apples and warm, woody accents of sandalwood and cedar with hints of spice.
HENDRIX SCENTSY BAR
Rock and roll with an electrifying blend of earthy patchouli, glowing sandalwood and bold pink pepper, harmonized with sweet tobacco flower.
MULBERRY BUSH SCENTSY BAR
Sweet mulberry accented with bittersweet orange peels.
MY HOME SCENTY BAR
Spicy cinnamon and oral scent — a must try!
OATS & HONEY SCENTSY BAR
A buttery mix of toasted oats and tupelo honey, oven-crisped with vanilla and maple.
PUPPY LOVE SCENTSY BAR
Sweet pea blossoms on a background of velvet musk.
RED DELICIOUS SCENTSY BAR
Crisp, juicy apples, fresh from the orchard.
SIMPLY IRRESISTIBLE SCENTSY BAR
Lavender with a strong, woody background of amber, moss and musk.
SIMPLY ROSE SCENTSY BAR
An open bud of classic, oral fragrance.
SPICED GRAPEFRUIT SCENTSY BAR
Mandarin and bergamot citrus perfectly balanced with spicy coriander, nutmeg and allspice.
WATERMELON PATCH SCENTSY BAR
Sweet, vine-ripened watermelon.
WILD CHERRY SCENTSY BAR
A sweet and juicy black cherry, like an old-fashioned black cherry soda.
Beginning Jan. 1, each Bring Back My Bar is $5, or choose how many Scentsy Bars you want from the options below and save:
3 Scentsy Bars: $14 ($1 savings)
6 Scentsy Bars: $25 (Buy 5, get 1 free)
All 20 fragrances: $85 (15% off)
Order Online January 1st – January 31, 2016.