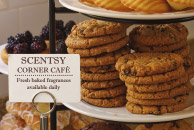 SCENTSY CORNER CAFE SCENT DESCRIPTIONS :
SCENTSY BAKED APPLE PIE 
Flaky crust, apples, and spices combined in a strong scent.
SCENTSY BERRIES JUBILEE
Juicy, ripe summer berries in a billowy cloud of whipped cream laced with vanilla.
SCENTSY CENTRAL PARK PRALINES 
A decadent confection of rich roasted pecans, buttery caramel, and cinnamon sugar.
SCENTSY CRUMB TOP 
The perfect blend of oats, butter, and brown sugar to top your favorite dessert.
SCENTSY DULCE DE LECHE 
A silky-sweet golden custard of sugary caramel, rich cream, and just a touch of warm vanilla.
SCENTSY MOCHADOODLE
Delicious roasted coffee beans and cocoa balanced with sugar, caramel, and heavy cream.
SCENTSY SALTED CARAMEL CUPCAKE 
Creamy golden caramel with hints of cocoa and delicate pink sea salt crowns a buttery cupcake.
SCENTSY STICKY CINNAMON BUN 
Cinnamon and sweet icing with warm, nutty nuances.
SCENTSY SUGAR COOKIE
Warm, sweet blend of butter, sugar, and creamy vanilla.
SCENTSY VANILLA BEAN BUTTERCREAM
Decadent buttercream frosting made with the freshest butter whipped with cane sugar and vanilla extract. So creamy and sweet you will have to lick the spoon!
***FRAGRANCES MAY BE AVAILABLE IN ~ SCENTSY SCENT BARS, SCENTSY TRAVEL TINS, SCENTSY SCENT PAKS, SCENTSY HAND SOAP, SCENTSY CIRCLES, SCENTSY CAR BARS, SCENTSY ROOM SPRAYS, SCENTSY LAUNDRY, SCENTSY CLEAN***