SHOP COLLECTIONS + HOLIDAY 🎄
Order soon to receive products in time for Christmas. Restrictions apply. Learn more.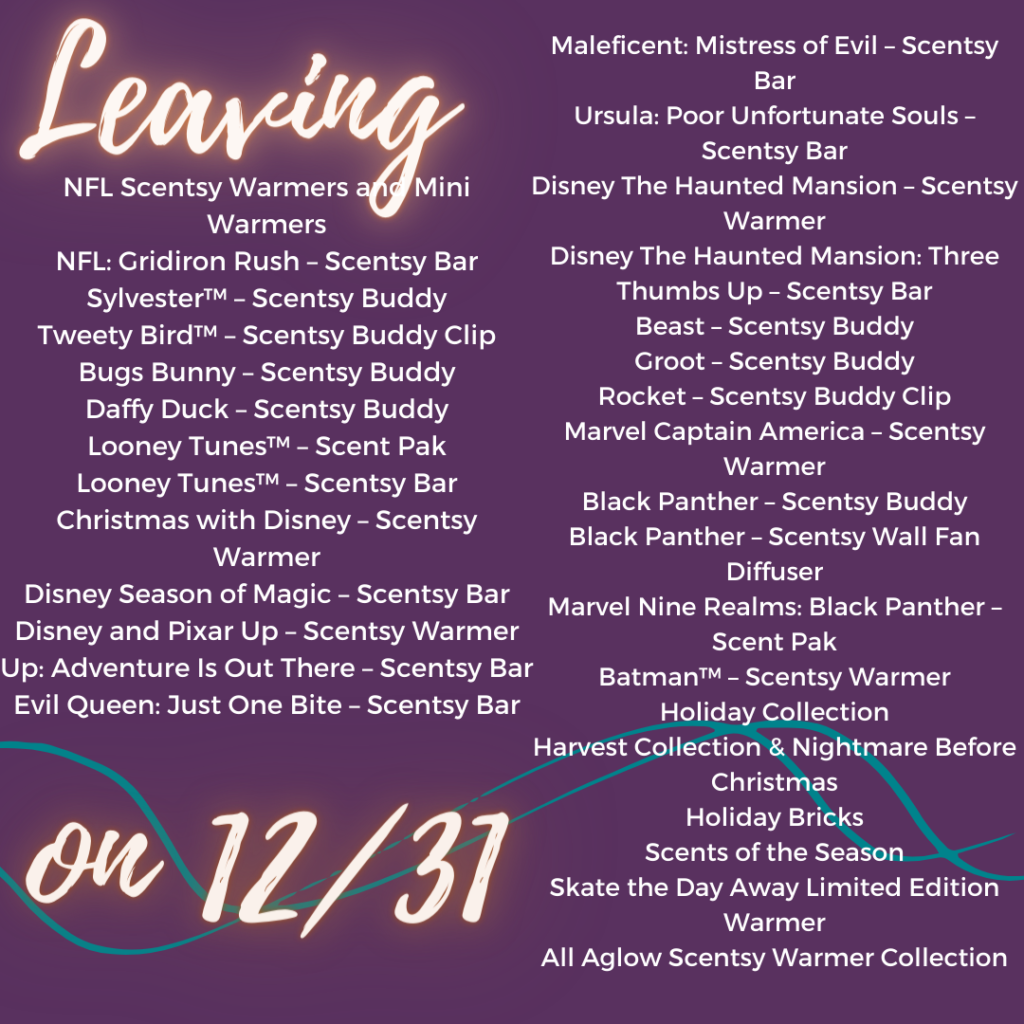 It's the end of the year, and we're getting ready to send a bunch of products to the vault. If you want any of the following licensed products, it's time to act!
Any remaining products will only be available until 11:59 p.m. PT Dec. 31, 2021, or while current inventory lasts, whichever comes first.
NFL Scentsy Warmers and Mini Warmers
NFL: Gridiron Rush – Scentsy Bar
Sylvester™ – Scentsy Buddy
Tweety Bird™ – Scentsy Buddy Clip
Bugs Bunny – Scentsy Buddy
Daffy Duck – Scentsy Buddy
Looney Tunes™ – Scent Pak
Looney Tunes™ – Scentsy Bar
Christmas with Disney – Scentsy Warmer
Disney Season of Magic – Scentsy Bar
Disney and Pixar Up – Scentsy Warmer
Up: Adventure Is Out There – Scentsy Bar
Evil Queen: Just One Bite – Scentsy Bar
Maleficent: Mistress of Evil – Scentsy Bar
Ursula: Poor Unfortunate Souls – Scentsy Bar
Disney The Haunted Mansion – Scentsy Warmer
Disney The Haunted Mansion: Three Thumbs Up – Scentsy Bar
Beast ­– Scentsy Buddy
Groot – Scentsy Buddy
Rocket – Scentsy Buddy Clip
Marvel Captain America – Scentsy Warmer
Black Panther – Scentsy Buddy
Black Panther – Scentsy Wall Fan Diffuser
Marvel Nine Realms: Black Panther – Scent Pak
Batman™ – Scentsy Warmer
Holiday Collection
Harvest Collection & Nightmare Before Christmas
Holiday Bricks
Scents of the Season
Skate the Day Away Limited Edition Warmer
All Aglow Scentsy Warmer Collection