Frosty Glow Back order Info:
All full-size Frosty Glow Warmers ordered after 11 a.m. PT Nov. 11 will BEGIN shipping in late December at the earliest, and depending on when you order, may not ship until January or beyond depending on demand. These warmers will partial-ship as they become available and won't hold up the rest of your order.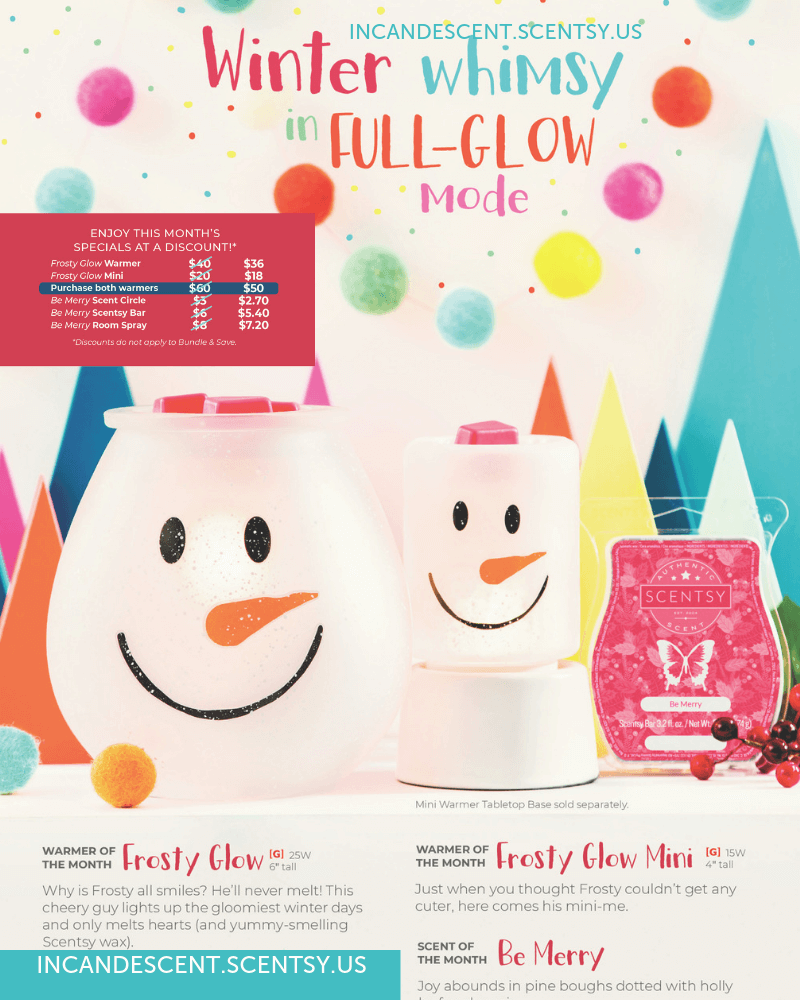 November 2018 Warmers & Scent of the Month
Scentsy is having two Warmers of the Month – Full Size and Mini Size!

Why is Frosty all smiles? He'll never melt! This cheery guy lights up the gloomiest winter days and only melts hearts (and yummy-smelling Scentsy wax).
Full Size Pricing
$36 $40 ON SALE THE MONTH OF NOVEMBER 2018
Just when you thought Frosty couldn't get any cuter, here comes his mini-me.
$18 $20 ON SALE THE MONTH OF NOVEMBER 2018
Purchase both warmers $60 $50 
Joy abounds in pine boughs dotted with holly leaf and cassis
On sale the Month of November 2018
Scentsy Bar $6, $5.40 Room Spray $8, $7.20 Scent Circle $3, $2.70
 On Sale Starting November 1st through the month of November while supplies last!
*Discounts do not apply to Combine & Save.