SCENTSY NOVEMBER 2018 WARMERS & SCENT OF THE MONTH – FROSTY GLOW & BE MERRY SCENTSY FRAGRANCE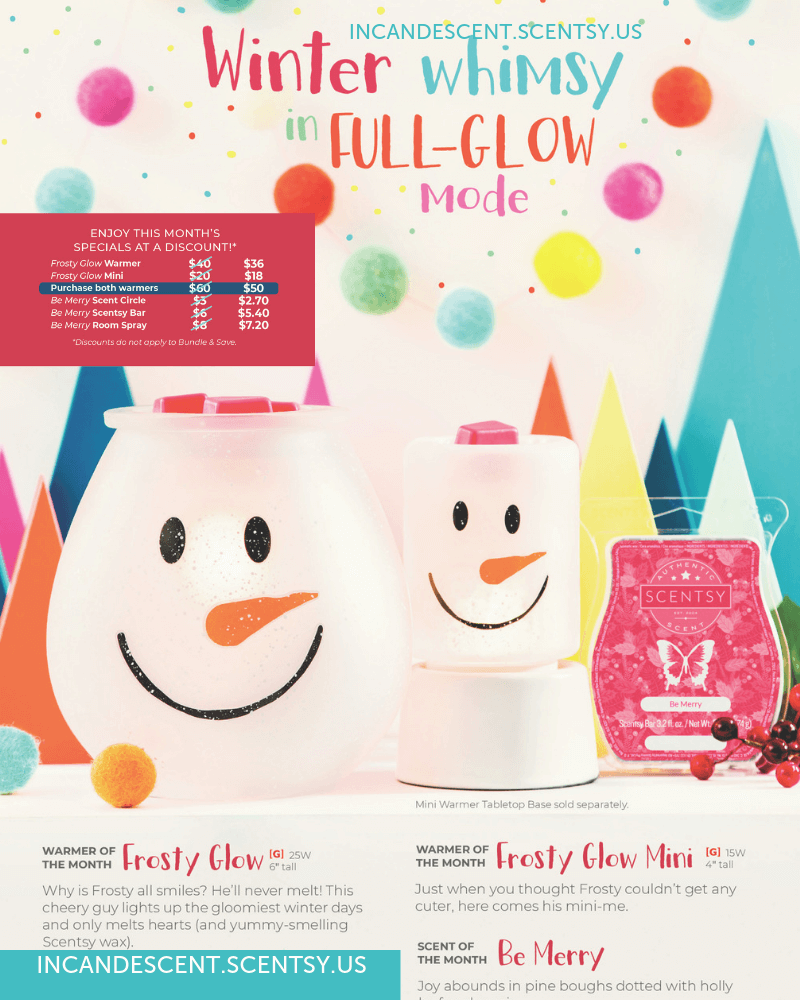 November 2018 Warmers & Scent of the Month
Scentsy is having two Warmers of the Month – Full Size and Mini Size!
LOVE IT, WANT IT? PLACE A PRE-ORDER!

Why is Frosty all smiles? He'll never melt! This cheery guy lights up the gloomiest winter days and only melts hearts (and yummy-smelling Scentsy wax).
Full Size Pricing
$36 $40 ON SALE THE MONTH OF NOVEMBER 2018
Just when you thought Frosty couldn't get any cuter, here comes his mini-me.
$18 $20 ON SALE THE MONTH OF NOVEMBER 2018
Purchase both warmers $60 $50 
Joy abounds in pine boughs dotted with holly leaf and cassis
On sale the Month of November 2018
Scentsy Bar $6, $5.40
Room Spray $8, $7.20
Scent Circle $3, $2.70
 On Sale Starting November 1st through the month of November while supplies last!