Scentsy Kick Essential Oil Blend for your Diffuser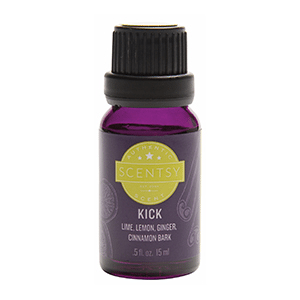 SCENTSY KICK ESSENTIAL OIL BLEND
An acutely energizing blend of lemon, lime and confidence-building ginger, with cinnamon bark for added warmth.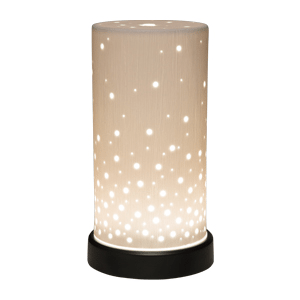 ASPIRE SCENTSY DIFFUSER
Be enlightened. Lift your spirit with Aspire, a handcrafted, textured ceramic shade featuring varied pinholes that glow — like a warm, starry sky — to add another layer of aesthetic beauty to your perfect sensory experience. The Scentsy Diffuser features the world's most advanced nebulizing diffuser to deliver your perfect fragrance experience instantly in a microscopic mist, with interchangeable decorative shades to complement and enliven your décor.
Kick is one of my favorite Essential Oil Blends from Scentsy.  Completely fantastic and fills the air immediately for instant rejuvenation.

I have it going with my Scentsy Diffuser in Aspire , set on the one of the 16 colors in an orange hue.  Absolutely gorgeous!