SHOP COLLECTIONS + HOLIDAY 🎄
Order soon to receive products in time for Christmas. Restrictions apply. Learn more.

From catching curveballs and squishing spiders to banishing monsters from under your bed, the original superhero is definitely D-A-D.
Father's Day is June 17, so thank the man of the house with a gift he's sure to love.
Choose from two dad-approved bundles (buy the warmer, get three Scentsy Bars FREE!):
Midcentury Warmer
Bergamot & Solar Driftwood Scentsy Bar
Vanilla Oud Scentsy Bar
Weathered Leather Scentsy Bar
Choose from 15 Major League Baseball™ Warmers and get three Scentsy Bars free.
Pick your team:
Atlanta Braves, Chicago Cubs, Detroit Tigers, Houston Astros, LA Dodgers, Philadelphia Phillies, Texas Rangers, Washington Nationals, Boston Red Sox, Kansas City Royals, New York Mets, New York Yankees, San Francisco Giants, St. Louis Cardinals or Toronto Blue Jays.
And get three free:
Baked Apple Pie Scentsy Bar
Sheer Leather Scentsy Bar
Welcome Home Scentsy Bar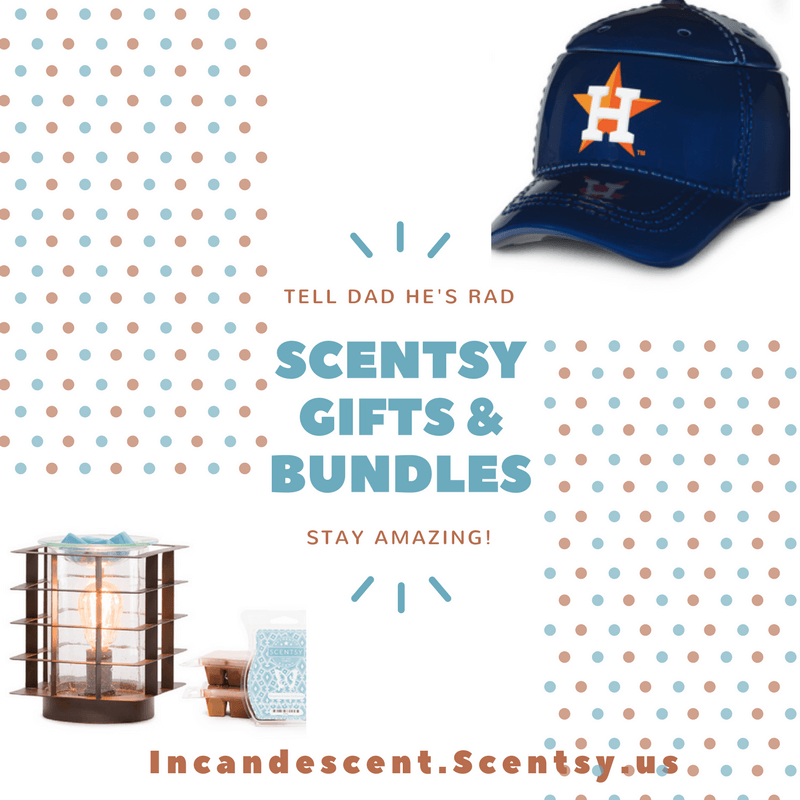 Or keep him looking sharp with limited-edition Scentsy Body products.
These masculine fragrances are ONLY available for our Father's Day gift specials, while supplies last! Don't miss out:
Hand Cream $9 USD/$12 CAD
Body Wash $9 USD/$12 CAD
And we're offering a "BOGO" on an old favorite — Scentsy Groom Shampoo Shave & Shower Bars – while supplies last!
Mix and match! Choose from five fragrances —
No. 04, No. 11, No. 48, No. 68 and No. 71 — buy one, get one FREE!
Shampoo, Shave & Shower Bar Descriptions:
No. 4 – Lime, Crushed Mint and Cedarwood
No. 11 –  Citrus Pressed, Lavendar and Oakmoss
No. 48 is Persian Lime & Sandalwood – Find fresh possibilities in tangy LIME, BERGAMOT and SANDALWOOD. Inspired by the Groom fragrance, No. 48
No. 68 – Mandarin, Violet Leaf and Vintage Leather
No. 71 – BERGAMOT, SEA SPRAY AND SOLAR AMBER
Father's Day gift specials are available beginning May 1 at
Incandescent.Scentsy.us
, but only while inventory designated for this promotion lasts. Don't wait to show Dad you care!
The Midcentury Father's Day Bundle, MLB Father's Day Bundle, and Shampoo Shave & Shower Bar BOGO are not available for Half-Price Host Rewards or Perpetual Party Rewards.