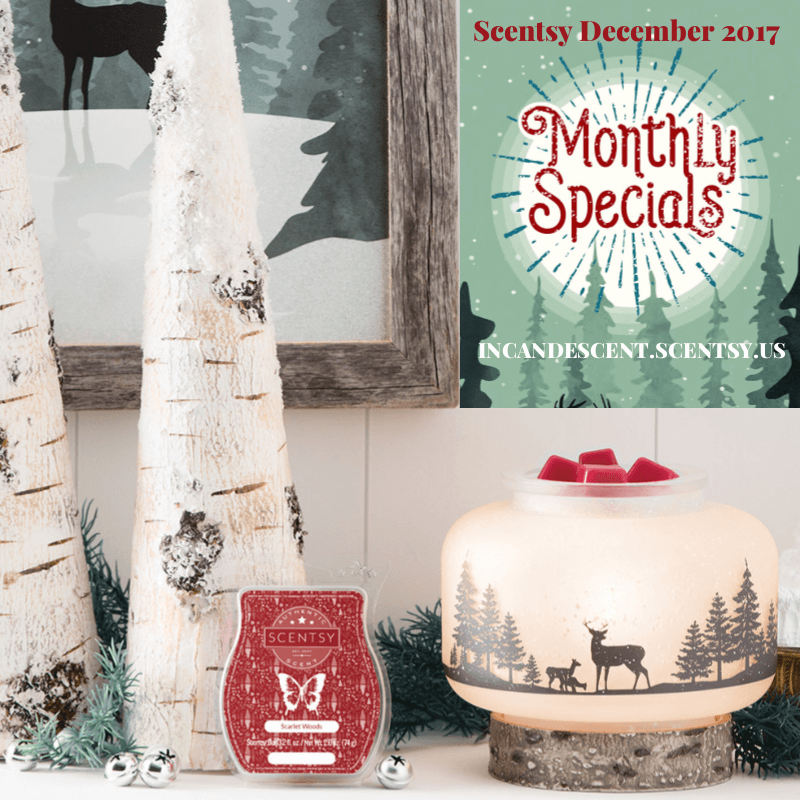 December 2017 Warmer & Scent of the Month.
Weave some woodland magic into any space with this rustic, softly lit warmer, featuring a tranquil scene cast in perfect silhouette. 6″dia. x 5″H Faux Birch Base Included!  The warmer is 3 pcs, Base, Shade and Dish!
Matches our Wild Life Mini Scentsy Warmer!
 $50 $45 ON SALE THE MONTH OF DECEMBER 2017

Available December 1, 2017
Scentsy 2017 December Scent of the Month ~ Scarlet Woods
Find your fairytale in vivid notes of cassis and redberry over crisp white cedar
 On sale the Month of December 2017
Scentsy Bar $6, $5.40 Room Spray $8, $7.20 Scent Circle $3, $2.70
 On Sale Starting December 1st through the month of December while supplies last!
*Discounts do not apply to Combine & Save.
Wildlife Scentsy Warmer is stunning!! This a beautiful piece that you can keep out all winter long. It yields a pretty light with a serene landscape.  The base is gorgeous,  I have it sitting on top of the Faux Birchwood Cord Covering Stand(which is larger in diameter) for added height. Add the WildLife Nightlight Warmer and you have a beautiful set.  This will go in my family room and the nightlight in our kitchen. The fragrance, Scarlet Woods,  reminds me of a milder version of Rosewood & Freesia or Pink Currant & Birchwood.  One of my old favorites. I have heard others compare it to Hemingway.  It's a great scent for Winter.