2017 SUMMER BBMB HAS ENDED – THANK YOU – PLEASE VOTE FOR YOUR FAVORITES IN THE FALL AGAIN!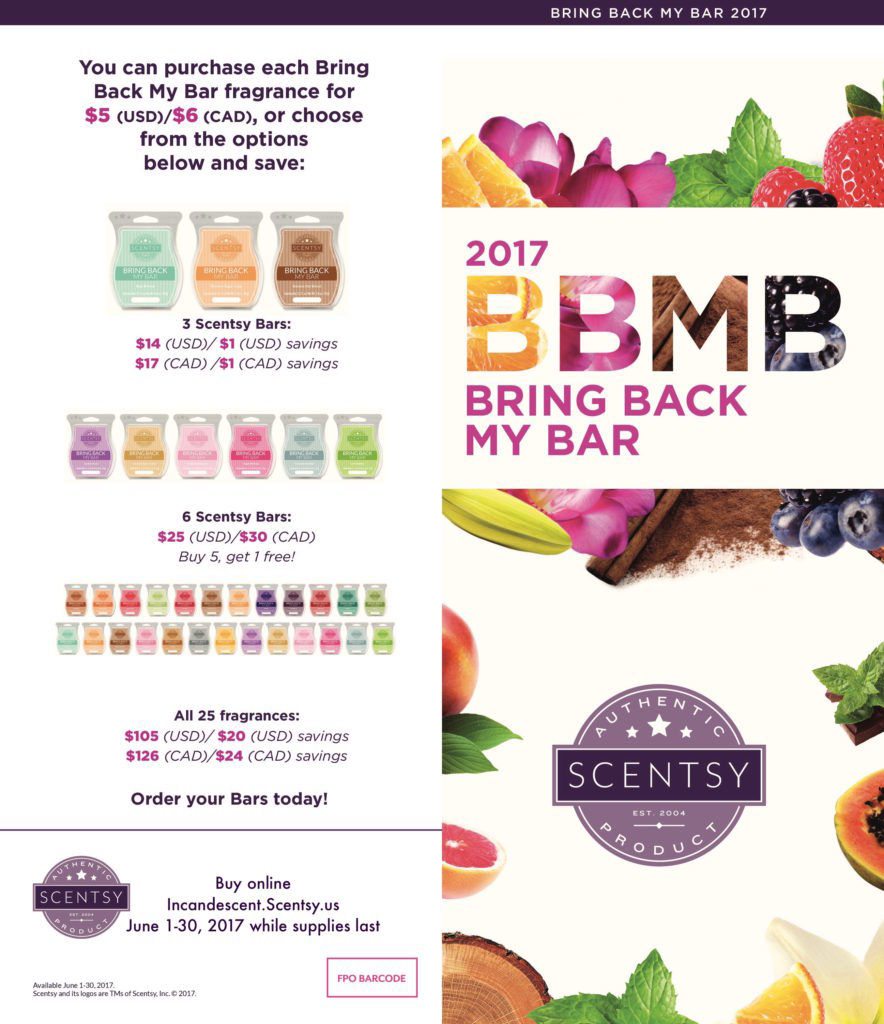 Scentsy Bring Back My Bar Winners List for June 2017
Open a box of treasure, hand-picked from exotic lands, to discover glowing red cedar and resinous incense tucked amid smoky vetiver and crackling birch leaves.
The smell of crisp fall days: crunchy apples, juicy pears, and just a hint of the last full roses of the summer.
Right from the oven with ripe bananas, nuts and spices.
The true scent of baseball-card bubblegum—sugar and cotton candy with a hint of mint.
A fusion of exotic cardamom, intriguing caraway, lively pepper, and fragrant woods with a powdery wisp of orange blossom.
Perfectly ripe pear and juicy nectarine blanketed in a brown sugar crust and topped with a dollop of warm caramel cream.
Sweet, creamy lemon and enchanting jasmine: a rhapsody of devotion.
Chewy brown sugar cookie spiked with warming ginger and fragrant vanilla.
Tangy grapefruit with a splash of lily flower
Bring back childhood memories of licking sweet, rich frosting off the beaters. Happy Birthday is a "candy-licious" confection of sparkling sugar, fluffy whipped cream, and warm vanilla extract.
Buffet of Hawaiian fruits: pineapple, banana, mango, papaya, and coconut.
Rock and roll with an electrifying blend of earthy patchouli, glowing sandalwood and bold pink pepper, harmonized with sweet tobacco flower.
Innocent pink jasmine and sensual amber embraced by luscious dark chocolate.
Earthy, ripened figs and golden berries tempered by musky woods will open your eyes and captivate your senses.
A confection of earthy fig, sweet violet, and playful marshmallow will have you wishing for more.
A classic combination of fresh orange, swirled with vanilla cream.
Concoction of old-fashioned root beer and creamy vanilla ice cream.
A windswept drive in a convertible–an exhilarating breeze of citrus, herbs, and musk.
As fresh as a spring garden — sweet hyacinth sings with a fragrant medley of coconut water, violet leaf and soft musk.
A sunny shore washed clean by a spring shower–soft sea air, golden citrus, and dewy driftwood scattered with white beach daisies.
BONUS 5 ADDITIONAL BARS!
Sun-ripened raspberries and tangy lemons make you wish it were summer.
Enchanting blend of tropical fruits and flowers.
Refreshing aroma of 100% lime juice.
A sparkling splash of citrus and sweet florals.
Sweet African Vanilla and Italian espresso topped with just a hint of hazelnut.
And if you noticed that sixth most popular Jet, Set, Go! didn't make the list, don't worry! We have bigger plans for this fave later this summer!
All 25 fragrances are available to purchase starting June 1, 2017. Each Bring Back My Bar is $5, or choose from the options below and save:
3 Scentsy Bars: $14 ($1 off)
6 Scentsy Bars: $25 (Buy 5, get 1 free)
All 25 fragrances: $105 ($20 off)