SCENTSY SPRING 2021 BRING BACK MY BAR WINNERS
Not Available
Blue Hyacinth
Florals from heaven! Pure BLUE HYACINTH is all about the flower power.
Candy Crave
 Just the sweet stuff! RASPBERRY SORBET, COTTON CANDY and fluffy MARSHMALLOW.
Coffee Tree
Bold and sophisticated. Wake up to the rich aroma of freshly roasted coffee beans.
French Kiss
Sweet fig tenderly caressed by coconut pulp, exotic cedar, and caramel.
Fresh Cut Daisies
 A meadow awash in summer blooms: freshly cut grass and clover with daisies, buttercups and ivy.
Honeymoon Hideaway
Escape to a secluded retreat of dew-kissed lily and tart-sweet kiwi, shaded by lush coconut palm.
Kahiko Hula
Say "Aloha" with exotic Passion Fruit, Mango and Papaya
Lemon Thyme Berry
SPARKLING LEMONADE and STRAWBERRY sprinkled with CRUSHED THYME.
Lucky In Love
Sweet bouquet of mandarin, bergamot and orange with hints of peaches and berries.
My Wish
A confection of earthy fig, sweet violet, and playful marshmallow will have you wishing for more.
Ocean
Cool and refreshing aquatic notes deepened with water lilies and ocean breezes.
Oodles of Orange
Kids will love this sweet, citrusy scent punched up by fresh pineapple, crisp papaya, mango blossom and ripe bunches of tropical berries. Yum!
Palo Santo
CHARRED CEDAR BARK and TEAK are the ultimate dreamboat blend.
Spring Forward
If sunshine had a scent, it would be this burst of Italian bergamot, raspberry jam and cedarwood.
Strawberry Swirl
Blissfully sweet and creamy, Strawberry Swirl whips together frozen strawberry, frothy milk and vanilla.
Summer Soleil
PINEAPPLE and COCONUT MILK top fluffy VANILLA MARSHMALLOW.
Sweet Pea & Vanilla
Ambiance of raspberries and sweet pea petals with vanilla.
Watermelon Patch
Sweet, vine-ripened watermelon.
White Tea & Cactus
A clean, crisp, and refreshing floral mix with green notes.
Wild Black Cherry
A sweet and juicy black cherry, like an old-fashioned black cherry soda.
Bonus bars:
Jet, Set, Go!
Jet off to a balmy tropical paradise of Brazilian orange, jungle papaya, and island vanilla.
Love Story
Innocent pink jasmine and sensual amber embraced by luscious dark chocolate.
Mulberry Bush
Sweet mulberry accented with bittersweet orange peels.
Rockin' Ruby Razz
Kids Birthday parties and punchbowls and presents piled high. This fruity blend of juicy orange, fresh strawberry and sweet candy glaze is a child's best day all wrapped up in one perfect fragrance.
Watermelon Mint
A chilled slice of sweet watermelon, sprinkled with bracing fresh mint, makes a refreshing summer treat.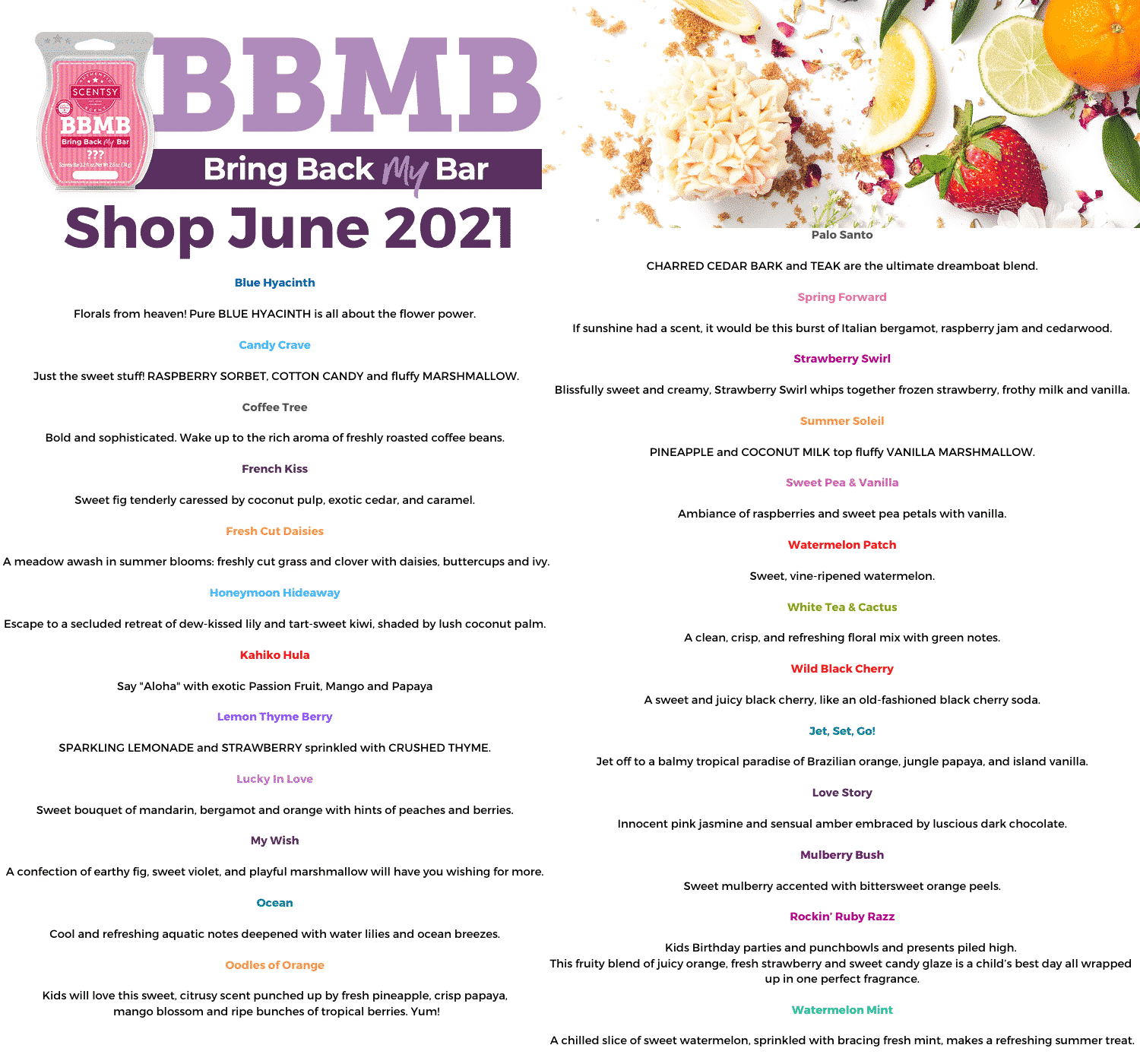 Slide