SHOP COLLECTIONS + HOLIDAY 🎄
Order soon to receive products in time for Christmas. Restrictions apply. Learn more.
JANUARY SCENTSY BRING BACK MY BARS HAVE BEEN ADDED TO CLEARANCE – WHILE SUPPLIES LAST!
Please see the Scentsy Bring Back my Bar Voting and Shopping Schedule for Summer 2018 – Voting Begins April 2, 2018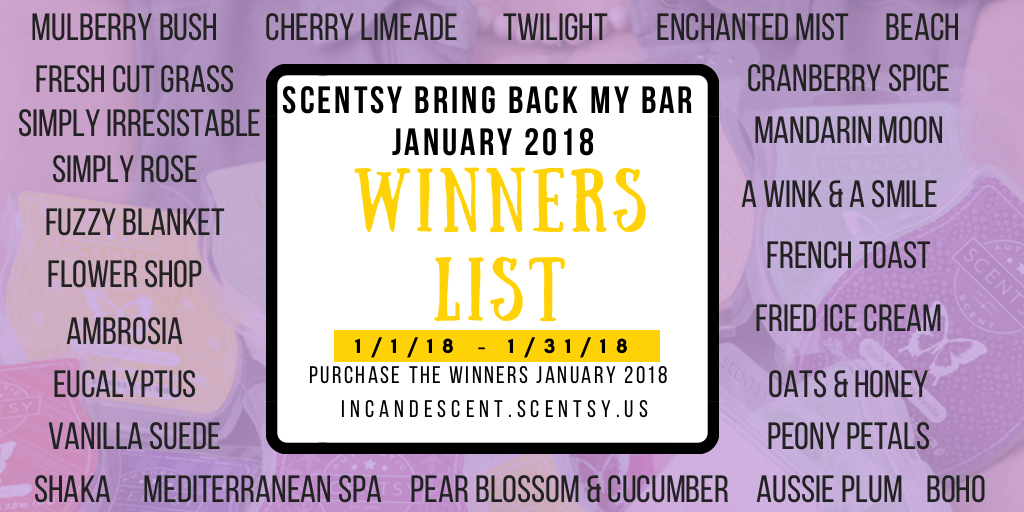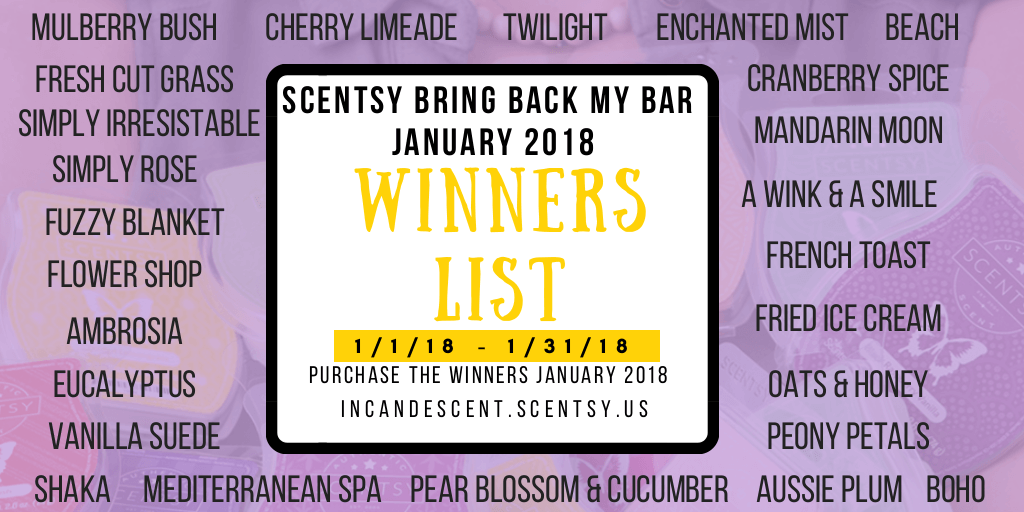 THE WINNERS FOR JANUARY 2018 BRING BACK MY BAR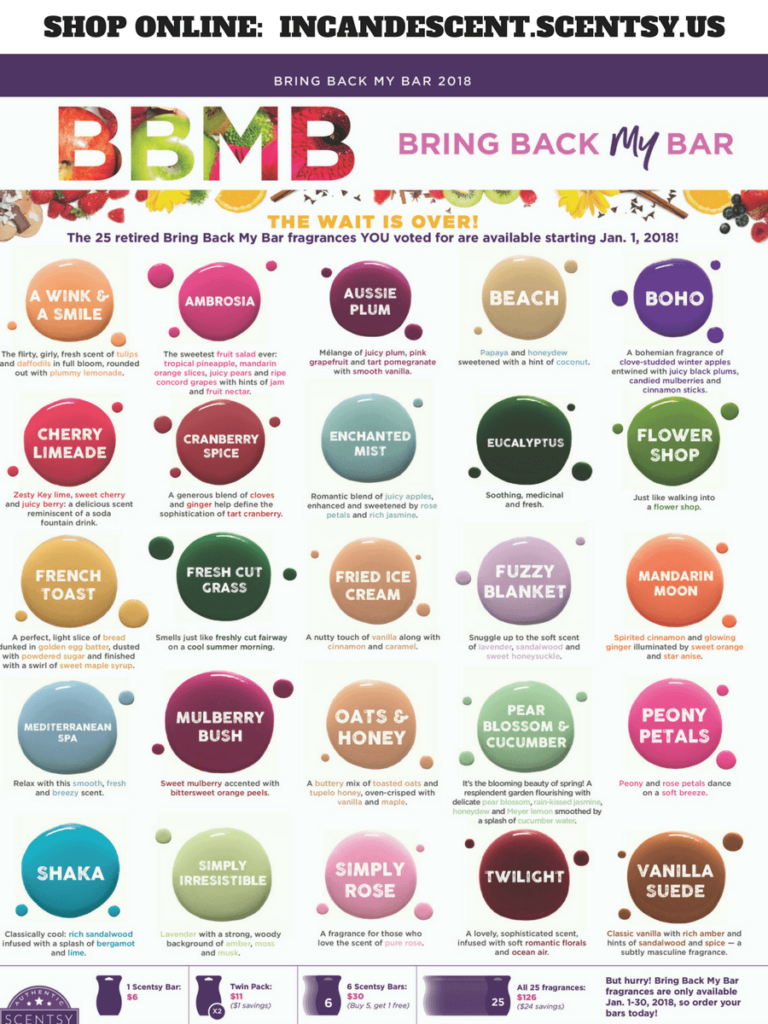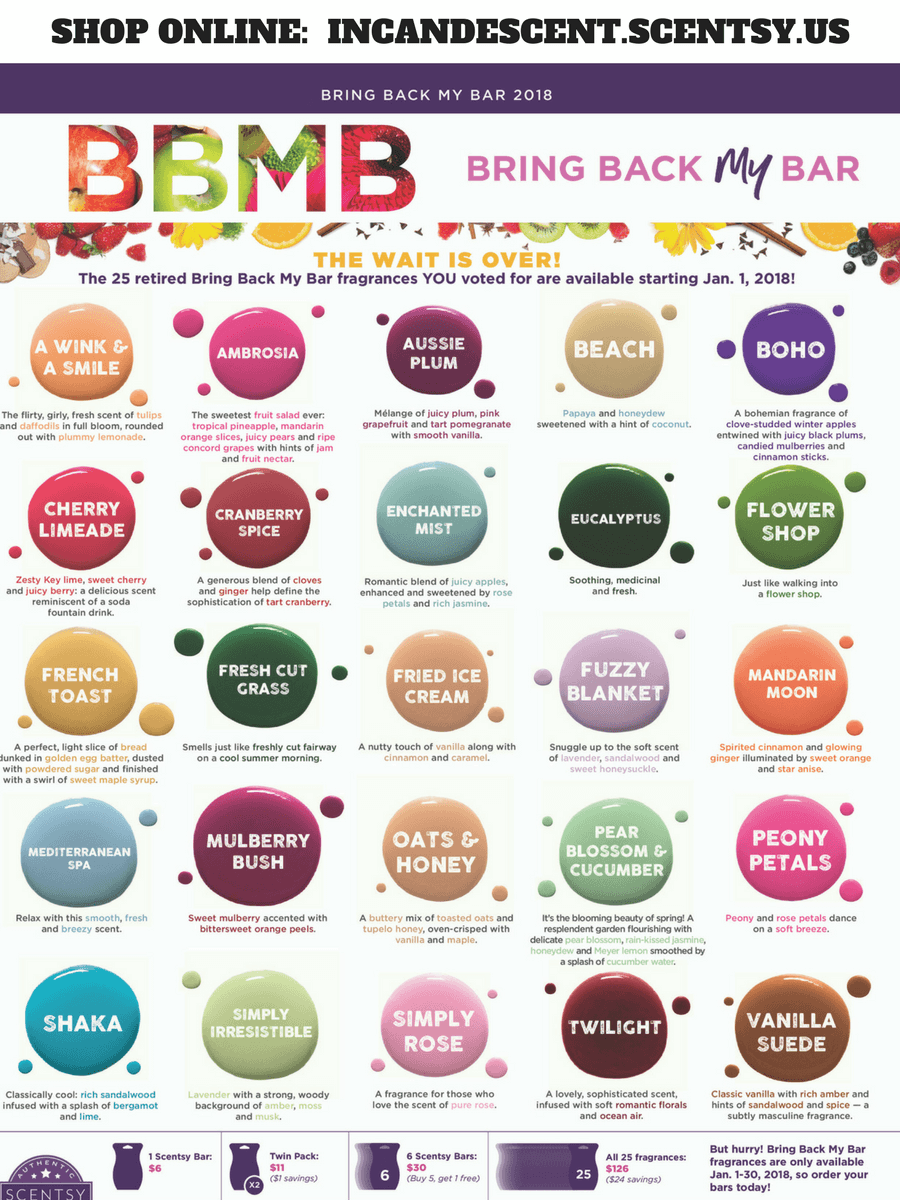 Cranberry Spice 
A generous blend of cloves and ginger help define the sophistication of tart cranberry
Twilight 
A lovely, sophisticated scent, infused with soft romantic florals and ocean air.
Simply Rose 
An open bud of classic, floral fragrance.
Flower Shop 
Just like walking into a flower shop. 
Boho 
✌
A bohemian fragrance of clove-studded winter apples entwined with juicy black plums, candied mulberries, and cinnamon sticks.
Mediterranean Spa 
‍♀
Relax with this smooth, fresh, and breezy scent.
Mandarin Moon 
Spirited cinnamon and glowing ginger illuminated by sweet orange and star anise.
A Wink & A Smile 
The flirty, girly, fresh scent of tulips and daffodils in full bloom, rounded out with plummy lemonade. 
Fried Ice Cream 
Vanilla with a nutty touch along with cinnamon and caramel
Oats & Honey 
A buttery mix of toasted oats and tupelo honey, oven-crisped with vanilla maple.
Beach 
⛱
 Papaya and honeydew sweetened with a hint of coconut
Eucalyptus 
Soothing, medicinal, and fresh.
Ambrosia 
Like sweetest fruit salad ever: tropical pineapple, mandarin orange slices, juicy pears, and ripe concord grapes with hints of jam and fruit nectar.

Vanilla Suede 
️Classic, comforting vanilla combined with rich amber and hints of sandalwood and spice – a cozy and subtly masculine fragrance.

Pear Blossom & Cucumber 
It's the blooming beauty of spring! A resplendent garden nourishing with delicate pear blossom, rain-kissed jasmine, honeydew and Meyer lemon smoothed by a splash of cucumber water
Mulberry Bush 
Sweet mulberry accented with bittersweet orange peels.
Fuzzy Blanket 
Snuggle up to the soft scent of lavender, sandalwood, and sweet honeysuckle
Peony Petals 
Peony and rose petals dance on a soft breeze.
French Toast 
A perfect, light slice of bread dunked in golden egg batter, dusted with powdered sugar, and finished with a swirl of sweet maple syrup.
Cherry Limeade 
Zesty key lime, sweet cherry, and juicy berry: a delicious scent reminiscent of a soda fountain drink.
Plus, 5 More Scents!
Aussie Plum
Mélange of juicy plum, pink grapefruit, and tart pomegranate with smooth vanilla
Enchanted Mist
Romantic blend of juicy apples, enhanced and sweetened by rose petals and rich jasmine.
Fresh Cut Grass
Like freshly cut fairway on a cool summer morning. Nature.
Shaka
Classically cool: rich sandalwood infused with a splash of bergamot and lime.
Simply Irresistible
Lavender with a strong, woody background of amber, moss and musk.
The  top Scentsy Bars  will be available for purchase beginning January 1, 2018.
And if you noticed that 

Sugar

 and 

Shimmer

 didn't make the list, don't worry!
All 25 fragrances will be available for purchase starting Jan. 1, 2018 at Incandescent.Scentsy.us. Each Bring Back My Bar is $6, or choose from the options below and save:
Twin Pack (2 Scentsy Bars, same fragrance): $11 ($1 off)
6 Scentsy Bars: $30 (Buy 5, get 1 free)
All 25 fragrances: $126 ($24 off)