Check out Closeout for previous Winners – while supplies last!
25 Scentsy Fragrances Returning for the month of July!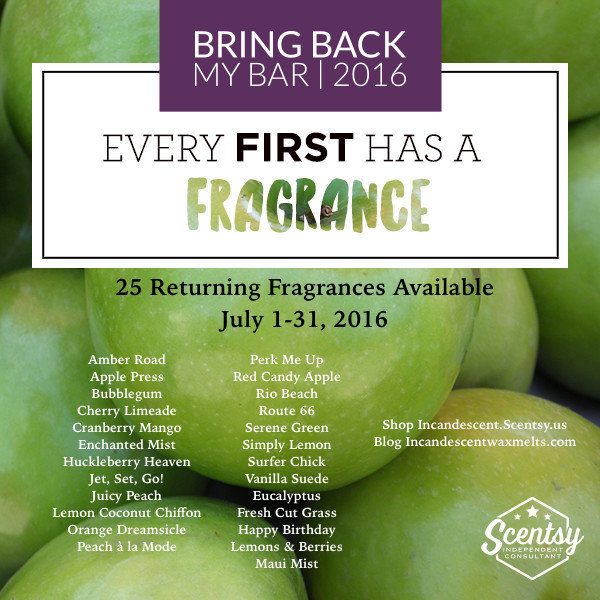 ***BONUS BARS ADDED***
The 2016 Scentsy Bring Back my Bar Winners available July 1-31, 2016
Huckleberry Heaven
Smells like Grandma's huckleberry jam.
Apple Press
The smell of crisp fall days: crunchy apples, juicy pears, and just a hint of the last full roses of the summer.
Rio Beach
The scent of sun, surf, sand, and samba—coconut milk, tropical fruit, and tonka bean.
Amber Road
Open a box of treasure, hand-picked from exotic lands, to discover glowing red cedar and resinous incense tucked amid smoky vetiver and crackling birch leaves.
Juicy Peach
Mouthwatering, freshly picked, sweet juicy peach.
Route 66
A windswept drive in a convertible–an exhilarating breeze of citrus, herbs, and musk.
Bubblegum
The true scent of baseball-card bubblegum—sugar and cotton candy with a hint of mint. 
Vanilla Suede
Classic, comforting vanilla combined with rich amber and hints of sandalwood and spice – a cozy and subtly masculine fragrance.
Orange Dreamsicle
A classic combination of fresh orange, swirled with vanilla cream.
Enchanted Mist
Romantic blend of juicy apples, enhanced and sweetened by rose petals and rich jasmine.
Jet, Set, Go!
Jet off to a balmy tropical paradise of Brazilian orange, jungle papaya, and island vanilla.
Red Candy Apple
Macintosh apples, raspberry jam, berries, and strawberry milk, with brown sugar and cotton candy.
Serene Green
Deep green lime leaves, crisp verbena, and tart citrus zest in a bright, happy fragrance.
Lemon Coconut Chiffon
Melt-in-your-mouth lemon custard layered with butter cake and sprinkled with toasted coconut.
Surfer Chick
Bubbly lemon tonic and guava frolic with sweet cherries and blackberries in this youthful scent.
Cherry Limeade
Zesty key lime, sweet cherry, and juicy berry: a delicious scent reminiscent of a soda fountain drink.
Perk Me Up
Simply the most perfect cup of coffee you'll ever experience. A strong brew of Guatemalan coffee beans and just a touch of hazelnut.
Simply Lemon
The refreshing zest of lemon.
Cranberry Mango
A mélange of tropical mango, cozy cranberry, and spicy pineapple.
Peach a la Mode
The perfect dessert for a summer picnic! Fresh from the orchard, ripe and juicy fruit-stand peaches simmered in sugar and topped with a fluffy dollop of sweet vanilla cream.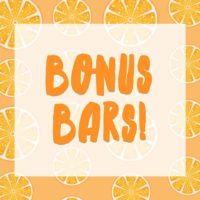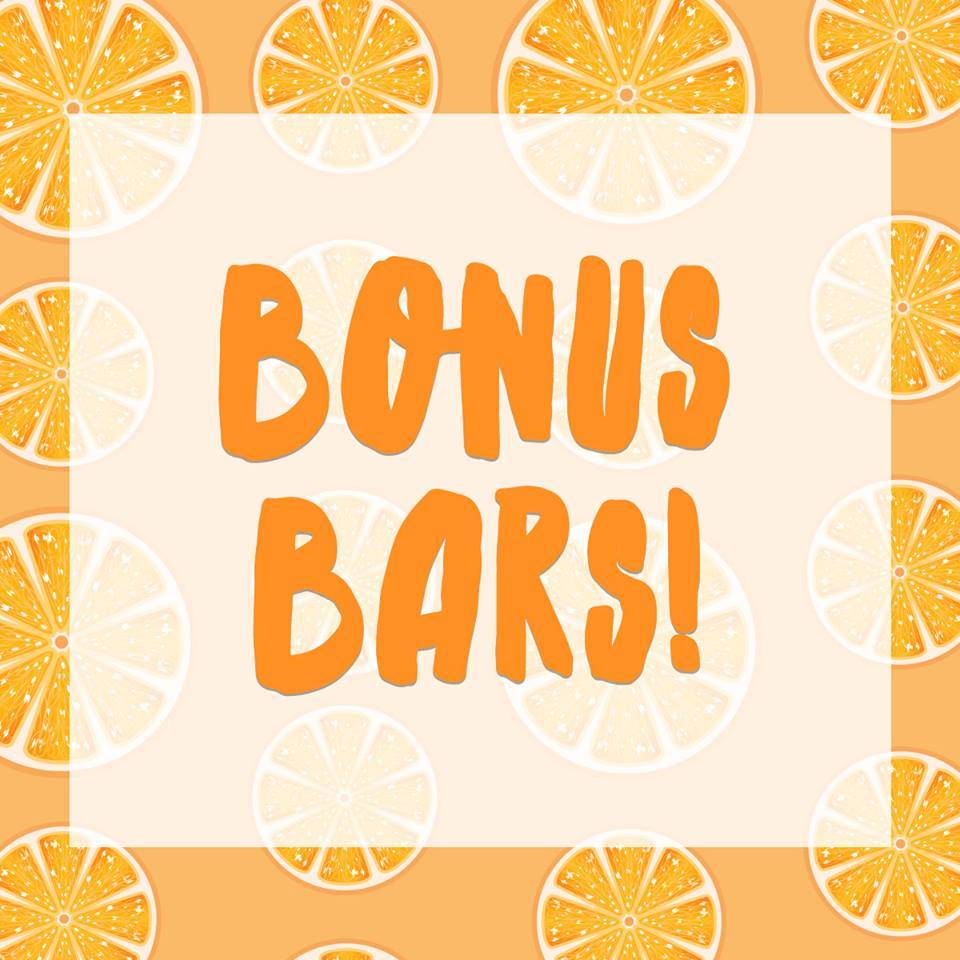 ***BONUS BARS ADDED***
Scentsy BBMB 2016 Bonus Bars
Happy Birthday
Bring back childhood memories of licking sweet, rich frosting off the beaters. Happy Birthday is a "candy-licious" confection of sparkling sugar, fluffy whipped cream, and warm vanilla extract.
Fresh Cut Grass
Like freshly cut fairway on a cool summer morning. Nature.
Lemons & Berries
As refreshing as a frosty-sweet glass of lemonade on a hot day: Juicy strawberries and red currants cut with a blast of zesty citrus.
Maui Mist
Creamy bouquet of rose, lilac, wood and musk drizzled with creamy vanilla.
Eucalyptus
Soothing, medicinal, and fresh.
$5 EACH, OR 3 Scentsy Bars: $14 ($1 savings); 6 Scentsy Bars: $25 (Buy 5, get 1 free);
All 25 fragrances: $110 (a $15 savings)
The 25 fragrances will be available for purchase beginning July 1, 2016 @ Incandescent.Scentsy.us.