For the whole month of February, most Scentsy catalog products are discounted! Get your seasonal favorites before they're gone!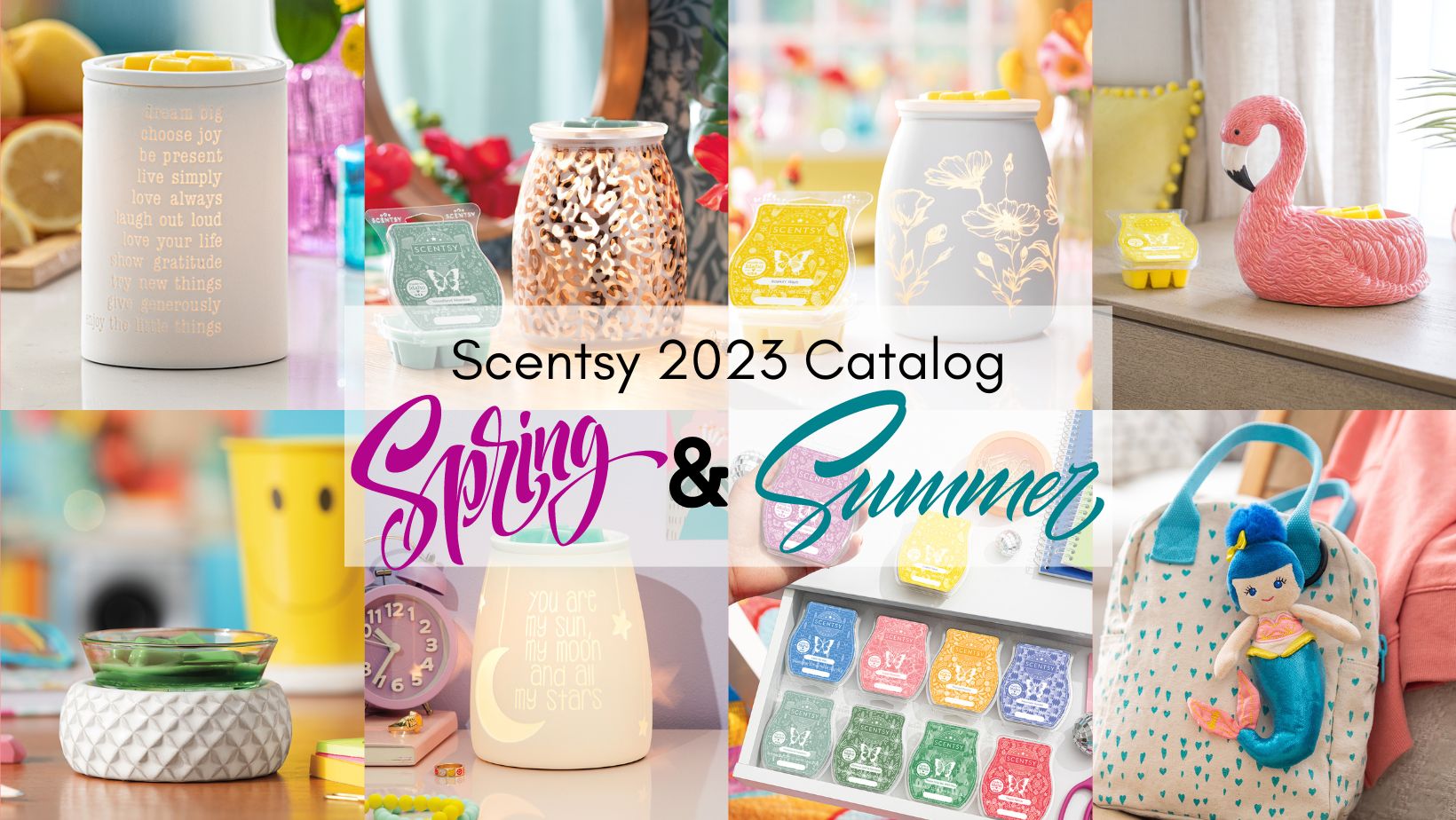 Scentsy 2023 Spring Summer Catalog
New Scentsy Products and Info | Spring Summer 2023 Catalog
Shop the new Scentsy Spring Catalog on March 1, 2023
Catalog products include new Scentsy fragrances, Scentsy Warmers, Diffuser Shade, Oils, Harry Potter Collection and The Little Mermaid Warmer & Fragrance!
New Scentsy 2023 Spring Summer Catalog Fragrances
Available in Scentsy Bar, Scent Circle & Room Spray
Banana Leaf & Bamboo
Juicy sweet white peach and banana leaf envelop aged bamboo and sheer mahogany
Lake My Day
Refreshing lake waves lap peacefully over crisp bergamot and fresh oak moss
Mango Matcha
A mix of orange nectar and matcha sorbet topped with a slice of cucumber and a dash of pure sugarcane
Mountain Sunset
Take in the view over wild bluebell and warm woods as coconut and golden amber fill the air.
Peace (Lily) Be With You
White peace lily and green apple harmonize with watery greens and a touch of vanilla
Raspberry Hibiscus Tea
A warm cup of wild raspberry and hibiscus petals sweetened with a spoonful of elderberry sugar
Soakin' Rays
Feel the sunshine as bright mandarin and orange flower back in ocean air
Sugar Blossom
Sugar dipped golden blossoms adorn a shimmering fusion of sugared citrus and vanilla
Tropic Nectar
Tropical fruit nectar gets even sweeter with coconut milk and golden agave
Woodland Meadow
Woodland wildflowers flourish beneath a beautiful forest canopy and an air of bergamot and amber
Scentsy 2023 Spring Summer Catalog Slideshow
Scentsy 2023 Products