Sale ~ Ribbons of Hope Scentsy Pink Ribbon Warmer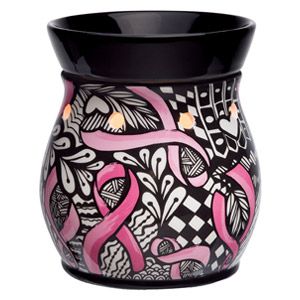 CELEBRATE BREAST CANCER AWARENESS MONTH!
RIBBONS OF HOPE SCENTSY WARMER PREMIUM
Is pink your signature color? When it comes to breast cancer, we never get tired of thinking pink! Help us spread a message of continued hope to breast cancer survivors and encourage early detection through mammograms with your purchase of Ribbons of Hope. This new design, inspired by our beloved 2010 Love, Life, Hope Warmer, features a fresh, trendy marker art design celebrating the iconic pink ribbon.
Proceeds from Ribbons of Hope support the National Breast Cancer Foundation (NBCF) in its mission of helping women now by providing help and inspiring hope to those affected by breast cancer through early detection, education, and support services.
$35.00 $28.00 while supplies last!