Description
COMING SEPTEMBER 1, 2018
 SCENTSY CLUB INFO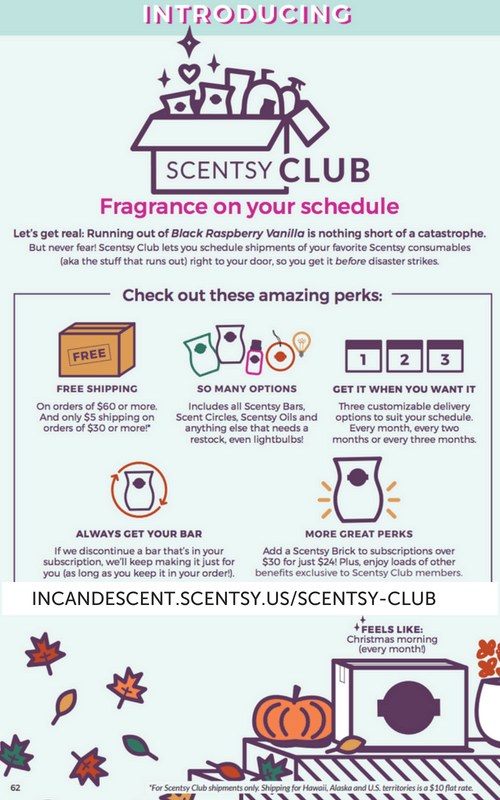 Check out these amazing perks
Scentsy Club is a new, global monthly subscription program replacing Scentsy VIP and Customer Loyalty, offering more benefits than ever to Consultants and customers alike: 
All consumable products (aka the stuff that runs out) are available through Scentsy Club, including Scentsy Bars, Scentsy Oils and anything else that needs a restock, even lightbulbs! Eligible products will vary depending on what's available in your country. 


 

Always Get My Bar 


If we discontinue a Scentsy Bar that's in your subscription, we'll keep making it just for you (as long as you keep it in your order)!* 




 

FREE or reduced shipping

 
     On qualifying orders.* 
Customizable shipment scheduling 


Choose your shipment frequency: every month, two months or three months.

 
 You can go straight to Incandescent.Scentsy.us to build your own Scentsy Club subscriptions. Simply select your products and choose how often you would like them to ship. It's that easy! 
 *Rules apply. See Scentsy Club FAQ for details. 
Enrollment begins Sept. 1 for the first delivery in October. 
 What does all this mean for Scentsy VIP and Customer Loyalty programs?  
Scentsy Club will replace our existing programs to become our sole subscription-based program. It is a culmination of those programs with a whole lot of perks added on! Here are the details and more info to be shared soon. 
As of July 18, 2018, no new VIP or Loyalty subscriptions will be accepted.

 

 

Existing VIP and Loyalty subscriptions will automatically roll over into Scentsy Club. 

 

 

Rollover details will be shared later this month
LEARN MORE AND SIGN UP FOR EMAIL NOTICATION
Shop Online: Incandescent.Scentsy.us