The 2016 November Warmer of the month ~ WINTER FROST SCENTSY WARMER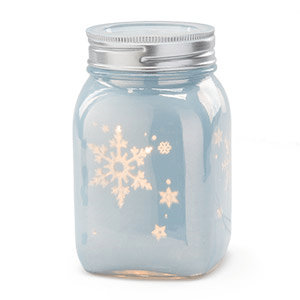 Cozy up to a charming winter wonderland! Modeled after an old-fashioned Mason jar, Winter Frost captures picture-perfect snowflakes and casts them out in a dazzling display. 7″ TALL, 20W
There is a removable dish on top – solid base on bottom that includes the bulb.
$40.00 $36.00 on sale the Month of November 2016
Available November 1, 2016
On sale the Month of November 2016
 Lavender freshened by wintry white balsam and crisp amber.
Scentsy Bar $5, $4.50 Room Spray $8, $7.20 Scent Circle $3, $2.70
 Starting November 1st through the month of November, while supplies last!
*Discounts do not apply to Combine & Save.
Available November 1, 2016 and on sale through December 2016 while supplies last!
Being a Scentsy Consultant is almost like Christmas every day, I swear! The Warmer & Scent of the Month is so exciting to see each and every month. This is one of those days, 10-fold! This warmer is stunningly pretty.  This is a lot different than our other Mason Jar Warmers.  The base is all one piece(typical of our Scentsy Warmers) where the bulb electrical unit is built in, the bowl is removable and light blue with a very detailed rim of silver to look like a canning jar.  This bowl sits right on top and glows so pretty.  This is also a glass jar with a mirrored inside finish.  So the reflection of the snowflakes is stunning! It's a beautiful icy blue.  The Scent reminds me a lot of Winter Cypress, but heavier on the lavender.  It's a very nice winter fragrance, with hints of the fir needle coming through.  A lovely lavender color to go beautifully with this warmer! This is a warmer you can keep out ALL winter!