HELLO,SUNSHINE!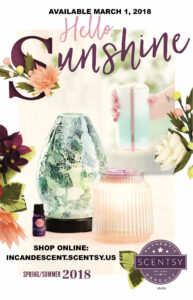 "Welcome to Spring/Summer 2018! Summer Sunshine and Apricot Vanilla mean warmer days filled with fun, freedom and fragrance. A sultry Midnight in Curaçao, a stay in a Rainforest Bungalow or lessons learning the Kahiko Hula. This season, we're serving up a summer holiday for your Crazy, Hot Mess life! Awaken your senses with inspiration from Around the World. Whether you've been Lucky in Love for a dozen years or find yourself Accidentally in Love this season, we hope you find your Scentsy sunshine in 2018." HEIDI AND ORVILLE THOMPSON, PRESIDENT & CEO
NEW SCENTSY SPRING SUMMER 2018 CATALOG 
All New Scentsy Spring Summer 2018 Fragrances come in Scentsy Bars, Scentsy Scent Circles and Scentsy Room Sprays
SCENTSY SPRING SUMMER 2018 NEW RELEASES
Sweet-tart GRANNY SMITH and MACINTOSH notes offer a bite of PURE APPLE bliss.
Crisp, GINGERY TANGERINE and exotic PALM FROND keep things clean and bright.
Whisper sweet somethings with COCONUT SUGAR, CREAMY VANILLA and BING CHERRY.
ALOE WATER, CUCUMBER PEEL, PALM FROND and PINEAPPLE NECTAR are oh-so-mellow.
HEIRLOOM PEACH, APRICOT and VANILLA ICE CREAM tempt fate (and everyone else). One of Heidi's favorites!
Florals from heaven! Pure BLUE HYACINTH is all about the flower power.
Guilt-free GOOEY CARAMEL, VANILLA, SUGAR CONE and a touch of MALT.
HEIRLOOM PEACH, bashful DAHLIA and STRAWBERRY sweeten the deal.
Stir up some fiesta-worthy fun with NAVEL ORANGE, tropical CHERRY and APPLE SLICES.
MANDARIN goes rogue with a fresh layer of LIGHT WOODSY NOTES.
Brazen notes of CURRANT, ORANGE and MIRABELLE PLUM sneak out after hours.
FRESH PINEAPPLE steals the show in this eye-opening tropical production.
Take the road less traveled through emerald PALM FROND, DEWY LEMONGRASS and ALOE FLOWER.
Slip into something more sensual, like BERGAMOT, a subtle HINT OF LEATHER and SANDALWOOD.
Turn the other chic with polished WHITE GRAPEFRUIT and a hint of FRUIT NECTAR.
Create your Scentsy Spring Love List 💜
This page will be continually updated with all the New Scentsy Products / Images as we move closer to the March 1, 2018 release date. Thank you!
⭐ Some Hightlights ⭐
Sugar and Shimmer are back in Wax and Body Care, Satin Sheets has returned.
Sea Salt & Avocado and Lemon Verbena in Scentsy Clean
New Scentsy Go Pod Fragrances
Amazon Rain and Pristine Waters(Benefits Habitat for Humanity) fragrances in Laundry
5 New Fragrance Oils for our Diffusers to complement your Warmers/Wax
Amazing New Innovative Warmers Designs, Fragrances and Diffuser, Plus Much More
CATALOG SLIDESHOW
*Download Catalog for best viewing*