NEW! Scentsy Scented Bracelets | Scentsy Fragrance Jewelry

NEW! Scentsy Scented Bracelets – Limited Time offer with the Scentsy 2021 Summer Collection
Fashionable fragrance on the go. A fragranced porcelain charm makes for a simple statement piece that goes beyond everyday jewelry.
SCENTSY SCENTED BRACELET FAQ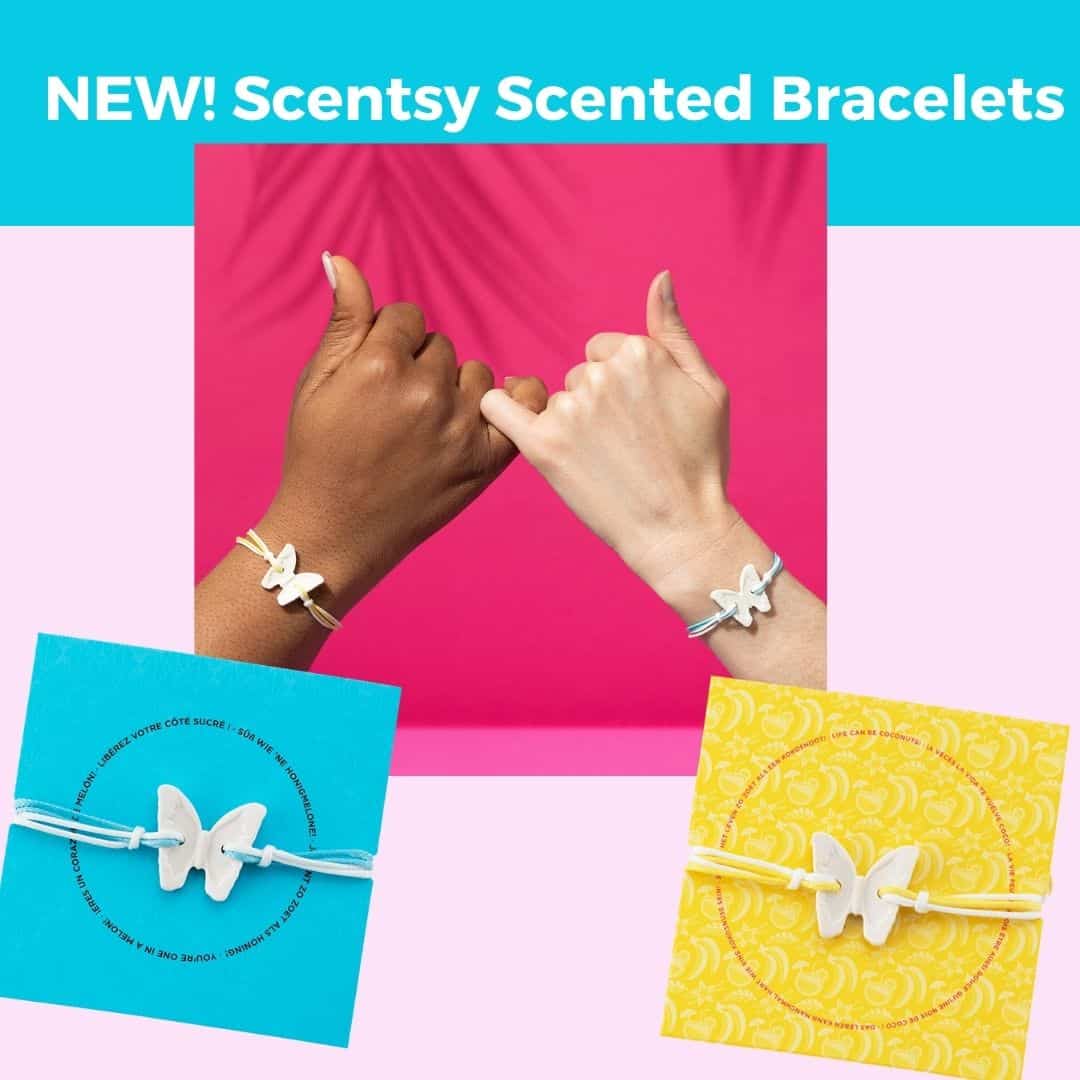 What is the Scented Bracelet made of? The Scented Bracelet charm is porcelain, and the cord is a polyester blend.
How is fragrance emitted from this product? The scented charm passively releases fragrance into the air.
What kind of fragrance oil is used, and what are the ingredients? The fragrance oils used in the Scented Bracelet are perfume grade. It is composed of both natural and synthetic ingredients for the optimal fragrance experience.
Will this product irritate my skin? Since the fragrance oils used are perfume grade, they are not likely to irritate your skin. Additionally, the back of the charm is glazed with a clear, glossy sealant that provides an additional layer of protection. Ensure the smooth side of the porcelain charm is placed against your skin. If you experience skin irritation or an allergic reaction of any kind while wearing this bracelet, discontinue use immediately and contact your doctor or allergist.
Is this product safe for children? This product was designed to be worn by adults and has not been tested for use by children. We do not recommend the use of this product for children.
Are there any specific use instructions or storage instructions for this product? To help protect your skin and any surfaces from the fragrance oils infused in the porcelain, we have glazed the bottom of the charm. When putting the bracelet on, ensure the smooth side of the porcelain charm is placed against your skin. When you're not wearing the bracelet, store it face up (glazed portion facing down) on glass, stone or glazed ceramic surfaces only to prevent damage. Never set the bracelet down with the unglazed portion of the porcelain bracelet on a non-glass, non-stone or non-glazed ceramic surface or leave it for an extended period of time.
How strong is the fragrance and how long does it last? The Scented Bracelet is intended to provide a personal fragrance experience and is strong enough to be perceived by the wearer. In general, the fragrance lasts 30+ days dependent on environmental factors.
What are the dimensions of the charm and cord? The Scentsy Bracelet – Butterfly charm is roughly 1 inch x 1 inch. The cord length is adjustable but can expand to a circumference of roughly 9 inches.
Will the bracelet lose its fragrance if it gets wet? Immersing the porcelain charm in water will likely dilute and diminish the strength of the fragrance experience.
For ideal fragrance longevity, we recommend preventing the bracelet from getting wet.
Can I replace the charm or cord if I lose it or it breaks? Individual components of the bracelet are not available as replacement pieces.
Can I add the Scented Bracelet to Scentsy Club? The Scented Bracelet is a limited-time offer and not currently available through Scentsy Club
Slide