SHOP COLLECTIONS + HOLIDAY 🎄
Order soon to receive products in time for Christmas. Restrictions apply. Learn more.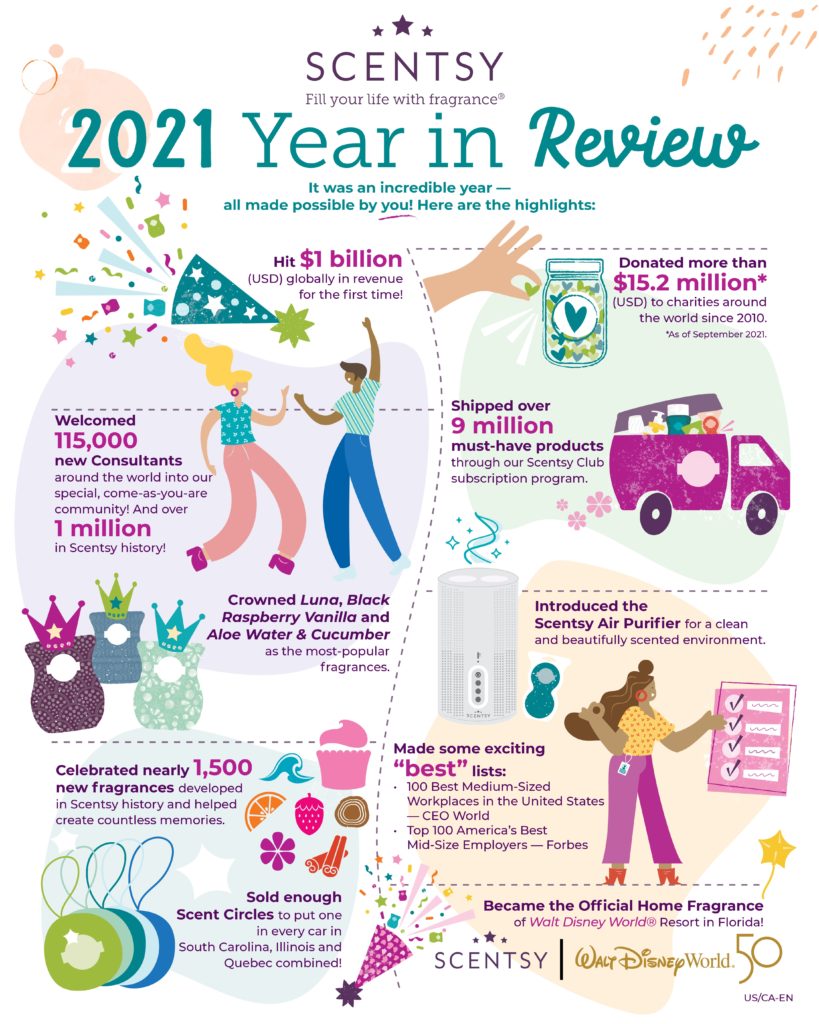 Scentsy 2021 Year in Review
Scentsy 2021 Accomplishments – what a year!
2021 has been a big year for Scentsy! See all the accomplishments and thank you for being a part of it!
Hit $1 billion (USD) globally in revenue for the first time!
Donated more than $15.2 million* (USD) to charities around the world since 2010. *As of September 2021.
Welcomed 115,000 New Consultants around the world!
Shipped over 9 million must-have products through the Scentsy Club subscription program
Introduced the Scentsy Air Purifier for a clean and beautifully scented environment.
Crowned Luna, Black Raspberry Vanilla, and Aloe Water & Cucumber as the most popular Scentsy fragrances
Celebrated nearly 1,500 new fragrances developed in Scentsy history and helped create countless memories.
Sold enough Scent Circles to put one in every car in South Carolina, Illinois and Quebec combined!
Made some exciting "best" lists:
100 Best Medium-Sized Workplaces in the United States — CEO World
Top 100 America's Best Mid-Size Employers — Forbes
Became the Official Home Fragrance of Walt Disney World® Resort in Florida!