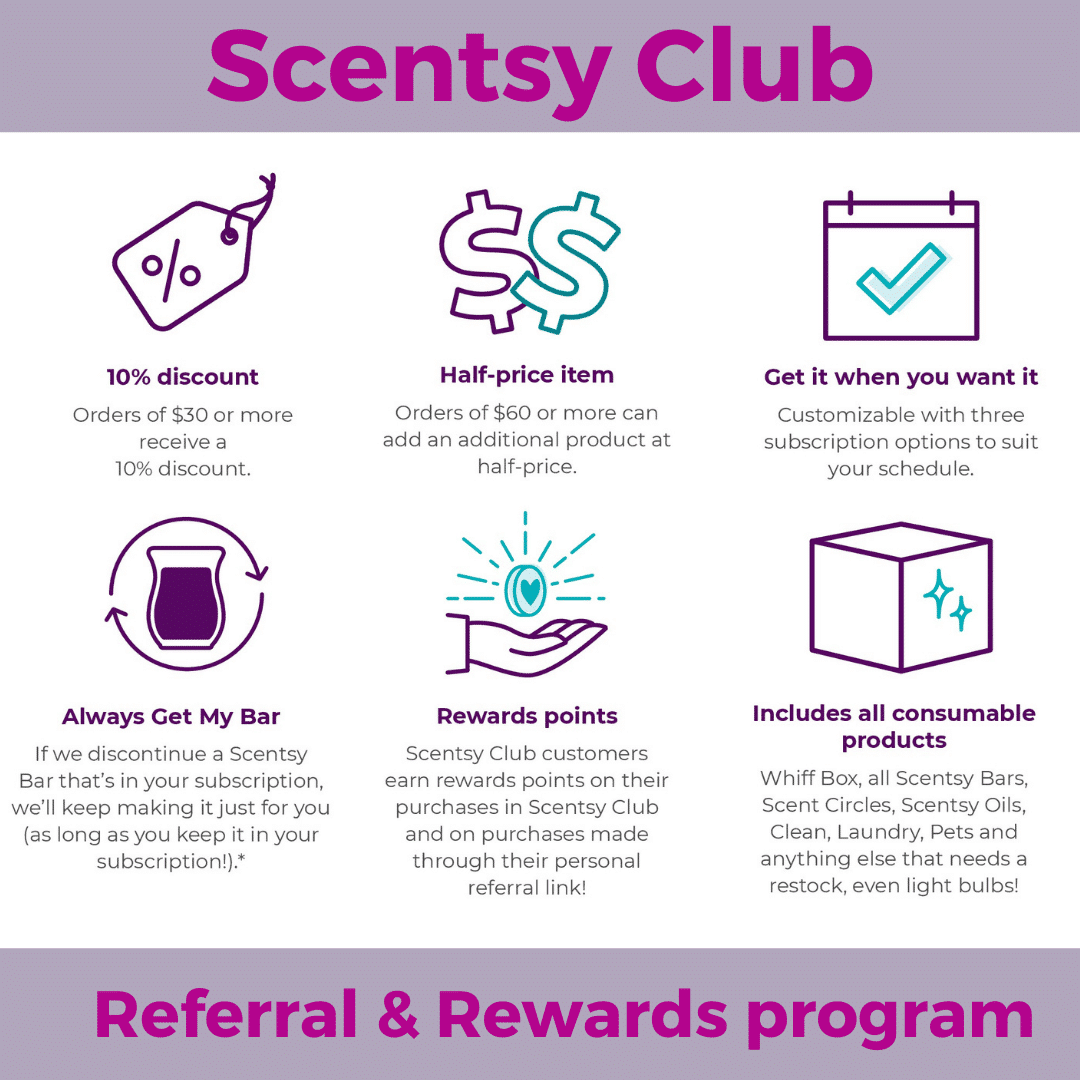 New! Scentsy Club rewards and referrals | Available Now
All Scentsy Club orders will receive a free Scent Pak in July 2022
Build a subscription now – receive discounts, guarantee your favorite bars that are retiring, and earn rewards.
The Perks
The Process
All Scentsy Club customers are now eligible to earn rewards points on their Scentsy Club purchases.
Customers will earn one point on every dollar they spend in Scentsy Club, which they can use for up to a 50% discount on products in Scentsy Club or on products through our website.
When a referred shopper signs up for Scentsy Club and receives a Scentsy Club shipment via the referral link, our Scentsy Club customer who sent them the link will earn two rewards points for every dollar their referred customer spends.*

Scentsy Club customers can share a referral link to Scentsy Club with their friends and family who reside in the same country to earn more rewards points.
$1 spent by the referred customer = 2 points applied to the referring Scentsy Club customer's rewards balance.
Then, for every 25 points you earn, you can apply your points to get $1 off future Scentsy Club orders or any non-Scentsy Club order on our website.
Points have no monetary value and may not be used on shipping, tax or non-Scentsy Club licensed products. Customers may only redeem up to 50% off a total subscription or purchase amount at a time. Earned points expire after 180 days. Terms and conditions apply.
The new rewards and referrals program is in addition to Scentsy Club's existing perks, including Always Get My Bar and 10% discounts and half-price items on qualifying orders.