HOMER THE SIBERIAN HUSKY SCENTSY BUDDY IS HERE 

Who is a dog-gone good boy? Homer the Husky, of course! He's looking forward to pulling sleds through the snow and loads of tail-waggin' fun! With his soft gray and white fur, cute pointed ears and black nose, this playful pooch is ready for belly rubs.
But mush, don't walk! Homer is only available while supplies last.
Every Scentsy Buddy features a zippered pouch to hold your favorite fragrance. Homer the Husky is $30 and comes with the Scent Pak of your choice.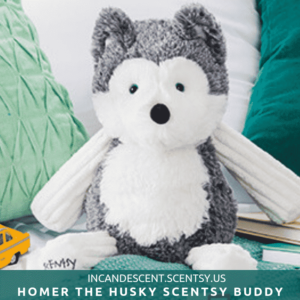 MEET Homer
Species: Canine
Favorite hangout: Northern, snowy climates
Favorite activities: Running and pulling sleds
Favorite book: Sled Dog School
Favorite movie: Snow Dogs
Favorite song: Anything by the Trans-Siberian Orchestra
Favorite sports team: University of Washington Huskies
Food I crave: I'm a fan of the raw food diet — meats, fruits and vegetables!
Fun fact: Our eyes can be brown or blue — and sometimes we have one of each!
Ambition: To win the Iditarod!