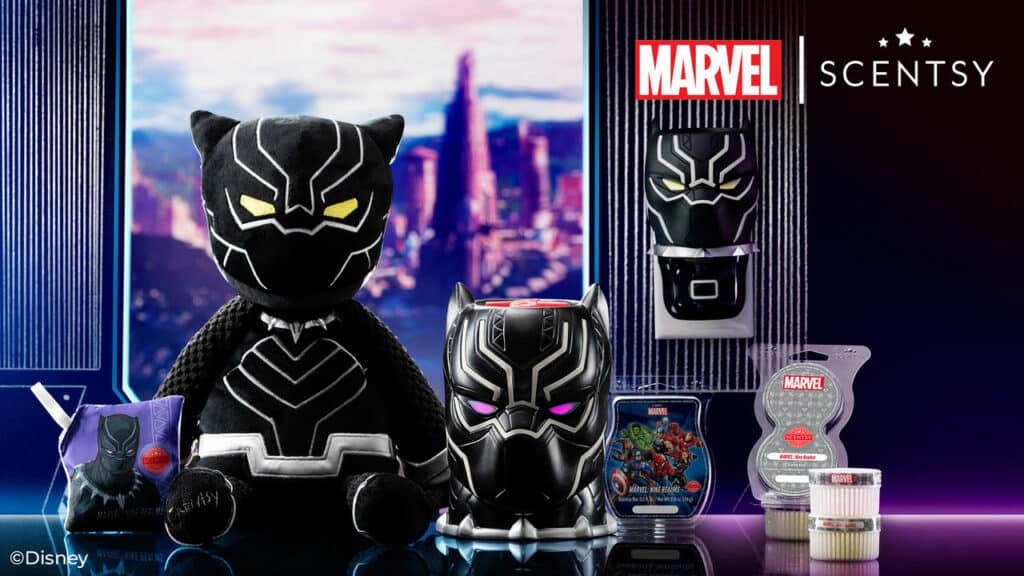 MARVEL'S BLACK PANTHER SCENTSY COLLECTION
NOT AVAILABLE
New Marvel's Black Panther Scentsy Warmer & products
Feel the power of Black Panther with a new warmer worthy of the king of Wakanda.
Inspired by Marvel's brave and regal warrior, the new Black Panther – Scentsy Warmer is uniquely crafted with inlaid textures. And each warmer includes a purple light bulb, representing the energy absorbed and projected by his vibranium-powered suit.
But that's not all! We're also bringing back the Black Panther – Scentsy Buddy and Wall Fan Diffuser, adding a bundle and throwing in reduced prices and freebies for heroic savings.
Here are the purchasing options!
Black Panther All in One Bundle – $60
(includes one Black Panther – Scentsy Warmer, one Black Panther – Scentsy Buddy + Marvel: Nine Realms – Scent Pak, one Black Panther – Scentsy Wall Fan Diffuser, one Marvel: Nine Realms – Scentsy Bar, and one Marvel: Nine Realms – Scentsy Pod Twin Pack
Black Panther Scentsy Warmer $40
Black Panther – Scentsy Buddy + Marvel: Nine Realms – Scentsy Scent Pak $15
Black Panther Scentsy Wall Fan Diffuser + Pods (no light) $17
Marvel: Nine Realms Black Panther Scentsy Scent Pak, $7.50