The Limited Edition Indigo Collection is now sold out,  You can still purchase the most popular fragrances, Indigo Cotton and Indigo Berries as Scentsy Bricks with our VIP Program.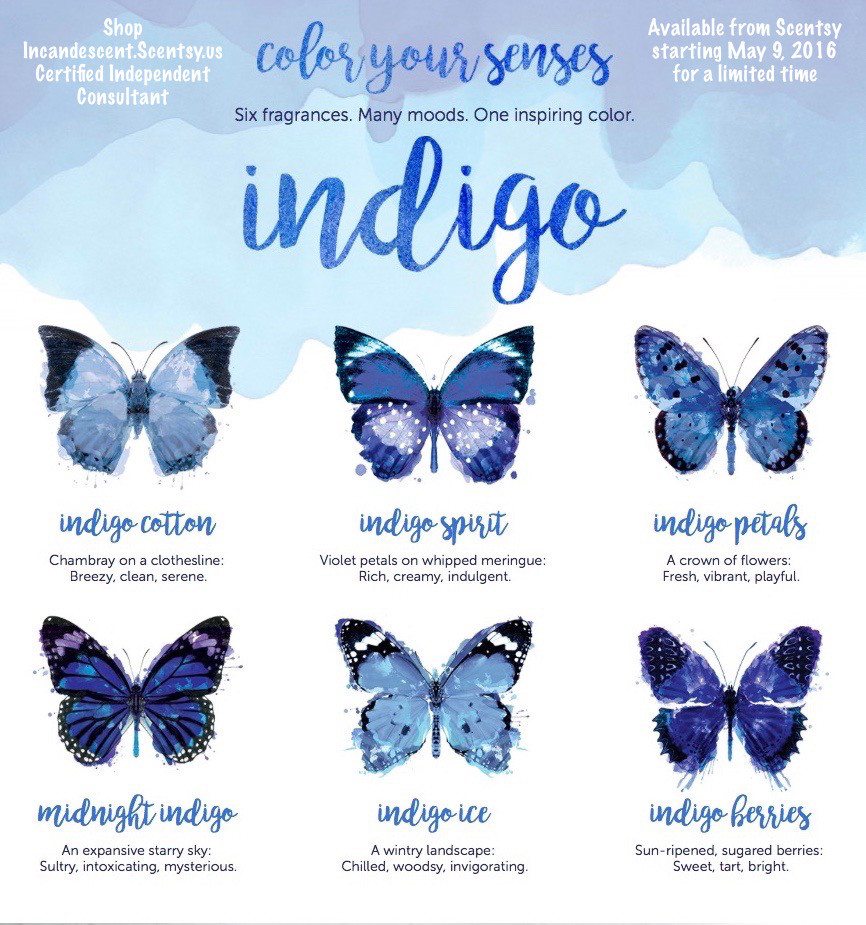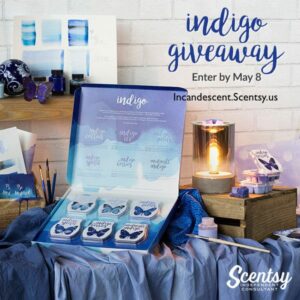 ENTER THE SCENTSY INDIGO GIVEAWAY
*One hundred winners will receive a vintage-style Parlor Warmer and all six beautifully packaged Indigo fragrance Scentsy Bars. *Scentsy Consultants not eligible.
Click here for the complete rules

#ExploreIndigo

Each Indigo set includes six Scentsy Bars in a stunning gift box with a scented "Be Inspired" notecard for just $30 (USD).
Indigo fragrances are available BEGINNING MAY 9, 2016 for a LIMITED TIME @ Incandescent.Scentsy.us 
Or feel free to contact me to place your pre-order.
Available as Scentsy Bars only, while supplies last.
FAQ
Which fragrances are included? What do they smell like?

Here are the six new fragrances included in the collection and their descriptions:
Indigo Berries: 
Sun-ripened, sugared berries: Sweet, tart, bright.
Indigo Cotton: 
Chambray on a clothesline: Breezy, clean, serene.
Indigo Ice: 
A wintry landscape: Chilled, woodsy, invigorating.
Indigo Petals: 
A crown of flowers: Fresh, vibrant, playful.
Indigo Spirit: 
Violet petals on whipped meringue: Rich, creamy, indulgent.
Midnight Indigo: 
An expansive starry sky: Sultry, intoxicating, mysterious.
Why Indigo?
Heidi Thompson dreamed of offering an exciting multisensory experience blending fragrance with dramatic imagery and color, and she was inspired by indigo. She even curated a playlist to envelop your senses and help inspire you.