Scentsy Spring Summer 2016 New Products FAQ
Scentsy Spring/Summer 2016 New Product FAQ
How many magnets does each Kids Diffuser include?Deep Blue Sea comes with six magnets, while Once Upon a Time includes five.
Are the Kids Diffusers the same size as the regular Scentsy Diffusers? Yes. Like all Scentsy Diffusers, the Kids Diffusers measure 8.5" tall.
May I purchase the magnets separately? No. The magnets can be replaced if one or more is defective or broken, but they cannot be purchased on their own.
Are magnets covered under the warranty if they break? Yes, the magnets can be replaced if they break or are defective.
What are the magnet coverings made of? Plastic.
Will using my own magnet void the diffuser warranty?Yes. The included magnets are designed specifically for use with the Kids Diffusers, so applying any other magnets will void the warranty.
Are other magnets available? No. The only magnets available are those included with the Kids Diffusers.
Will the magnets get hot? No. Like all Scentsy Diffusers, the Kids Diffusers use cold-mist technology to disperse fragrance and contain no heating element.
What are the Kids Diffusers made of? The Kids Diffusers are constructed of powder-coated mild steel sheet metal so the magnets will adhere.
Do the Kids Diffusers operate the same as other Scentsy Diffusers? Yes, the Kids Diffusers use the same cold-mist technology as our regular Scentsy Diffusers.
May I use other company's oils with the Kids Diffusers? Yes. Though Scentsy Oils have been specifically formulated for an optimal fragrance experience, using other companies' oils will not harm the Scentsy Diffuser or void the warranty.
Will the magnets damage the finish with constant play? The surface of the diffuser is extremely durable and will not easily scratch. However, it may eventually show minimal discoloration over time as the magnets are regularly readjusted.
Does the Kids Diffuser warranty address child-specific concerns/issues? Yes. The warranty included with the Kids Diffuser is drafted specifically to address concerns/issues that accompany a children's product.
Is there a caution message available for the magnets? Yes, a caution message is printed on the bag in which the magnets are packaged.
Can my child play with the diffuser when it's on? No. Children should not play with the magnets while the diffuser is running. When the diffuser is on, keep it out of reach of children and only allow them to play while supervised and when the diffuser shade is separated from base.
Are the Kids Oils crafted of essential oils? No, they are made of 100% Natural Oils.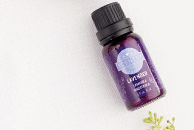 Are Kids Oils safe for topical use (use on the skin)? No. As with all Scentsy Oils, our Kids Oils are intended for fragrance purposes only.
HOME
What do I use to color the warmer? We recommend using high-quality permanent markers.
Are the markers included with the warmer? No, the markers must be purchased separately.


May I use ceramic or glass markers to color the warmer? No. If the ceramic or glass markers aren't heat resistant, the colors may run. This is also why wax-based markers or crayons should not be used to decorate the warmer.
May I use paint to color the warmer? No. Paint might insulate the warmer and create additional heat, which may lead to damage. It will also void the warranty.
What if I make a mistake or want to change the design? The permanent marker is easily removed with rubbing alcohol. We recommend using a cotton ball to remove larger portions of your design and a cotton swab for smaller areas.
Can I use soap and water to erase the color if I want to create a new design? No. You should never submerge a a warmer in water.
How long will the design last? It depends on the quality of the markers used and how many coats you apply to your design. Expect to occasionally touch up your work to keep it looking new.
Will the permanent marker rub off if I touch or move the warmer? Any time you touch the warmer, there is a chance the design will be a ected, as any oils or dirt on your skin may cause the marker to smudge.
Can I create a design on the inside of the dish? It isn't recommended, as any wax warmed in the dish would likely cover the design. Also, since the dish is frequently handled, the design would easily smudge and deteriorate.
HOME
Is it made of real wood? Yes.
How many Scentsy Bars does it hold? This Scent Storage Box holds up to 45 Scentsy Bars.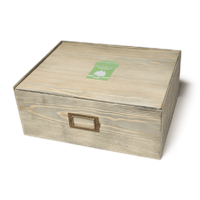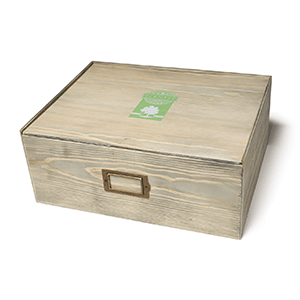 How many configurations are there? Countless. The sliding dividers can be adjusted and removed to accommodate any number of Scentsy products, in any con guration you wish.
What products can be stored in it? You can store nearly every type of Scentsy product, including Scentsy Bars, Scentsy Oils, Buddy Clips, Nightlight Warmers and Travel Tins. The only exceptions are full-size warmers, diffusers and Buddies.
How do I store Scentsy Bars in the box?
Scentsy Bars should always be stored at rather than upright or on their side. Flat storage will prevent oil leakage and will allow you to stack up to five bars per compartment.
What are the dimensions? 6"H x 15"W x 12"L
Where should I store my box? Your Scent Storage Box should be kept in a cool, dry place, away from direct sunlight.
Is it heat/temperature sensitive? As with any natural wood product, if your storage box is exposed to extreme heat and/or humidity, it may warp or show other signs of environmental stress.
My storage box looks different from the one in the catalog. May I return it? Since the box is constructed of natural materials and given an aged-like finish, no two will be exactly alike. However, if you are not satisfied with your box, you can return it for a full refund per the conditions of our satisfaction guarantee.
Will painting the box void the warranty? Yes, painting or altering the box's appearance in any way will void the warranty.
Are additional/replacement dividers available? No, additional/replacement dividers are not available.
Is the lid replaceable? Yes. If the lid is defective, it can be replaced.
Is the wood sealed or otherwise protected from spills or leakage? The box is covered with a protective coating, but because of its natural construction, spilled oils or liquids may still cause stains and other damage.
CLEAN
How is Scentsy Fresh different from Scentsy Room Spray? Scentsy Fresh is an odor eliminator containing zinc ricinoleate, an ingredient that actually absorbs and traps odors in fabrics. Scentsy Room Spray is simply designed to impart fragrance into the air.
Is Scentsy Fresh safe on all fabrics? No. Scentsy Fresh is not safe to apply to leather, suede, silk or any other fabric that requires dry cleaning.
Does it have cleaning or disinfecting properties? No. Scentsy Fresh should not be used as a cleaning agent or disinfectant.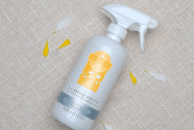 How long does fragrance last? Approximately four to five hours.
Do I need to shake the bottle prior to use? No.
What do I do if it gets on my skin? While Scentsy Fresh won't harm your skin, we recommend washing the area with soap and water.
Is it safe to use on my pet's bed? Yes.
GROOM
How do I use it? Apply Nourishing Skin Conditioner generously to skin after showering or whenever needed.
Is it a lotion or a cream? It's a lotion.
What are the nourishing ingredients? Shea butter, sunflower seed oil and natural triglycerides from vegetable sources, which help the skin retain moisture.
How much should I use at a time? You can use as much as you like, depending on your skin's needs.
Is/was it tested on animals? Scentsy Groom products are not tested on animals. However, individual ingredients may have been tested on animals at one point.
Is it all natural? No.
Is it safe for kids? Yes.
Can it be used on the face? Yes.
SKIN
Is it soap free? Yes, the Moisturizing Body Bar is completely soap free.
Is it hypoallergenic? No.
What are the moisturizing ingredients? Extracts of Rosa centifolia ower and blue water lily work to moisturize and tone skin.
Is it all natural? No.
What are the cleansing properties? Sodium Cocoyl Isethionate and Disodium Lauryl sulfosuccinate, both soap-free surfectants.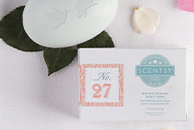 Does it lather like soap? The product will produce a light lather; however, as it's soap free and milder on the skin, it will not lather as intensely as regular bar soap.
Is it safe for kids? Yes.
Can it be used on the face? Yes. However, the Moisturizing Body Bar was not specifically designed as a facial cleanser.
How is it different from the Groom Shampoo, Shave and Shower Bar? The Shampoo, Shave and Shower Bar does not have the same moisturizing ingredients as the Moisturizing Body Bar.
Is/was it tested on animals? Scentsy Skin products are not tested on animals. However, individual ingredients may have been tested on animals at some point.
How long will it last? About four to five weeks with daily use.
Why are the price points so different between the Moisturizing Body Bar and the Shampoo, Shave and Shower Bar? The Moisturizing Body Bar offers more intense moisturizing properties than the Shampoo, Shave and Shower Bar, so the ingredients are more costly.
Is the Nest warmer stand replaceable? No. The stand is connected to the warmer, so it cannot be replaced separately.
Are satisfaction exchanges available by warmer price point? Yes.
When will diffuser shades be available to be purchased separately? There is no set date at this time.