SHOP COLLECTIONS + HOLIDAY 🎄
Order soon to receive products in time for Christmas. Restrictions apply. Learn more.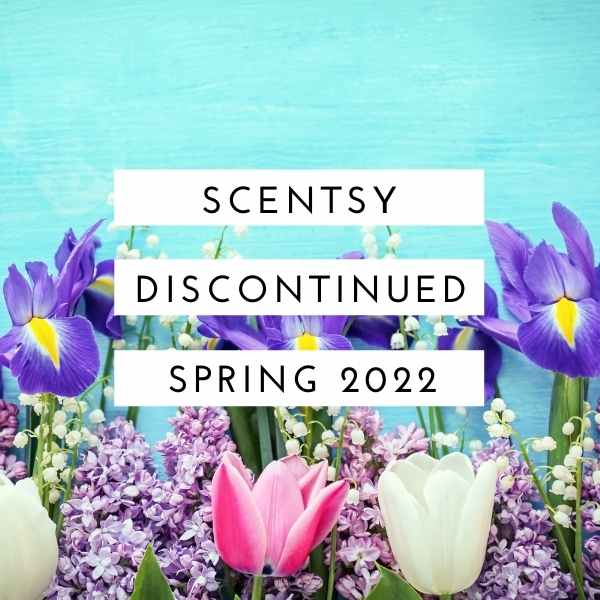 List of Discontinued Scentsy Warmers, Diffusers and Fragrances for Spring 2022
Remember, you can add Discontinued Scentsy Bars (through January 31, 2022) to keep getting in the Scentsy Club! #AlwaysGetMyBar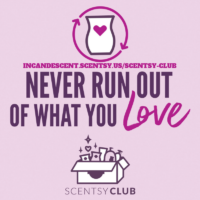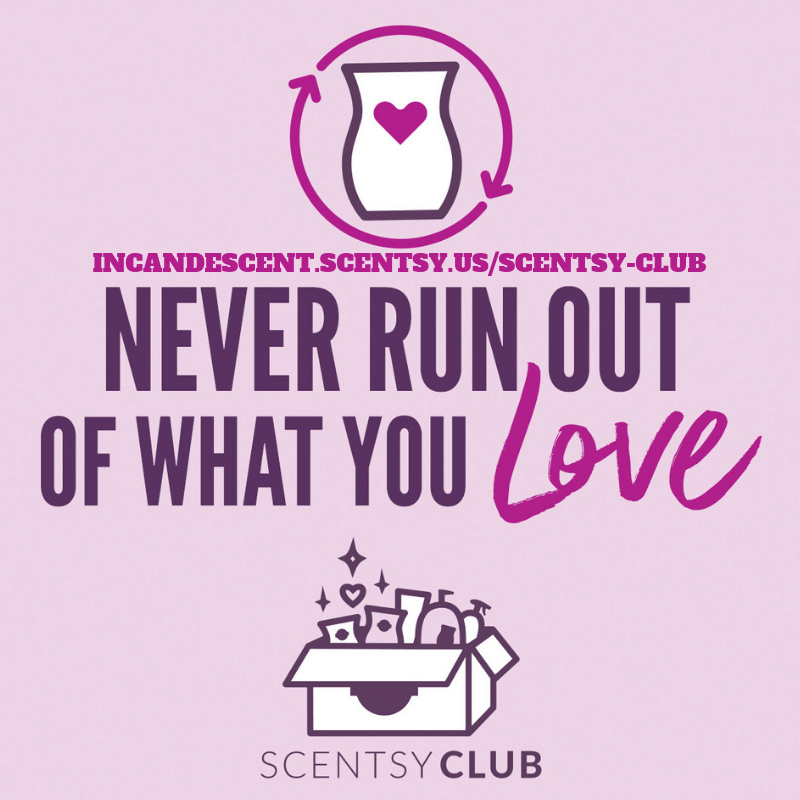 *Fragrances may be permanent or seasonal retirements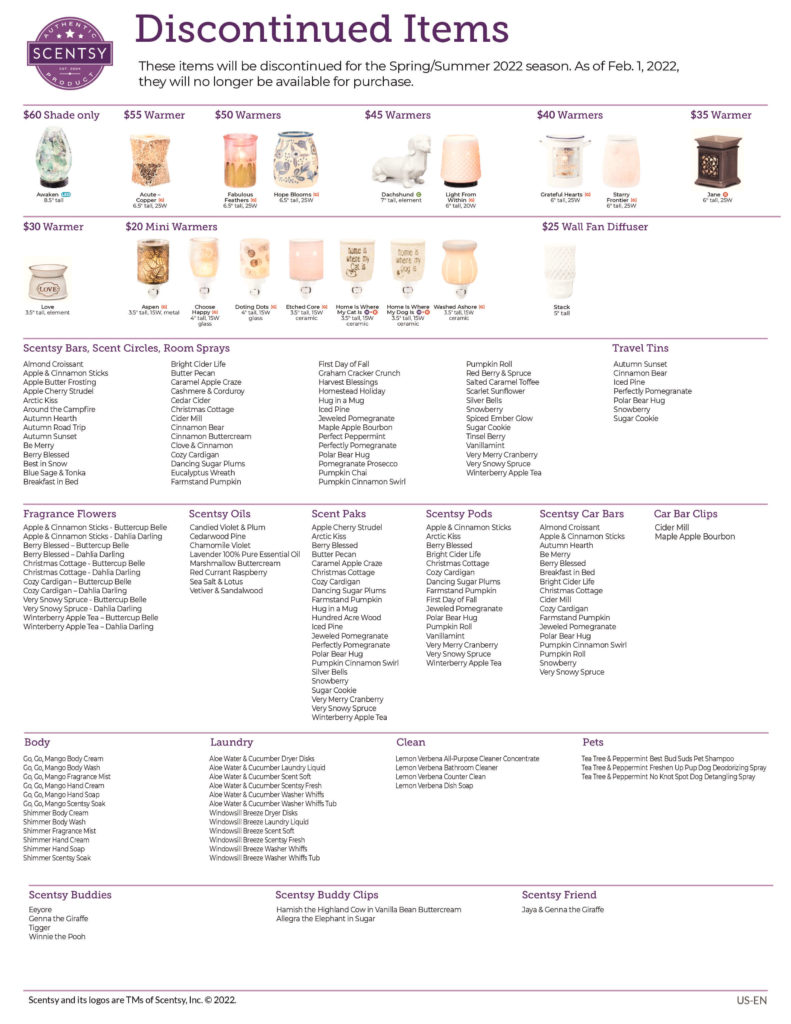 Discontinued Scentsy Fragrances
Almond Croissant
Apple & Cinnamon Sticks
Apple Butter Frosting
Apple Cherry Strudel
Arctic Kiss
Around the Campfire
Autumn Hearth
Autumn Road Trip
Autumn Sunset
Be Merry
Berry Blessed
Best in Snow
Blue Sage & Tonka
Breakfast in Bed
Bright Cider Life
Butter Pecan
Caramel Apple Craze
Cashmere & Corduroy
Cedar Cider
Christmas Cottage
Cider Mill
Cinnamon Bear
Cinnamon Buttercream
Clove & Cinnamon
Cozy Cardigan
Dancing Sugar Plums
Eucalyptus Wreath
Farmstand Pumpkin
First Day of Fall
Graham Cracker Crunch
Harvest Blessings
Homestead Holiday
Hug in a Mug
Iced Pine
Jeweled Pomegranate
Maple Apple Bourbon
Perfect Peppermint
Perfectly Pomegranate
Polar Bear Hug
Pomegranate Prosecco
Pumpkin Chai
Pumpkin Cinnamon Swirl
Pumpkin Roll
Red Berry & Spruce
Salted Caramel Toffee
Scarlet Sunflower
Silver Bells
Snowberry
Spiced Ember Glow
Sugar Cookie
Tinsel Berry
Vanillamint
Very Merry Cranberry
Very Snowy Spruce
Winterberry Apple Tea
Other Discontinued Products
Candied Violet & Plum
Cedarwood Pine
Chamomile Violet
Lavender 100% Pure Essential Oil
Marshmallow Buttercream
Red Currant Raspberry
Sea Salt & Lotus
Vetiver & Sandalwood
Go, Go, Mango Body Cream
Go, Go, Mango Body Wash
Go, Go, Mango Fragrance Mist
Go, Go, Mango Hand Cream
Go, Go, Mango Hand Soap
Go, Go, Mango Scentsy Soak
Shimmer Body Cream
Shimmer Body Wash
Shimmer Fragrance Mist
Shimmer Hand Cream
Shimmer Hand Soap
Shimmer Scentsy Soak
Aloe Water & Cucumber Dryer Disks
Aloe Water & Cucumber Laundry Liquid
Aloe Water & Cucumber Scent Soft
Aloe Water & Cucumber Scentsy Fresh
Aloe Water & Cucumber Washer Whiffs
Aloe Water & Cucumber Washer Whiffs Tub
Windowsill Breeze Dryer Disks
Windowsill Breeze Laundry Liquid
Windowsill Breeze Scent Soft
Windowsill Breeze Scentsy Fresh
Windowsill Breeze Washer Whiffs
Windowsill Breeze Washer Whiffs Tub
Lemon Verbena All-Purpose Cleaner Concentrate
Lemon Verbena Bathroom Cleaner
Lemon Verbena Counter Clean
Lemon Verbena Dish Soap
Tea Tree & Peppermint Best Bud Suds Pet Shampoo
Tea Tree & Peppermint Freshen Up Pup
Dog Deodorizing Spray
Tea Tree & Peppermint No Knot Spot Dog Detangling Spray
Eeyore Buddy
Genna the Giraffe Buddy
Tigger Buddy
Winnie the Pooh Buddy
Hamish Buddy Clip
Alegra Buddy Clip
Jaya Scentsy Friend
These items will be discontinued for the Spring 2022 season. As of February 1, 2022, they will no longer be available for purchase. Starting March 1, 2022, some discontinued items may be available for purchase, while supplies last, in Closeout.