SCENTSY BRING BACK MY BARS JULY 2019 LIST
Needless to say, April's Bring Back My Bar (BBMB) was an overwhelming success. We tallied an amazing 2,870,248 votes and the following 25 Scentsy Bars landed at the top:
🌶Autumn Sunrise – A warm blend of tart pomegranate, raspberry, nutmeg and spiced cinnamon stick pairs perfectly with chilly fall mornings.

🍷Black Currant Bubbly – Champagne bubbles stir black currant, sweet orange and vanilla sugar

🌲Cambridge – Sweet lemon and pine needle with an intriguing dash of vetiver.

🥧Cherry Almond Pie – Orville's favorite dessert. Graham crackers, sweet almond, cream, and cherries.

☕️Coffee Tree – Bold and sophisticated. Wake up to the rich aroma of freshly roasted coffee beans.

💐Cottage Garden – Blend of sweet, white honeysuckle and morning glory, jasmine, lily of the valley & rose.

🍰Cutie Pie Cupcake – Sweet clementines and yellow cake batter with vanilla and sugary icing.

🍏Flirtatious – Fruity and vibrant, a combination of green apple, grapefruit and white amber.

🌺Give Me Passionflower – a luscious luau of dewy passion fruit, fresh-cut mango spears and wild hibiscus.

🌿Huckleberry Sage -Tart ruby cranberries and sweet purple huckleberries dusted with silver sage.

🍨Luxe Vanilla – Soft tones of musk, cyclamen, and jasmine blends with the delicate scent of vanilla.

🌸Maui Mist – Creamy bouquet of rose, lilac, wood and musk drizzled with creamy vanilla.

🍉Melon & Apple Granita – Crisp apple and sweet melon surge with sparkling citrus.

☀️My Only Sunshine – Start your day with a smile as you experience golden tuberose and jasmine balanced by sandalwood, vanilla, and glowing amber.

🌷Pink Tulips – Treasure this groundbreaking blossom in a fragrant homage accented by crisp apple, juicy raspberries and a hint of night-blooming jasmine.

😍Quiver – Innocent vanilla flower, warm sandalwood, and sultry tuberose in a seductive scent meant to cause a shiver of delight.

🥃Root Beer Barrel – A frothy mug of root beer

🧁Salted Caramel Cupcake – Creamy golden caramel with hints of cocoa and delicate sea salt crowns a buttery cupcake.

🍦Simpy Vanilla – The pure fragrance of classically warm vanilla. French vanilla with a touch of coconut milk.

🍊 Spiced Grapefruit – Mandarin and bergamot citrus perfectly balanced with spicy coriander, nutmeg and allspice.

🍐Spiced Pear – Simmered pear and plum cider entice rich vanilla wood.

🍅 Tomato Vine – an essentially earthy summer scent: robust, ripe tomato vine.

🍉 Watermelon Patch – Sweet, vine-ripened watermelon.

🍒 Wild Black Cherry – A sweet and juicy black cherry, like an old-fashioned black cherry soda.

🍎 Winter Candy Apple – Tart green apples with a sweet candy accent.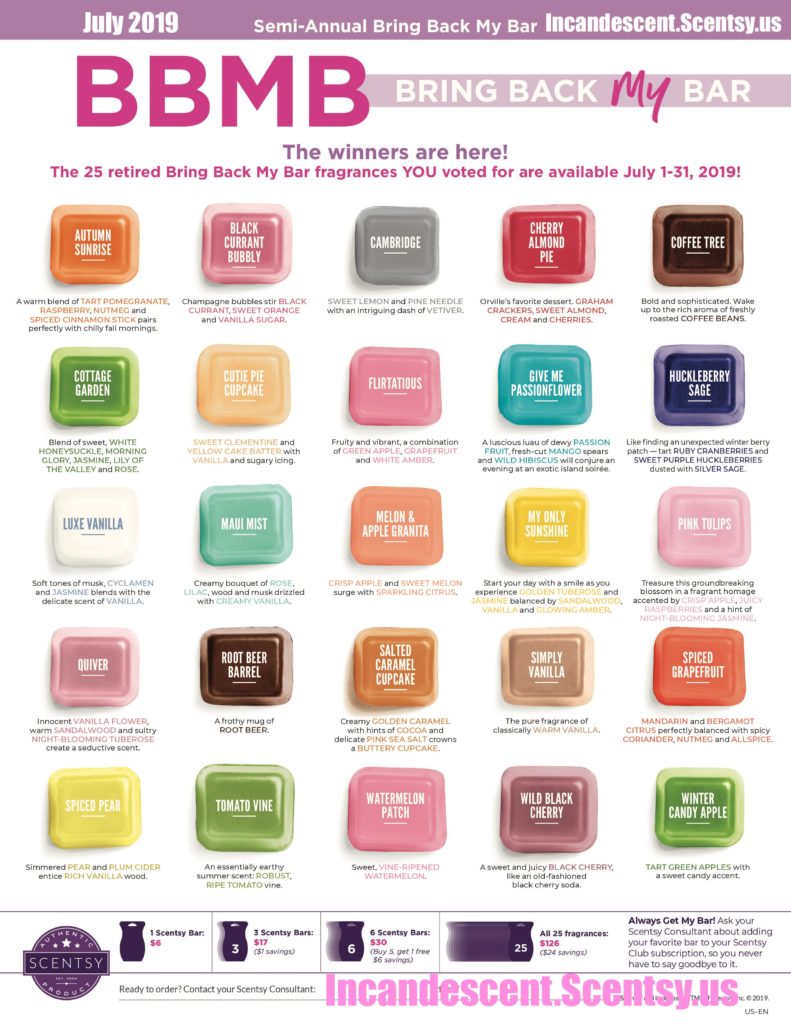 These much-loved, winning Scentsy Bars will be on sale for the whole month of July — enough time to stock up and add them to a Scentsy Club subscription.