SCENTSY BRING BACK MY BAR – JULY 2019 WINNERS

SCENTSY BRING BACK MY BAR – ON SALE JULY 2019
Bring Back My Bar (BBMB) is definitely back and voting starts April 1. As happens twice a year, you will have the chance to vote for much-loved, discontinued Scentsy Bars to rejoin our lineup for a limited time.
The Top 25 winning bars will then go on sale for the whole month of July
— enough time to stock up or add them to a
Scentsy Club subscription!
There will be two rounds of voting — one to nominate your favorite bars and another to vote on the finalists: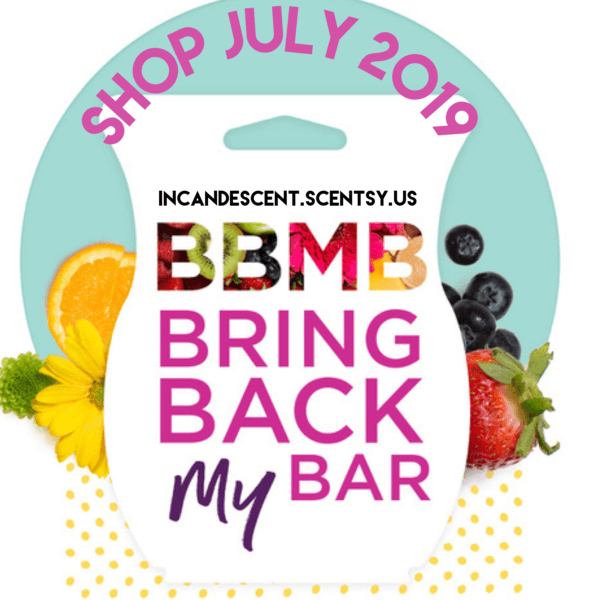 VOTING HAS ENDED!
Winners will be announced on April 22. 
1. Flirtatious
2. Crazy Coconut
3. Huckleberry Sage
4. Wild Black Cherry
5. Simply Lemon
6. Harvest Moon
7. Spiced Grapefruit
8. Spiced Pear
9. Pink Tulips
10. Cutie Pie Cupcake
11. Luxe Vanilla
12. Black Currant Bubbly
13. Simply Vanilla
14. Inner Peace
15. Salted Caramel Cupcake
16. Watermelon Patch
17. Tomato Vine
18. Bananarama
19. Give Me Passionflower
20. Cherry Almond Pie
21. Maui Mist
22. Autumn Sunrise
23. Root Beer Barrel
24. Quiver
25. Cottage Garden
26. Melon & Apple Granita
27. My Only Sunshine
28. Winter Candy Apple
29. Cambridge
30. Coffee Tree
Scentsy Bars that have been available within the past two years, or have been brought back during that time, are not eligible for voting.
Get ready to make this the best BBMB yet! 
Shop Winning Bring Back my Bars Online – July 2019