Description
This collectible warmer is only available while supplies last and includes: 
A unique number stamped on every warmer, so each one is a collector's item. 

 

An old-fashioned key that winds up to play "Deck the Halls."

 

A train that circles as the music plays.

 

A Christmas ornament (a replica of the warmer!) with every purchase.

 
 The Tannenbaum Express costs $120* and is perfect for giving or keeping! 
 Then climb aboard the Tannenbaum Express for a season to remember! But hurry, because this very special warmer is only available while supplies last.  
 *Available for purchase using Half-Price Host Rewards. Requires two half-price items to save 50 percent. Cannot be purchased in Bundle & Save.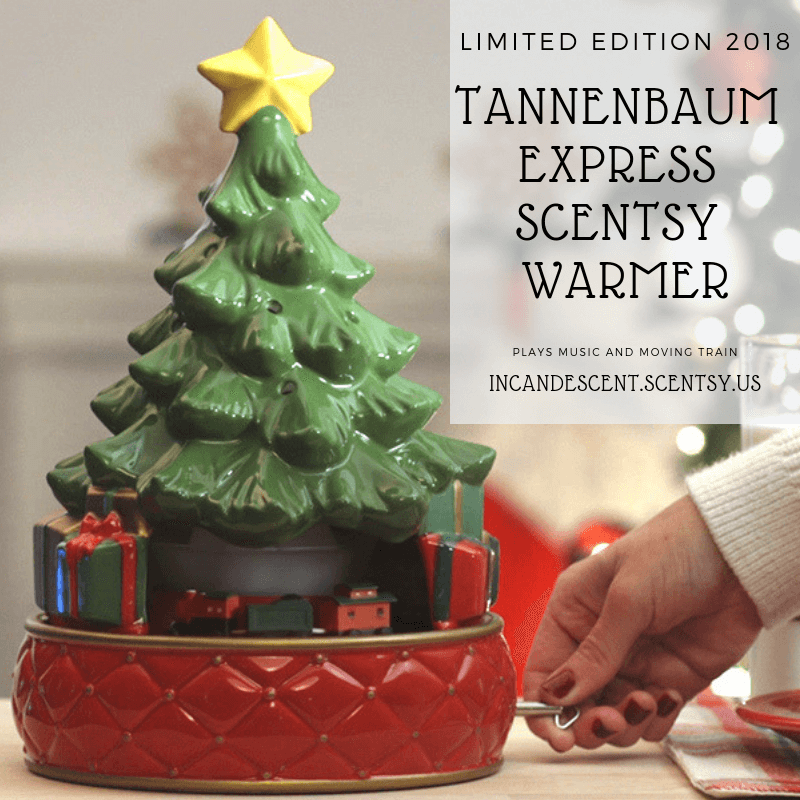 The joy of Christmas comes to life with the limited-edition 2018 Tannenbaum Express Christmas Tree Warmer — our first to feature music and a moving train. 11.5" tall x 7.5"wide, Element Warmer
Melt Scentsy wax with the heat of an electric low-watt light bulb or element Scentsy warmer and fill your space with fragrance — not flame, smoke, or soot.
• Over 100 Scentsy Warmer designs — including mini warmers — to suit every taste and décor. Available with or without illumination!
• Featuring high-quality materials like ceramic, glass and metal, all handcrafted by artisans around the world.
• Finish the look with fun, stylish accessories like Scentsy colored light bulbs and Scentsy warmer stands.
• Lifetime Scentsy Warranty!