LET IT SNOW MASON JAR SCENTSY WARMER
$35.00
Build a magic snowman with glee, hang colorful ornaments on the tree, go winter sledding for the thrill, find warmth in your cottage on the hill. Like a snow sculpture crafted in precious detail, Let it Snow depicts four wondrous holiday scenes plucked right from a child's sweet dream.
Description
Shop Incandescent.Scentsy.us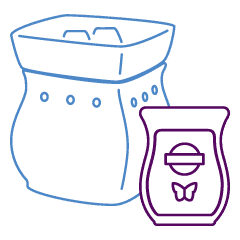 Melt Scentsy wax with the heat of an electric low-watt light bulb or element Scentsy warmer and fill your space with fragrance — not flame, smoke, or soot.
• Over 100 Scentsy Warmer designs — including mini warmers — to suit every taste and décor. Available with or without illumination!
• Featuring high-quality materials like ceramic, glass and metal, all handcrafted by artisans around the world.
• Finish the look with fun, stylish accessories like Scentsy colored light bulbs and Scentsy warmer stands.
• Lifetime Scentsy Warranty!