Darth Vader Scentsy Warmer | Star Wars – Scentsy
$85.00
Darth Vader™ – Scentsy Warmer
Give yourself to the dark side — and seduce any Star Wars™ fan — with this most-impressive Darth Vader Warmer. Besides his imposing frame, it's the details that make his presence truly fearsome, from the light-up uniform to the TIE Fighter-shaped cutouts in back that cast ominous silhouettes on any surface.
Size: 10" H x 6" W x 6" D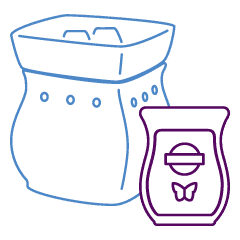 Melt Scentsy wax with the heat of an electric low-watt light bulb or element Scentsy warmer and fill your space with fragrance — not flame, smoke, or soot.
• Over 100 Scentsy Warmer designs — including mini warmers — to suit every taste and décor. Available with or without illumination!
• Featuring high-quality materials like ceramic, glass and metal, all handcrafted by artisans around the world.
• Finish the look with fun, stylish accessories like Scentsy colored light bulbs and Scentsy warmer stands.
• Lifetime Scentsy Warranty!