Scentsy Spring Summer 2019 Catalog 
make the most of Every Moment
The Scentsy Mission
To bring value to the world by providing an industry-leading, family-friendly business opportunity selling creative, artistic,  high-quality products that WARM THE HEART,  ENLIVEN THE SENSES and INSPIRE THE SOUL.
NEW RELEASE FRAGRANCES
We've rearranged our wax fragrances into categories — or families — so you can hone in on your favorites, faster.
Available in Scentsy Bar, Room Spray & Scent Circles
PINEAPPLE RINGS topped with SWEET HONEY and JASMINE BLOSSOM make
a treat fit for a queen.
BAKED PASTRY sprinkled with CINNAMON SUGAR captures that heavenly
churro charm.
We definitely dew! JUST-CRUSHED BASIL over RIPE CANTALOUPE
is a gift from the  garden gods.
Crunchy CARROT and CUCUMBER with a hint of ROSE will have you seeing
(and smelling!) green.
SUNNY GRAPEFRUIT balances CALMING
CHAMOMILE in a yin and yang kind of love story
Find your fantasy on a cloud of CLEAN COTTON
swirled with fruity PINK BERRIES and VANILLA SUGAR.
PRICKLY PEAR and AGAVE are sweet as a desert
sunset behind a dreamy veil of SHEER PETALS.
Nostalgic notes of VANILLA TAFFY folded
with STRAWBERRY
PUREE beckon straight from memory lane.
Get in the groove with TANGELO ZEST, MANGO PUREE and
COCONUT MILK.
Dewy BEACH GRASS and COASTAL CYPRESS will have you feeling the
AMBER SAND between your toes.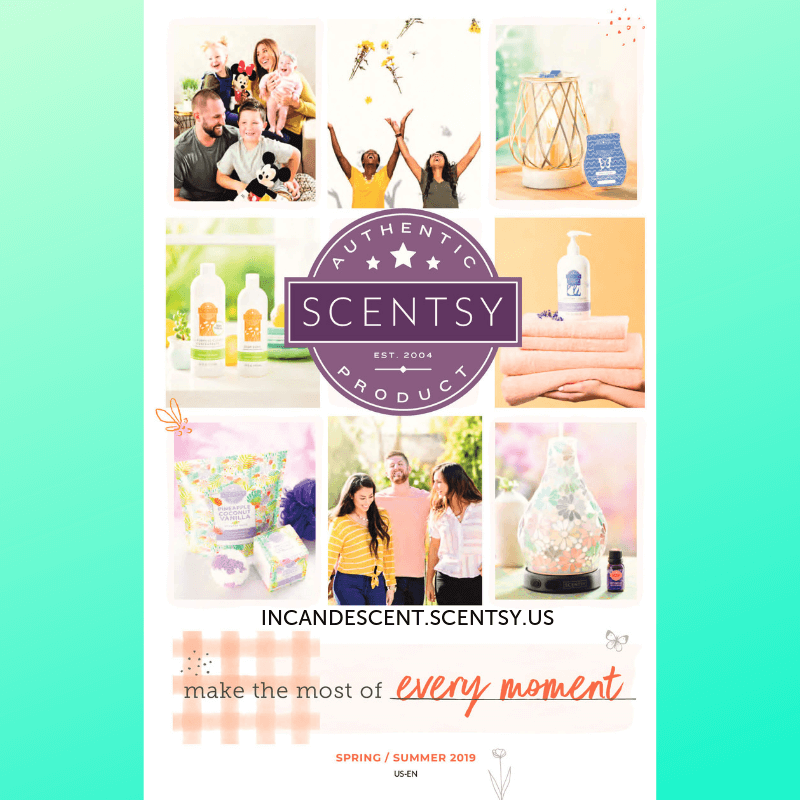 Some Highlights
NEW Scentsy Friends are the same size as our beloved Scentsy Buddies (and come with your choice of Scent Pak), but these darling dolls also include their own adorable mini Buddy tucked into their pocket.
NEW All-Purpose Cleaner Concentrate is formulated to cut through dirt and grime on most household surfaces, including walls and floors — just dilute it with water and spray! And like Counter Clean, this concentrated cleaner forms a dirt-repellent barrier that makes cleaning easier over time.
NEW When Life Gives You Lemons Warmer will benefit Alex's Lemonade Stand Foundation (ALSF), this season's charitable cause partner dedicated to raising funds for research into new treatments and cures for all children battling cancer.
NEW Colored Light Bulbs — available in red, orange, yellow and green — will add a little extra flair to any 25-watt warmer.
We've made Scentsy Soak an official catalog product, so no more worrying about "while supplies last" — but you're not going to want to wait to get your hands on it either.
Welcome to the families! We've reorganized the wax fragrances in the catalog into fragrance families — such as citrus, floral, woods and more — so you can hone in on your favorites faster or even branch out from your tried and true.
Plus, there are loads of new fragrances, new products in The Disney Collection and new fragrances for existing products.
*Please download the catalog for best viewing*
SCENTSY PRODUCTS