SHOP THE LATEST SCENTSY COLLECTIONS 🛍
NEW FOR SCENTSY SPRING / SUMMER 2016
Kid-approved! Engage your child's imagination and senses. Kids will love these expressive accents for their everyday adventures

NEW! JUNGLE JAM
Set off on a jungle adventure surrounded by candied pear, ripe pineapple, fresh-picked strawberry and even a delightful dollop of whipped cream just for fun! 
NEW! OODLES OF ORANGE
Kids will love this sweet, citrusy scent punched up by fresh pineapple, crisp papaya, mango blossom and ripe bunches of tropical berries. Yum! 
NEW! ROCKIN' RUBY RAZZ
Birthday parties and punchbowls and presents piled high. This fruity blend of juicy orange, fresh strawberry and sweet candy glaze is a child's best day all wrapped up in one perfect fragrance. 
NEW! ALL KIDS SCENTS AVAILABLE IN SCENTSY BARS, SCENTSY SCENT PAKS, BUDDY CLIPS, AND SCENTSY BATH SMOOTHIES!

NEW! KIDS SCENTSY DIFFUSERS(DEEP BLUE SEA, ONCE UPON A TIME) INCLUDING NEW KIDS OILS – JUICY PEAR & SWEET MELON!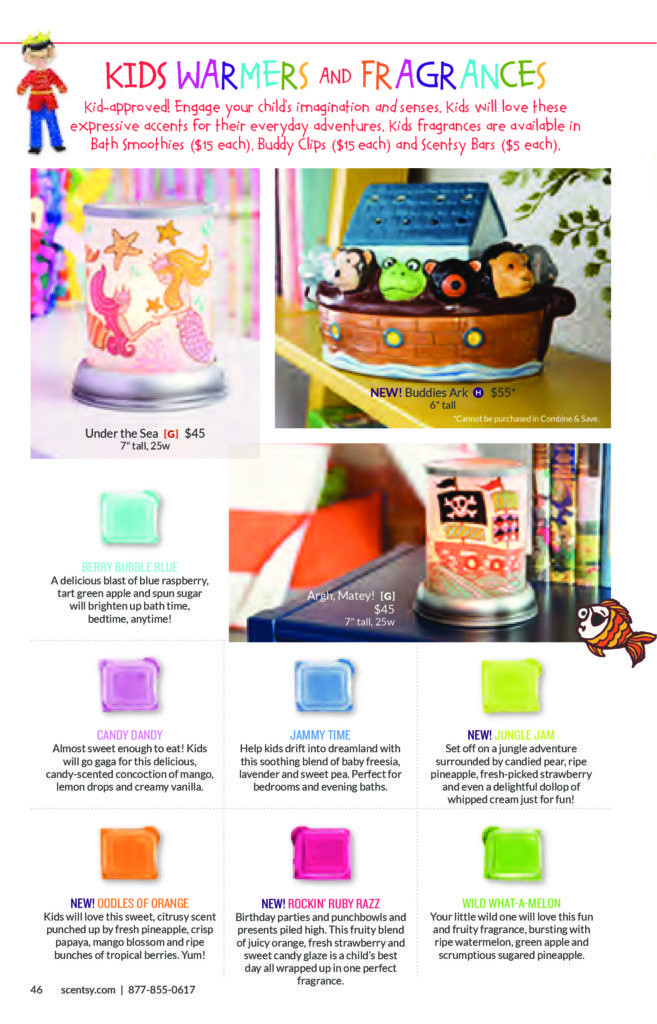 NEW ITEMS AVAILABLE FOR PURCHASE MARCH 1, 2016.

SEE ALL THE NEW SCENTSY SPRING / SUMMER 2016 PRODUCTS & FRAGRANCES