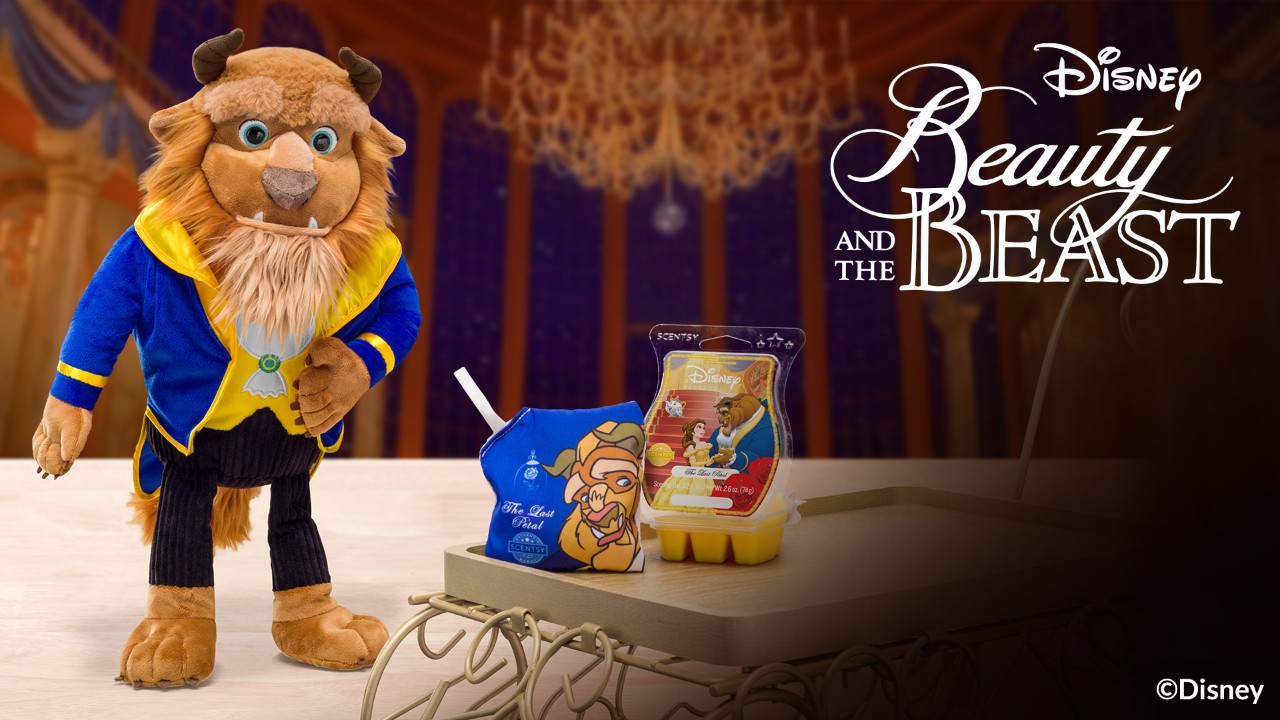 BEAUTY & THE BEAST SCENTSY COLLECTION
NOT CURRENTLY AVAILABLE
What: Disney Beast – Scentsy Buddy and The Last Petal fragrance
Our newest Disney Scentsy Buddy needs your help finding his happily ever after.
The Beast – Scentsy Buddy is all dressed up and looking for someone to love him in return. Fans will surely fall for all of his exquisite details, from the horns on his head to the claws on his feet.
Each Beast – Scentsy Buddy comes with a Scent Pak in The Last Petal, the fragrance designed exclusively for our Disney Beauty and the Beast products:
The Last Petal: Fresh pink grapefruit and sparkling bergamot kick off the radiant first chapter, while scattered flower petals write an unforgettably romantic ending.
These products are only available while supplies last, so be sure to get your orders in before the last petal falls.
Here are the purchasing options:
Beast – Scentsy Buddy + The Last Petal – Scent Pak, $45
The Last Petal – Scent Pak, $7.50
The Last Petal – Scentsy Bar, $6.50
NOT CURRENTLY AVAILABLE
Mrs. Potts and Chip from Disney's Beauty and the Beast were the most requested characters on Idea Share for more than a year, and now they're officially adorable warmers that will enchant any fan.
The Mrs. Potts – Scentsy Warmer captures her charm in intricate detail, while the Chip – Scentsy Mini Warmer showcases his sweet nature, right down to that trademark "chip." And our exclusive The Last Petal fragrance is the perfect complement with fresh, romantic notes of pink grapefruit, sparkling bergamot and flower petals.
Want them all? We figured you would. That's why we're also offering the Be Our Guest Bundle, featuring both warmers and The Last Petal – Scentsy Bar (included for free!).
Mrs. Potts – Scentsy Warmer, $75 (SOLD OUT)
Chip – Scentsy Mini Warmer, $25 (SOLD OUT)
The Last Petal – Scentsy Bar, $6.50
Be Our Guest Bundle, $100 (SOLD OUT):
1 Mrs. Potts – Scentsy Warmer
1 Chip – Scentsy Mini Warmer
1 The Last Petal – Scentsy Bar (included for free)