Scentsy October Starter Kit Special - Holiday Bars + November Warmer of the Month!

Join Scentsy June 2023 – Free Virtual SFR
New Consultants who start their Scentsy business between June 1-30 will receive a free virtual registration to this year's Scentsy Family Reunion with their Starter Kit.
New Scentsy Consultants won't want to miss all the new product revealed, world-class training and inspiring Scentsy Spirit they can share with thousands of other Consultants. Scentsy Family Reunion is the best way to kickstart their business for the fall season.
This promotion is available to everyone, including Host enrollment and Reinstatement kits.
Scentsy June 2023 Starter Kit Contents (Contents may vary):
Classic Curve – Gloss Gray Warmer
Black Raspberry Vanilla Scentsy Bar
Slate Mini Fan Diffuser
Amazon Rain Scentsy Pod Twinpack
Vanillamint Dreams Counter Clean
Make a Splash Hand Cream
Make a Splash Hand Soap
Amazon Rain Car Bar
Coconut Lemongrass Scented Stickers (1 pack of 72 stickers)
Luna Scented Stickers (1 pack of 72 stickers)
Eucalyptus Lavender Mint Oil Scented Stickers (1 pack of 72 stickers)
Twinkle, Twinkle Oil Scented Stickers (1 pack of 72 stickers)
Sample Packette Bundle (Laundry, Body, Clean and Pets)
Classic Curve Felt Samples
Spring/Summer 2023 Fragrance Tester Set
Quick Start Guide
Consultant Guide
Product Training Guide
Spring/Summer 2023 Catalogs (1 pack of 20)
Spring/Summer 2023 Product Lists (1 pad of 50 sheets)
Host/Join Brochures (1 pack of 25)
Order Forms (1 pack of 100)
Invitation Postcards (1 pack of 100)
Thank You Postcards (1 pack of 100)
Merchandise Sacks
Mini Zip Sacks
Starter Kit Exclusive Insulated Tote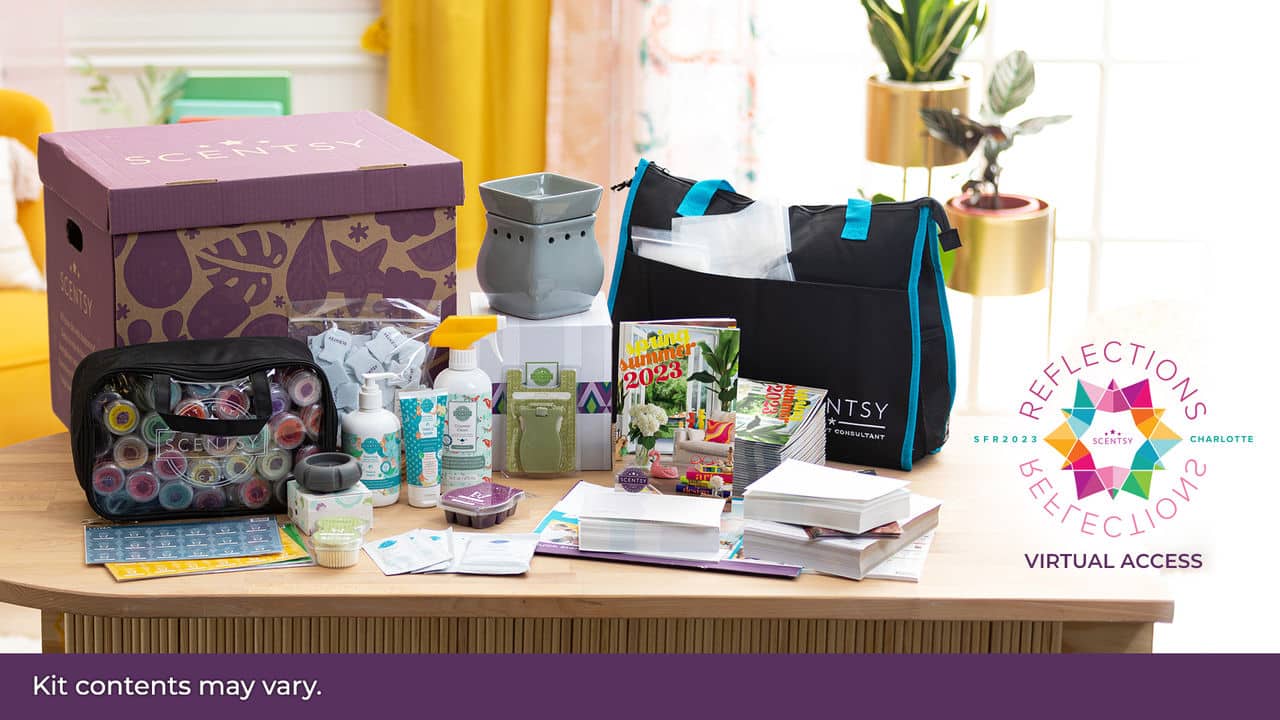 Why Scentsy?
There are so many amazing reasons to join Scentsy — from world-class events to lifelong friendships — but here are a couple of the top ones:
Make some extra dough
Selling Scentsy is simply a fun way to earn some additional income with a variety of products everyone loves.*
Work wherever, whenever
Scentsy gives you the flexibility to master that work-life balance — and have time for what matters most.
Go exploring
One of the perks of being a Scentsy Consultant is the possibility of earning an all-expense-paid trip to a remarkable destination. Start packing!
How much can I make?
Make 20% in Scentsy Commission, plus bonuses and perks.*
| Sales | Potential income |
| --- | --- |
| $200 | $40 |
| $400 | $80 |
| $600 | $120 |
| $800 | $160 |
*Earn 20% on the first 1,000 points in lifetime Personal Retail Volume (PRV) and then 25% on all sales afterwards.