SHOP COLLECTIONS + HOLIDAY 🎄
Order soon to receive products in time for Christmas. Restrictions apply. Learn more.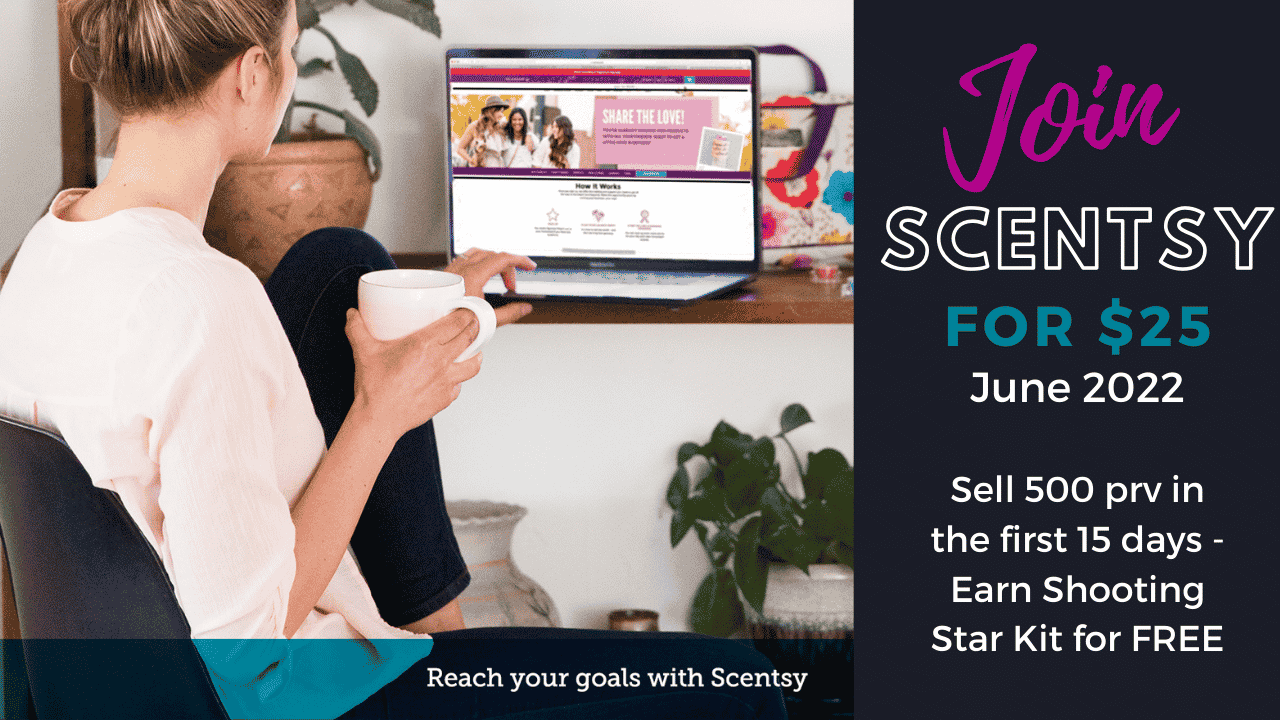 $25 Scentsy Starter Kit Contents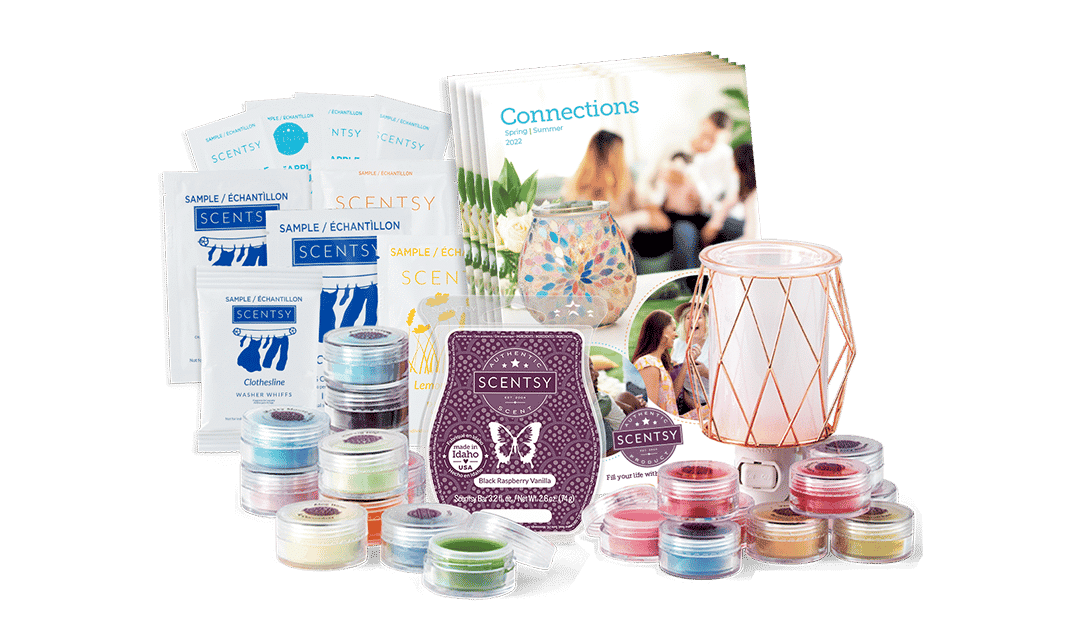 Wire You Blushing? Mini Warmer
Black Raspberry Vanilla Scentsy Bar
Sample Packette Bundle (Laundry, Body, Clean and Pets)
Spring/Summer 2022 Fragrance Tester Sample Pack (1 pack of 25)
Quick Start Guide
Spring/Summer 2022 Catalogs (1 pack of 5)
Welcome Card
3 Months Free Website
Start your Scentsy business in June 2022 with our exclusive Scentsy $25 Starter Kit! You will get plenty of products and business tools to help you get started for $25. Plus, earn the Shooting Star for FREE in June (by selling 500 prv in your first 15 days)
How to qualify
Earn 500 points in Personal Retail Volume (PRV) by selling a minimum of $500* worth of Scentsy products within your first 15 days.
What you'll get
You'll receive $300 worth of product for free! From warmers and bars to diffusers and oils, plus a fan diffuser and pods, you'll have everything you need to get your new business off to an incredible start.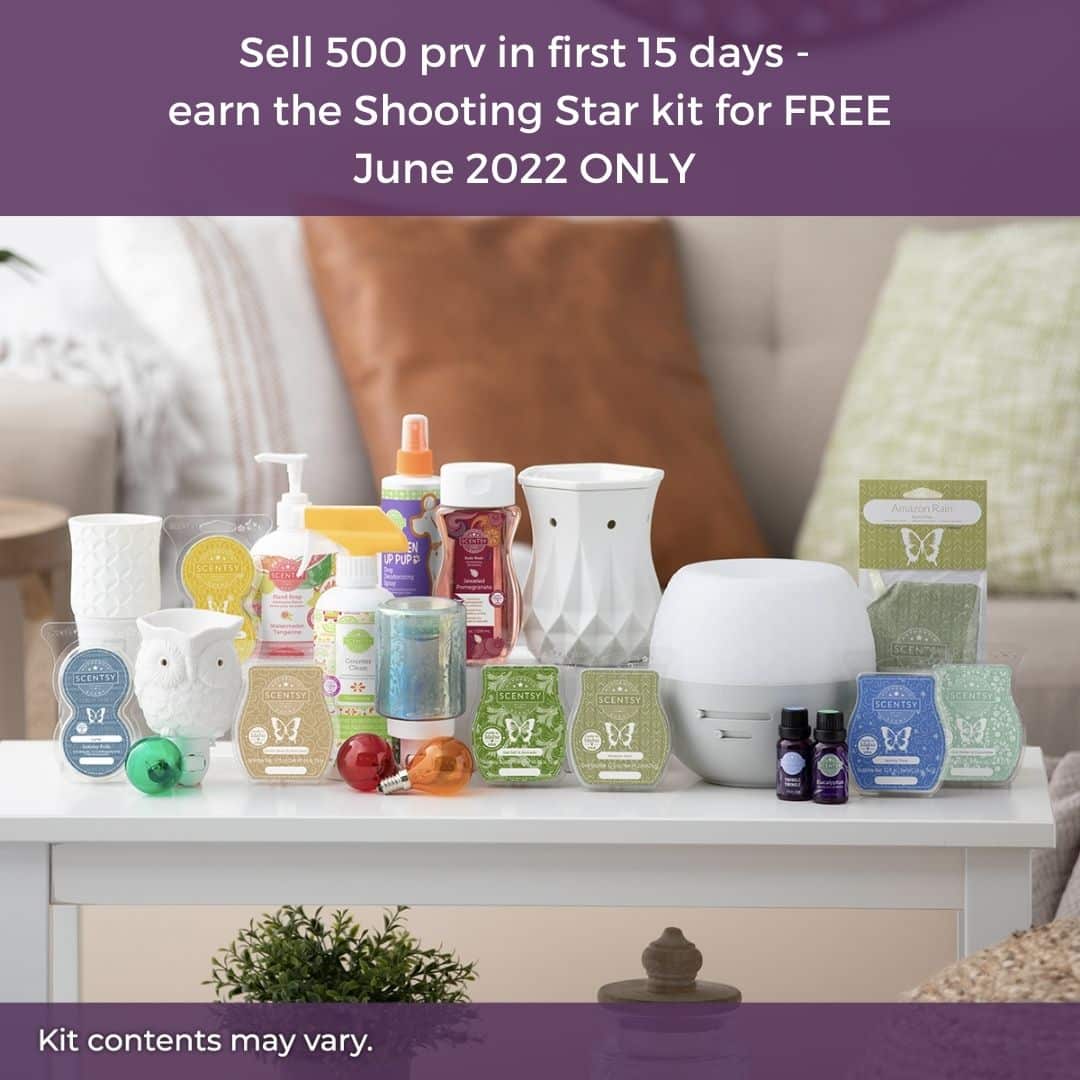 Shoot Star Kit Contents
(FREE when selling 500 prv in your first 15 days as a consultant during June 2022 Join promotion month)
Alabaster Warmer
Lily Garden Mini Warmer
Whoot Mini Warmer
Aloe Water & Cucumber Scentsy Bar
Amazon Rain Scentsy Bar
Jammy Time Scentsy Bar
Sea Salt & Avocado Scentsy Bar
Vanilla Bean Buttercream Scentsy Bar
Fleur – Gray Deluxe Diffuser
Eucalyptus 100% Pure Essential Oil
Twinkle Twinkle Natural Oil Blend
Star Wall Fan Diffuser
Coconut Lemongrass Scentsy Pod Twin Pack
Luna Scentsy Pod Twin Pack
Amazon Rain Scent Pak
Fiesta Lime Counter Clean
Oatmeal & Aloe Freshen Up Pup Dog Deodorizing Spray
Jeweled Pomegranate Body Wash
Watermelon Tangerine Hand Soap
25-Watt Light Bulb – Green, 25-Watt Light Bulb – Orange, 25-Watt Light Bulb – Red
See Site for Kit contents and details