BECOME A CONSULTANT AND BE A PART OF MY TEAM!
At Scentsy, we want to inspire people with beautiful fragrances and the memories and emotions they bring forth. But it all begins with you. We need passionate people who want to succeed on their terms, without sacrificing precious time with the people they love. Ask me how my business has impacted my life for the better, and then let Scentsy change yours. Do what you love and make money while doing it!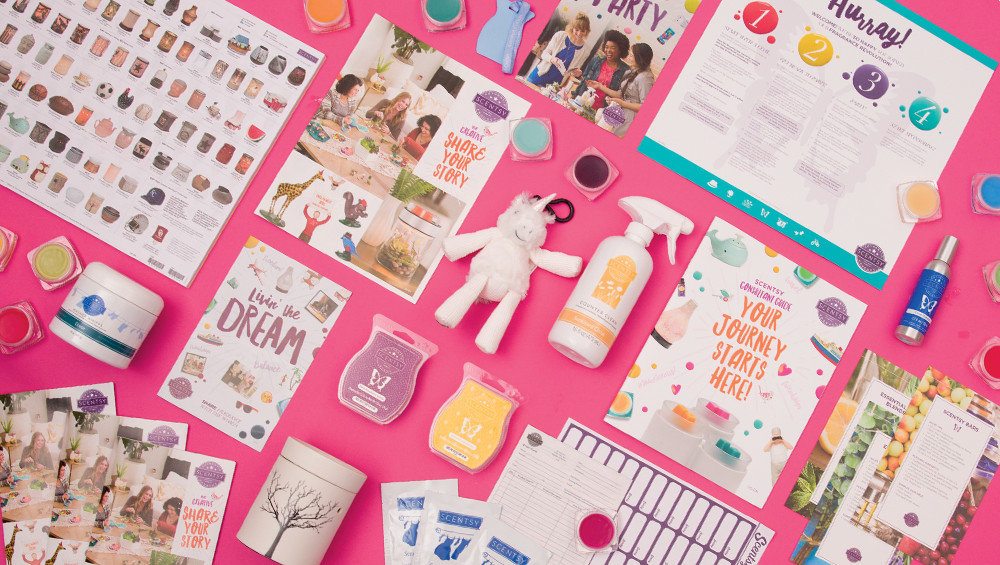 CONTENTS FOR FALL 2016 SCENTSY STARTER $99 KIT:
* Tilia Warmer * Black Raspberry Vanilla Scentsy Bar
* Coconut Lemongrass Scentsy Bar * Clean Breeze Room Spray
* Coconut Cotton Car Bar * Stella the Unicorn Buddy Clip
* Ocean Washer Whiffs (16 oz./453 g) * Sunkissed Citrus Counter Clean
* New Consultant Guide * Quick Start Guide
* Complete set of Party Testers * Clothing Conditioner samples
* Laundry Liquid samples * Print Your Own business labels (1 pack of 10 sheets)
* Fall/Winter 2016 Catalogs (1 pack of 25) * Order forms (1 pack of 100)
* Fall/Winter 2016 Showcase Brochure * Fall/Winter 2016 Product List (1 pad of 50 sheets)
* Host brochures (1 pack of 25) * Join brochures (1 pack of 25)
* Fall/Winter 2016 Product Sell Sheets
* Plus, a FREE GIFT!
*Please note that contents will vary depending on the new Consultant's home country.
JOIN THE JOURNEY
Reach your goals. Find joy in the journey. Join Scentsy.
At Scentsy, we want to inspire people with beautiful fragrances and the wonderful places they can take you — and we need help from passionate people like you.
If you love Scentsy, now is the time to launch your own business and become a Consultant. Here's why:
IT'S AN INVESTMENT IN YOU.
With Scentsy, it costs just $99 to launch your business.* As soon as you join, we'll send you a Scentsy Starter Kit — all the products and business tools you need to get started. Set a goal to pay yourself back with your Launch Party commissions and say hello to a fresh start.
YOU CAN BE AN ENTREPRENEUR.
Sounds dreamy, right? Owning your own business and working whenever you want? Earning 20 to 36 percent commissions and bonuses for sharing products you love? Doing something fun alongside a group of really amazing people (your new friends!) and finally feeling truly independent?†
That's because it is.
YOU CAN BE PART OF SOMETHING IMPORTANT.
Your family, your community, a need. We want to help you support the people and causes you love. Each season, Scentsy Consultants submit ideas for a new Cause Product and a charitable organization to support. What matters to you? Let Scentsy help you give back.
WE JUST LAUNCHED A NEW CATALOG.
Twice a year, MILLIONS of Scentsy fans from Idaho to Ireland crowd around a new collection of fragrances and explore all the new ways to experience them. Joining now is like launching your business on the fast track.
YOU CAN BE YOU.
And run your business how you want. Scentsy is special because it's made up of thousands of incredibly unique, incredibly passionate people. It starts at the home office, where we have a big team working hard every day to support you. We provide you with a ton of training and tools, but ultimately your Scentsy business is YOURS.
Join now! Start your Scentsy business today..
Talk to Incandescent.scentsy.us to Join today.