Scentsy Fall Basics Starter Kit
Scentsy is celebrating 11 years in business and is offering a SPECIAL deal to join the Scentsy Family for the Month of July.
WHAT'S IN THE STARTER KIT?
To help celebrate our birthday, we're offering a special enrollment kit for the entire month of July 2015:
NEW Escential Starter Kit — ONLY $49 (USD)/$59 (CAD)
The limited-time Escential Starter Kit  includes just the essentials to get you started for a much smaller investment:
1 Scentsy Warmer
1 Scentsy Bar
1 Pack of Order Forms
1 Pack of Print Your Own Labels
1 Set of Spring/Summer 2015 Mini Testers (all 80 fragrances)
1 Pack of Party Invitations
1 Consultant Guide
1 Quick-Start Guide
1 Pack of Catalogs
1 Pack of Product Lists
1 Pack of Category Cards
1 Pack of Showcase Brochures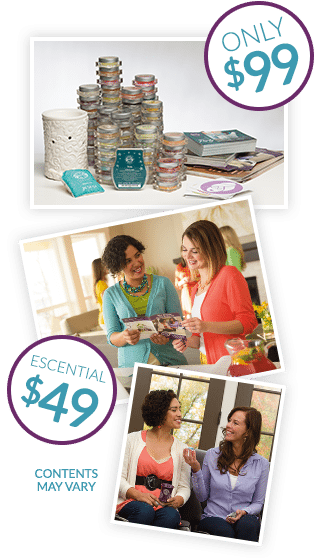 Or purchase the FULL Scentsy Starter Kit for $99 (USD)/$119 (CAD), which includes everything in the Escential Starter Kit plus additional demonstration products. Simply choose the kit you want during the enrollment process.
We don't want anything standing between you and an amazing future with Scentsy! BIG things are coming this year, and you don't want to miss your chance to be part of it all!
HOW DOES SCENTSY HELP ME SUCCEED?
We'll support you each step of the way:
Personal Website FREE for 3 months ($10/month after that)
FREE online Workstation to run your business
No inventory to manage
Live phone support
World-class training
When you join Scentsy, you launch your very own business. That means you're the boss! Choose your hours, earn commissions up to 36 percent and all-expenses paid trips to incredible destinations (Hawaii! Greece! New York City!), and enliven your world with amazing products.*
*Consultants earn 20 percent on the first 1,000 points in Personal Retail Volume (PRV) and 25 percent on all sales after that, plus up to 9 percent bonus on Personal Wholesale Volume based on rank and a 5 percent bonus when monthly sales exceed 2,000 points in PRV. They may also earn leadership bonuses based on downline sales. Qualification for incentive trips is determined annually. For a detailed look at Scentsy's compensation plan, go to www.scentsy.com.
Why Scentsy?
There are so many amazing reasons to join Scentsy — from world-class events to lifelong friendships — but here are a couple of the top ones:
Make some extra dough
Selling Scentsy is simply a fun way to earn some additional income with a variety of products everyone loves.*
Work wherever, whenever
Scentsy gives you the flexibility to master that work-life balance — and have time for what matters most.
Go exploring
One of the perks of being a Scentsy Consultant is the possibility of earning an all-expense-paid trip to a remarkable destination. Start packing!
How much can I make?
Make 20% in Scentsy Commission, plus bonuses and perks.*
| Sales | Potential income |
| --- | --- |
| $200 | $40 |
| $400 | $80 |
| $600 | $120 |
| $800 | $160 |
*Earn 20% on the first 1,000 points in lifetime Personal Retail Volume (PRV) and then 25% on all sales afterwards.