Closeout – On Sale! Scentsy Grateful Harvest Fall Warmer – previous October 2014 Warmer of the Month
GRATEFUL HARVEST SCENTSY WARMER PREMIUM
Celebrate the abundance of fall with Grateful Harvest, an enduring symbol of a rich and plentiful season. Hand-painted in earthy tan and gold with a jute "tie," this porcelain warmer glows when lit. It is the perfect fall accent for any room!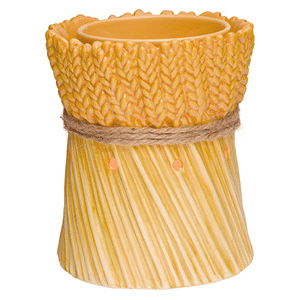 This is a very beautiful Wheat warmer that glows from within!  It was the October 2014 Warmer of the Month and one of my favorites. You can get it on Closeout for $28.00 while supplies last as it is retired.