ICE CREAM CONE SCENTSY WARMER
Whether it's a fun, retro accent or a sweet reminder of sunny days, this cute little cone will be the sprinkles on top of any space. Kids will love this Element Warmer, too!
Approximate Dimensions: 7.5″H x 4″ W.  Two Piece Warmer – Base and Top.
$35.00 $31.50 on sale the Month of July 2016
Available July 1, 2016
Blissfully sweet and creamy, Strawberry Swirl whips together frozen strawberry, frothy milk and vanilla.
Scent Circle $3, $2.70
Scentsy Bar $5, $4.50
Room Spray $8, $7.20
Starting July 1st through the month of July, while supplies last!
*Discounts do not apply to Combine & Save.
Available July 1, 2016
AVAILABLE July 1st, 2016 online, or please feel free to contact me to pre-order yours!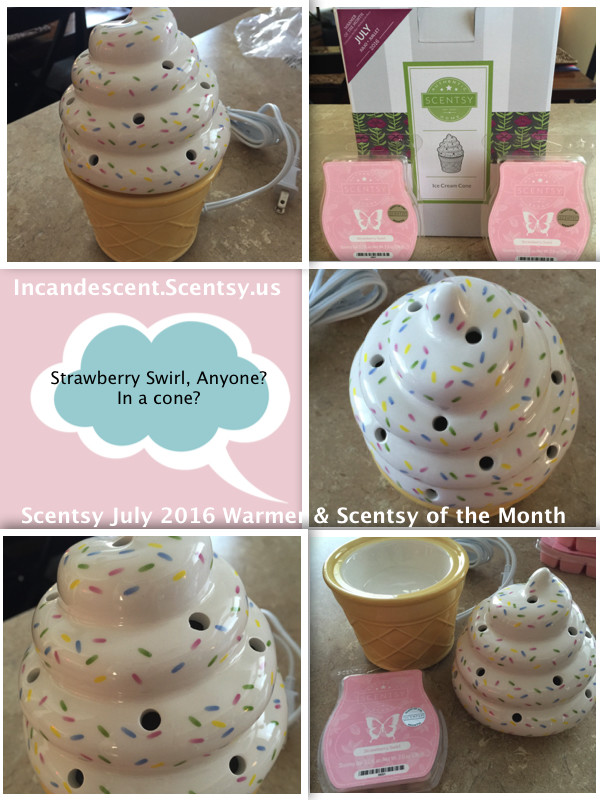 Look what arrived today?!?  Is this not the cutest warmer in the world?! As stated above, the Ice Cream Warmer is two pieces and an element warmer(no lights, heats up by a hot plate). Approx. 7.5″ Tall and 4″ Wide.  Beautifully painted, look at the sprinkles and the cone base is just too cute! It really looks just like a cone! I love this and might have to get another as my daughter and I both want it – maybe we can leave it in the kitchen as a compromise.. The Scent is so amazing. Strawberry Swirl smells to me just like a Strawberry Milkshake, a very creamy strawberry smell that is heaven.  I am just getting over a cold and can smell it, it's just wonderful.  I've been waiting for a strawberry scent for a long time and this is a little bit of perfection!  You will all be very happy with this scent.  There was a paper included with our warmer/wax kits mentioning a variation in the color of the wax, I didn't personally notice it and it does not affect the smell at all. So, if you receive this Scentsy Bar and notice a slight variation, it's perfectly normal.  Enjoy!! So excited to be offering this one in July!