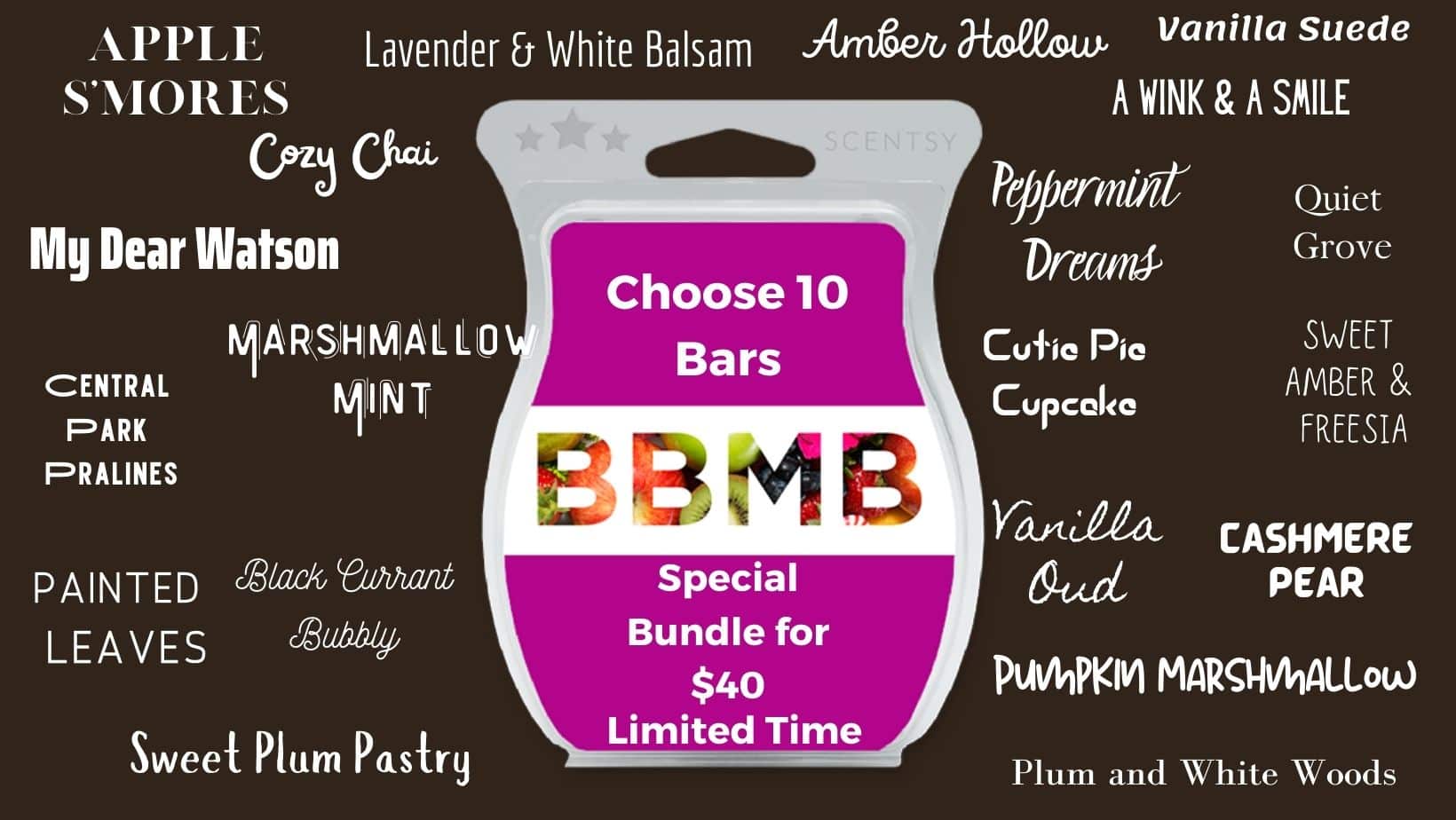 Scentsy Bring Back my Bar Fall 2020 Winners
New Promotion – BBMB Bundle – Choose 10 fragrances from remaining Bring Back my Bars(from December 2020) for $40 along with a clearance sale!
A Wink & A Smile
The flirty, girly, fresh scent of tulips and daffodils in full bloom, rounded out with plummy lemonade.
Amber Hollow
Clove leaf, cardamom and dark amber spice up a warm cedarwood base
Apple S'mores
Harvest apples, cinnamon glaze and a drop of coconut milk lend a tantalizing twist to classic toasted marshmallow, vanilla crème and warm cedarwood.
Black Currant Bubbly
Champagne bubbles stir black currant, sweet orange and vanilla sugar
Cashmere Pear
Slip into sensual white amber, Madagascar vanilla, silky pear and warm red ginger, a blend as smooth and luxurious as fine-spun cashmere
Central Park Pralines
A decadent confection of rich roasted pecans, buttery caramel, and cinnamon sugar.
Cozy Chai
Warm, spicy CINNAMON, VANILLA BEAN and CARAMEL
Cutie Pie Cupcake
Sweet clementine and yellow cake batter with vanilla and sugary icing
Lavender & White Balsam
Lavender freshened by wintry white balsam and crisp amber.
Marshmallow Mint
BUTTERMINT and MARSHMALLOW make merry beneath an AMBER veil.
My Dear Watson
Refreshing bergamot contrasted with mint, cedar, and suede. Sophisticated and smart
Painted Leaves
Wander through Blue Spruce, Red Maple and Golden Woods
Peppermint Dreams
A warm rush of chocolate cupcake sweetness cooled by a blast of fresh mint.
Plum & White Woods
Sweet raspberry preserves and damson plum weave through vanilla orchid.
Pumpkin Marshmallow
Sticky, sweet marshmallow spooned onto fresh-baked pumpkin and wrapped in a graham cracker crust
Quiet Grove
A soft spell of Bergamot, Jasmine and Sandalwood
Sweet Amber & Freesia
Crisp layers of VERBENA BLOSSOM, FREESIA and SWEET AMBER.
Sweet Plum Pastry
BLACK PLUM and toasted COCONUT garnish a MARSHMALLOW cloud
Vanilla Oud
Sweet Vanilla grounded by Leather and earthy Oud Wood
Vanilla Suede
Classic, comforting vanilla combined with rich amber and hints of sandalwood and spice – a cozy and subtly masculine fragrance.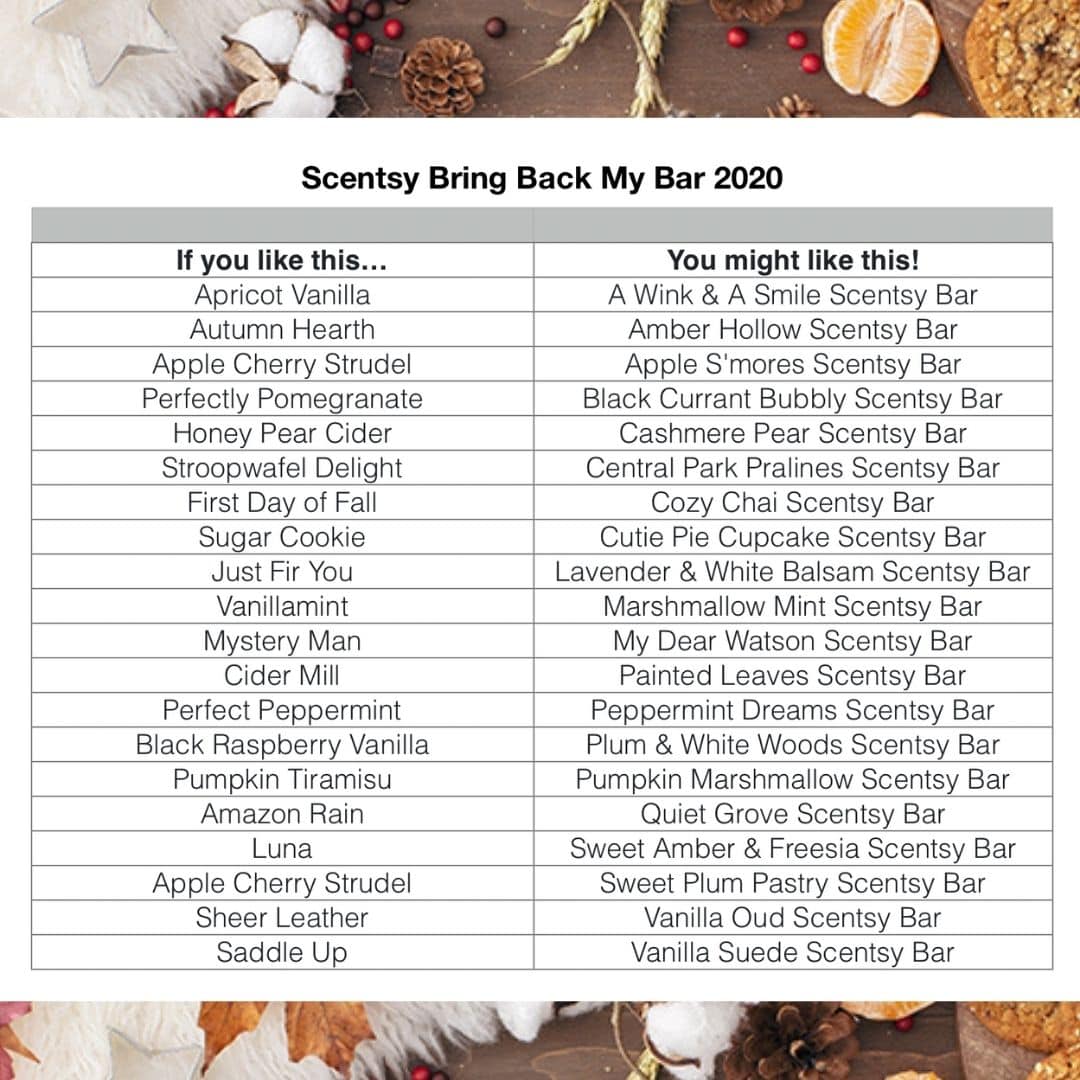 This is a chance to recapture holiday memories — and ensure you'll never go without your favorite scent again. The winning bars will be eligible for Scentsy Club subscriptions during this period. That way, you can enjoy your most treasured fragrances year-round thanks to the Always Get My Bar perk!