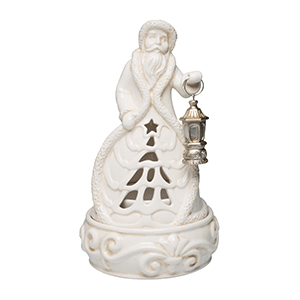 From the Scentsy October 2015 Holiday Collection
OLD WORLD SANTA SCENTSY WARMER PREMIUM
Tell a charming old tale with Saint Nicolas himself, as storied and grand as the spirit of Christmas. Dressed in his classic hat and coat, with a golden lantern draped from one hand, he softly comes to bring cheer and light to anyone who believes in him. $60.00   $48.00 on Sale while supplies last!
**This is a beautiful 3 piece warmer.  It does NOT light up. It utilizes a heating element of 8 watts in its base, a wax warming dish and the top part is St. Nick with his lantern.  9.5″ tall**