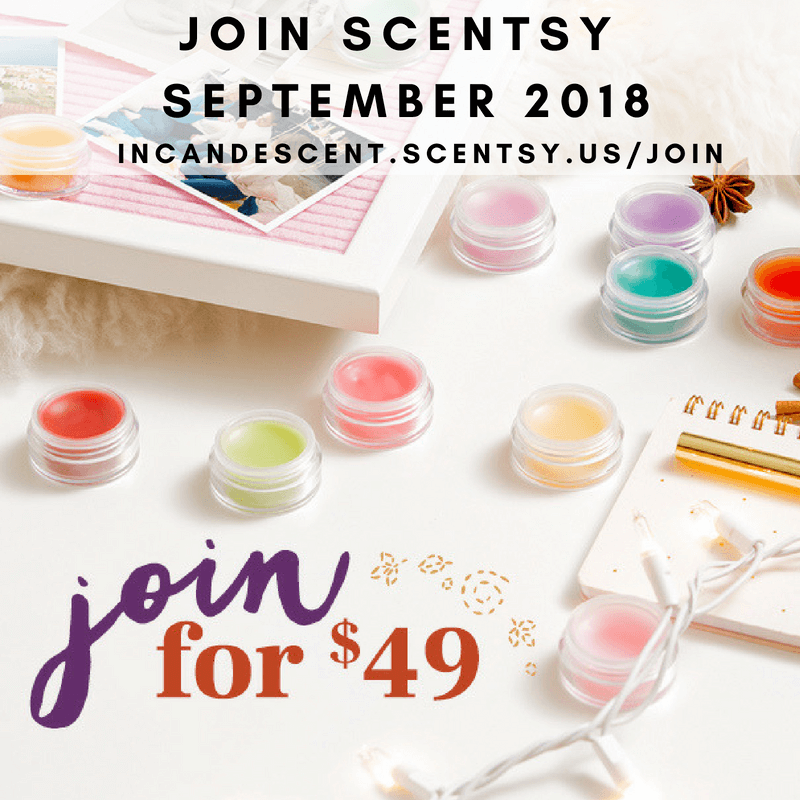 Start your adventure! Join my Scentsy team for just $49 the month of SEPTEMBER 2018!
With a GORGEOUS new catalog, there are lots of reasons to get excited about starting a Scentsy business this fall. And with our $49 Escentials Starter Kit, available Sept. 1-30, 2018, it's a great time for you to join!
Our Escentials Starter Kit contains everything a new Consultant needs to launch a successful Scentsy business:
1 Etched Core Warmer
1 Black Raspberry Vanilla Scentsy Bar

1 Fall/Winter 2018 Fragrance Tester Set

1 pack of Print-Your-Own Labels

1 pack of Order Forms

1 pack of Fall/Winter 2018 Catalogs

1 pack of Showcase Brochures

1 pack of Product Lists

1 Quick-Start Guide

1 Consultant Guide

1 Product Training Guide
Contents of the kit may vary, and the price excludes local tax and shipping. New Consultants can still order the full Starter Kit for $99 in September, which includes additional products
SEPTEMBER 1-30, 2018; we're making it easier for you to share the Scentsy opportunity with our essentials-only Starter Kit for only $49! Kick off the New Year by starting your very own Scentsy Business!

BECOME A CONSULTANT
The $49 Starter Kit is only available from SEPTEMBER 1-30, 2018, or while supplies last. Contents may vary. Price doesn't include local tax and shipping. New Consultants can still choose to receive the full Starter Kit for $99 in September.
At Scentsy, we want to inspire people with beautiful fragrances and the memories and emotions they bring forth. But it all begins with you. We need passionate people who want to succeed on their terms, without sacrificing precious time with the people they love. Ask your me how my business has impacted my life for the better, and then let Scentsy change yours. Do what you love and make money while doing it!
EARN
20-36 percent commission and bonuses on personal sales*
*Consultants earn 20 percent on the first 1,000 points in Personal Retail Volume (PRV) and 25 percent on all sales after that, plus up to 9 percent bonus on Personal Wholesale Volume based on rank and a 5 percent bonus when monthly sales exceed 2,000 points in PRV. They may also earn leadership bonuses based on downline sales. Qualification for incentive trips is determined annually.
CELEBRATE
Earn annual, all-expenses-paid trips*
GROW
Learn valuable business skills
CONNECT
Make new friends with customers, Hosts and other Consultants
As soon as you join, we'll send you an Essentials-Only Starter Kit with all of the products and business tools you need to launch a thriving new business, including catalogs and testers. $49 Plus local tax and shipping. **Contents may vary.**