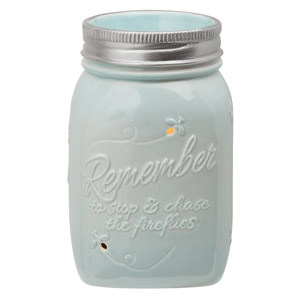 CHASING FIREFLIES SCENTSY WARMER PREMIUM
Capture the essence of carefree, playful summer evenings. This pale-blue hand-painted warmer mimics a glass canning jar, complete with a silver ring and "filled" with fireflies. $35.00

Now Available for Fall 2015, New Scentsy Chasing Fireflies Nightlight, the perfect companion to the Full Size Warmer.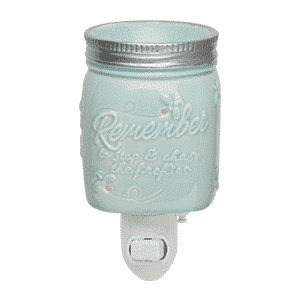 CHASING FIREFLIES NIGHTLIGHT SCENTSY WARMER
"Shine your light and illuminate your life, your heart and your dreams. Recapture a childlike sense of wonder and adventure — and always remember to stop and chase the fireflies." —Heidi Thompson, Scentsy Family Reunion 2014 Discover the wonder of childhood with Chasing Fireflies, now available as a Scentsy Nightlight. Capture the essence of carefree, playful summer evenings with this pale-blue warmer mimicking a miniature glass canning jar, complete with a silver ring and "filled" with fireflies. $20.00

Order Both Warmers using the Perfect Scentsy Companion Premium System – includes 3 Wax Bars for $60.00